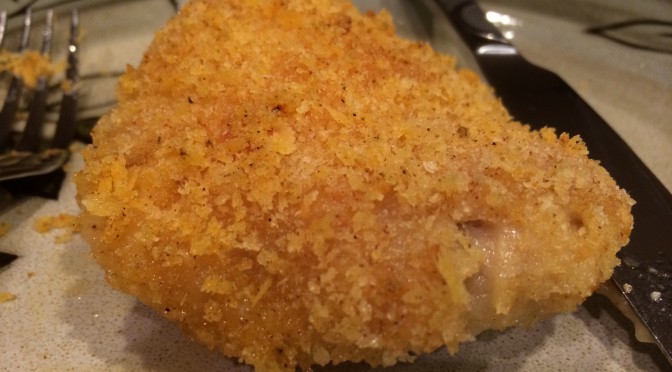 Homemade "Shake and Bake" Chicken
I've always loved the concept of "Shake and Bake".  It's just so simple, quick, easy and supposedly delicious.  All you have to do is put some "Shake and Bake" in a bag, drop your chicken in that same bag, shake the bag, put the chicken in an oven safe container and then bake it.  Dinner should be ready in about five minutes plus baking time.
All that being said, "Shake and Bake" can be on the more expensive side.  It's not expensive in and of itself, but it's expensive for what you get.  It's basically seasoned breadcrumbs.  I decided to try to make my own "Shake and Bake" at home.  At least then I would know what ingredients would be in it, and it's cheaper than buying "Shake and Bake".
Another nice feature about this recipe is that that one batch would be more than enough for one meal.  The extra can be refrigerated and will last for months!
The chicken turned out crispy and crunchy.  This recipe doesn't taste like real "Shake and Bake", but it was so tasty who would want so use real "Shake and Bake" again?  Only the top is crispy/crunchy.  The bottom is soggy because I didn't bake my chicken on a wire rack.  I highly suggest using a wire rack if you have one.

Homemade "Shake and Bake" Chicken
Ingredients
2 cups Panko breadcrumbs
1½ teaspoons salt
1½ teaspoons paprika
1 teaspoon onion powder
1 teaspoon garlic powder
¼ teaspoon ground pepper
¼ cup olive oil
8 bone in, skin on chicken thighs
Instructions
Preheat oven to 350 F. Line a baking sheet with aluminum foil. Place a wire rack on the baking sheet. Spray the wire rack with cooking spray.
In a large bowl, combine breadcrumbs, salt, paprika, onion powder, garlic powder, salt and olive oil. Mix until well combined.
Place a cup of the breadcrumb mixture in a zip top bag. Working with one chicken thigh at a time, place the chicken in a the zip top bag, carefully close the bag, and shake the bag so that the chicken is well coated in the breadcrumb mixture. Place chicken in a single layer on the wire rack. Repeat with remaining chicken.
Bake until chicken is cooked through, and has reached an internal temperature of 165 F, about 45-60 minutes. There is no need to flip the chicken half way through.
Serve hot.
Notes
The unused breadcrumb mixture that was not used to coat the chicken can be stored in the refrigerator for a few months, and used another time. Any breadcrumb mixture that was in the zip top bag, that may have touched the chicken should be discarded.
Adapted from Growing up Gabel