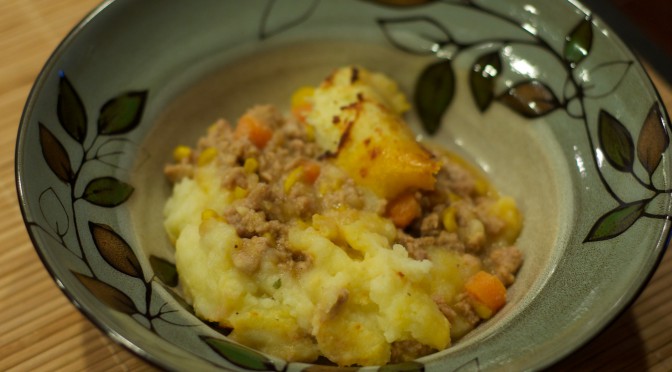 Shepherd's Pie
Dinner is served! This dish was so good, I'm pretty sure Mike went back for seconds!  What's even more amazing is that even though he and two friends finished all 20 or so potato skins which I had made as an appetizer, they still finished about half the Shepherd's Pie for dinner!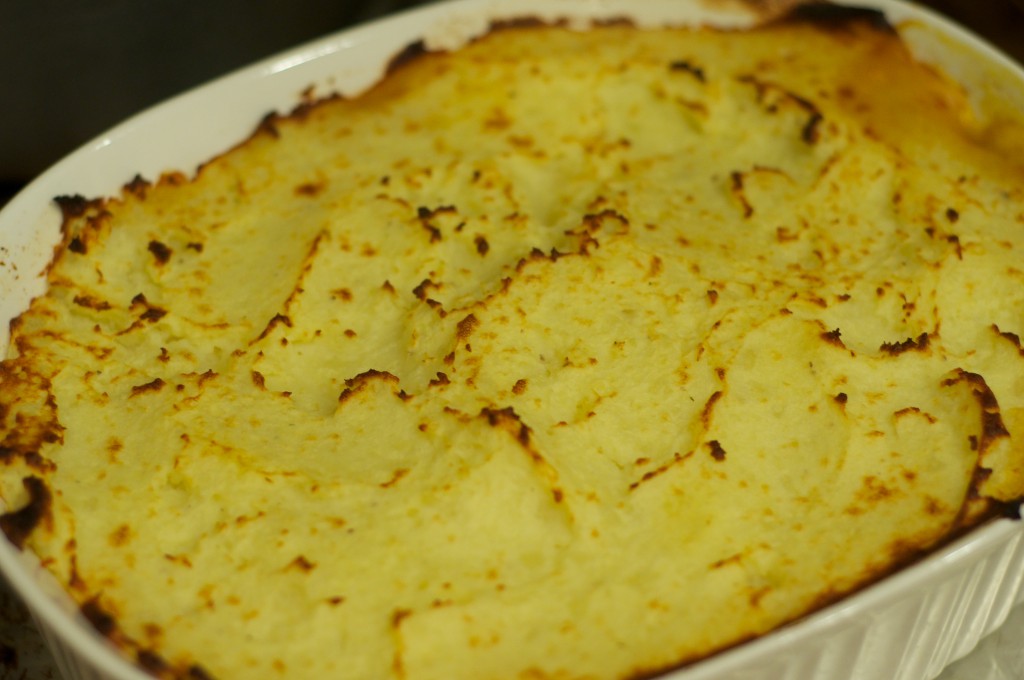 Mike helped me make the mashed potatoes since I was running out of time, and was trying to cook the meat mixture while also putting toppings on the Loaded Potato Skins. He used his KitchenAid mixer to mash the potatoes and mix in the butter.

Shepherd's Pie
Ingredients
20 ounces 93% lean ground turkey
2 tablespoons plus 2 teaspoons water
½ teaspoon baking soda
1 teaspoon salt
¼ pepper
2½ pounds russet potatoes, baked
2 tablespoons unsalted butter, melted
½ cup milk
1 egg
2 teaspoons olive oil
1 small onion, chopped
½ cup corn
1 tablespoon tomato paste
2 garlic cloves, minced
2 tablespoons red wine
2 tablespoons all purpose flour
1¼ cups chicken broth
2 teaspoons Worcestershire sauce
1 bay leaf
2 carrots, peeled and chopped
2 teaspoons cornstarch
Instructions
In a large bowl, combine the turkey, 2 tablespoons water, baking soda, 1 teaspoon salt and ¼ teaspoon pepper. Place in refrigerator for 20 minutes.
Meanwhile, scoop out the insides of the potatoes, and place in a large mixing bowl. Mash potatoes. Add butter, milk and egg to the mashed potatoes and stir to combine.
In a large skillet, heat olive oil over medium heat. Add the onions and corn cook until softened, about 5 minutes. Add tomato paste and garlic. Cook for another 2 minutes. Add red wine, scraping up any browned bits and cook for another minute. Add the flour and cook for another minute. Add broth, Worcestershire, bay leaf, and carrots and stir to combine. Bring mixture to a corn mixture to a boil.
Reduce heat to medium-low. Add the ground turkey, in 2 inch chunks to the corn mixture. Stir to combine. Cook for about 10 minutes, or until turkey is cooked through, breaking up the chunks of turkey.
In a small bowl, combine cornstarch and 2 teaspoons water. Add cornstarch to meat mixture, stirring constantly, until the mixture is slightly thickened. Remove bay leaf. Season with salt and pepper, to taste.
Move the oven rack so that it is about 6 inches from the broiler. Preheat the broiler.
Place turkey mixture in a broiler safe dish that is about 8" x 10". Top with the mashed potatoes. Place dish on a rimmed baking sheet. Broil until the potatoes are golden and sauce is bubbly, about 10 to 15 minutes.
Serve warm.
Adapted from Comfort Food Makeovers