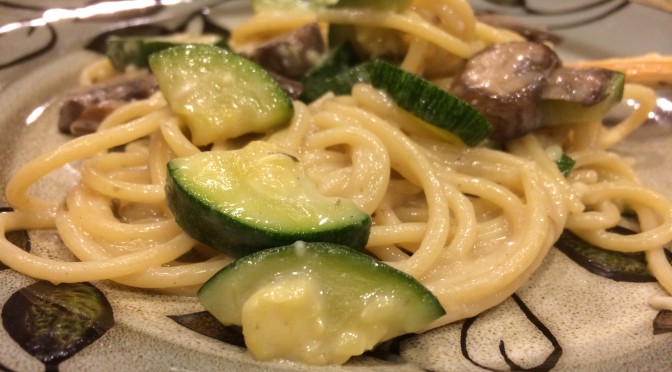 Zucchini Mushroom Pasta
I've always liked the "one pot pasta" dishes.  Not only are they easy to make, but I find that the noodles actually taste a lot better since they have soaked in all of the flavors from the sauce since they were essentially cooked in the sauce.
I also sometimes have a hard time eating spaghetti, especially with marinara sauce.  I will inevitably wear a light colored shirt while this, and while trying to get the spaghetti on my fork or in my mouth, somehow, some amount of red sauce will fall on a very noticeable place on my shirt.
 As a result, I like to break up spaghetti noodles before cooking them.  I find that it is easier to get them onto an eating utensil and then get that eating utensil into my mouth when I don't have strains of spaghetti flying around everywhere.  I also try to wear a dark shirt whenever I eat spaghetti with a red sauce.
My mom had also given me some zucchini from her garden.  I knew that I had to make a dish that that included her wonderful gift.  This dish also includes mushrooms, which are also really healthy.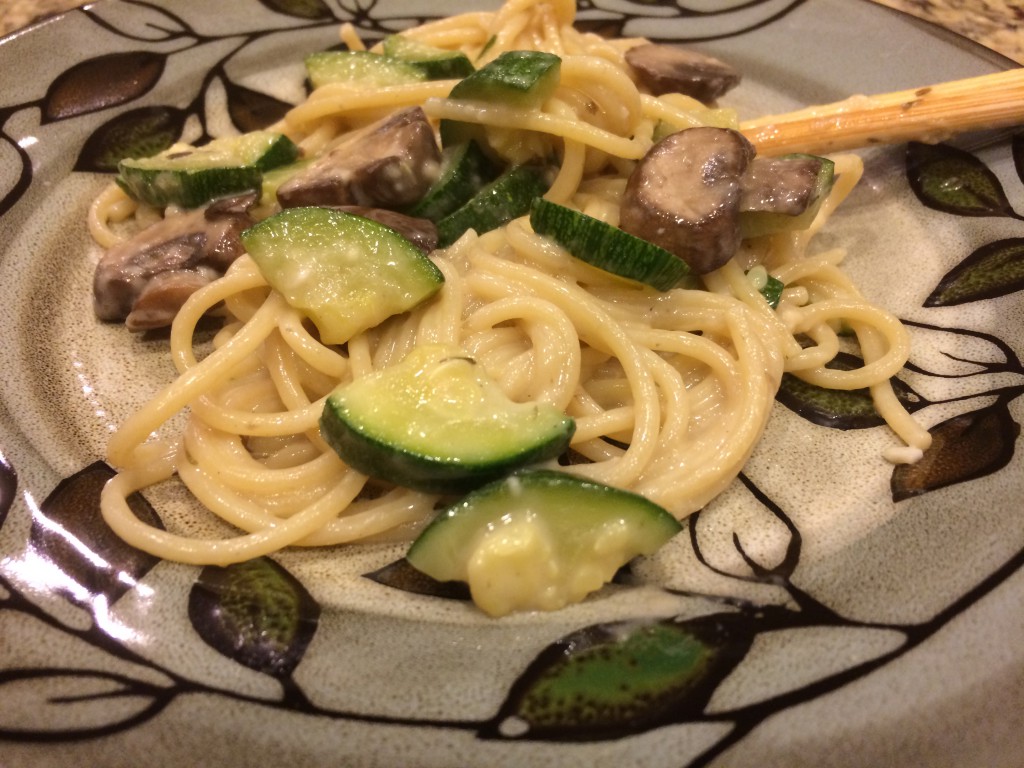 Zucchini Mushroom Pasta
An amazingly creamy pasta dish that is chock full of vegetables!
Ingredients
8 ounces spaghetti, broken into thirds
8 ounces mushrooms, sliced
1 medium sized zucchini, thinly sliced and quartered
1 garlic clove, minced
½ teaspoon dried thyme
2¼ cups water
3 tablespoons grated Parmesan cheese
2 tablespoons heavy cream
Salt and pepper to taste
Instructions
In a large pot over high heat, add the spaghetti, mushrooms, zucchini, and garlic, thyme and water. Make sure that all of the spaghetti noodles are completely covered by the water. Stir, if necessary, to ensure that all of the noodles are completely submerged.
Bring to a boil. Reduce the heat and simmer, uncovered until the pasta is cooked and most of the water has evaporated, about 8-10 minutes. Periodically check on the pasta to see if it has cooked.
Add the heavy cream and Parmesan cheese. Stir to combine with the noodles and vegetables. Taste the pasta and add salt and pepper if necessary.
Serve immediately.
Adapted from   Damn Delicious