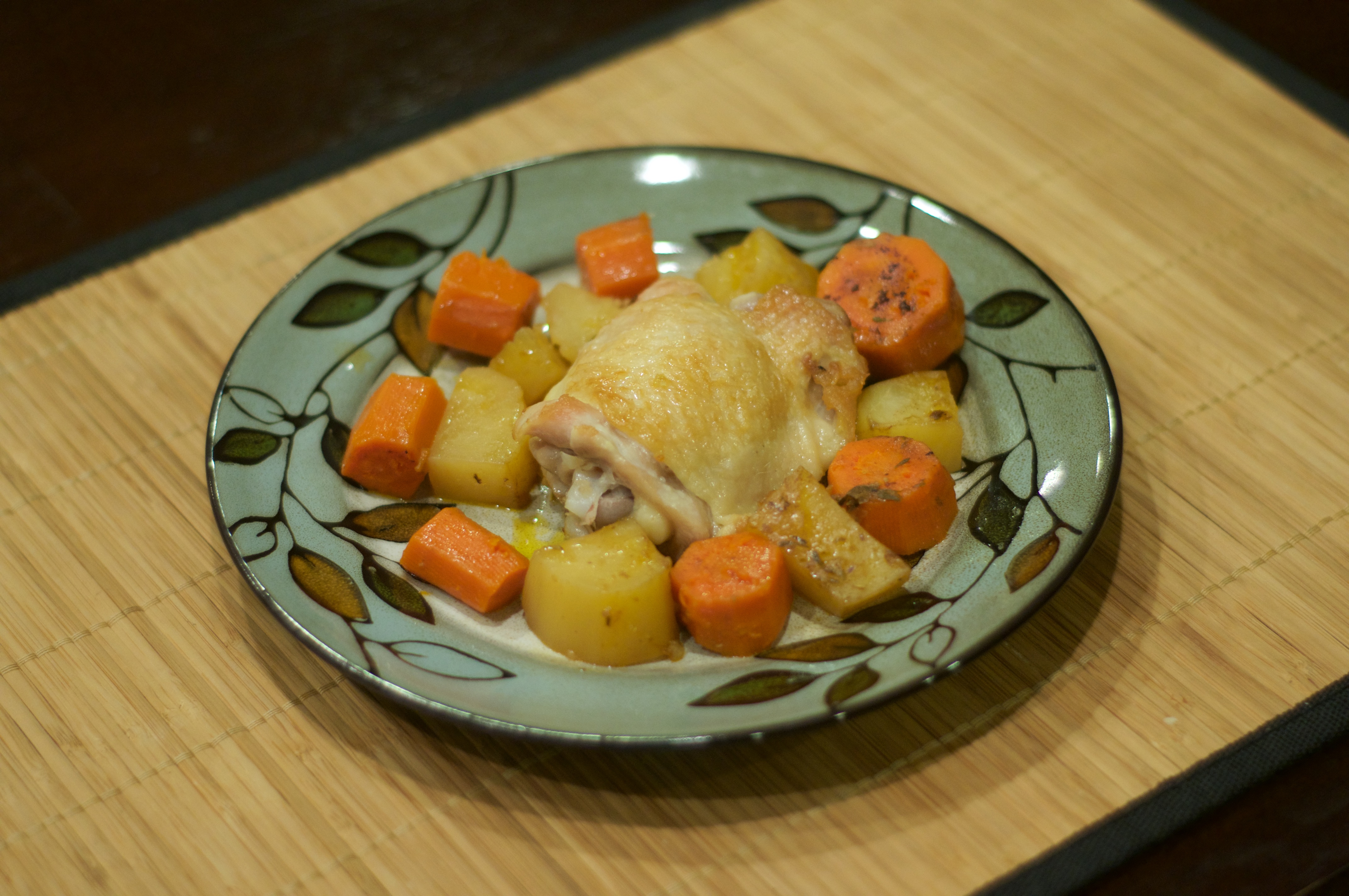 Braised Chicken Thighs with Potatoes and Carrots
I don't like most soft foods.  I rarely make foods in the slow cooker since everything usually comes out pretty soft.  Yes, I know that I am weird.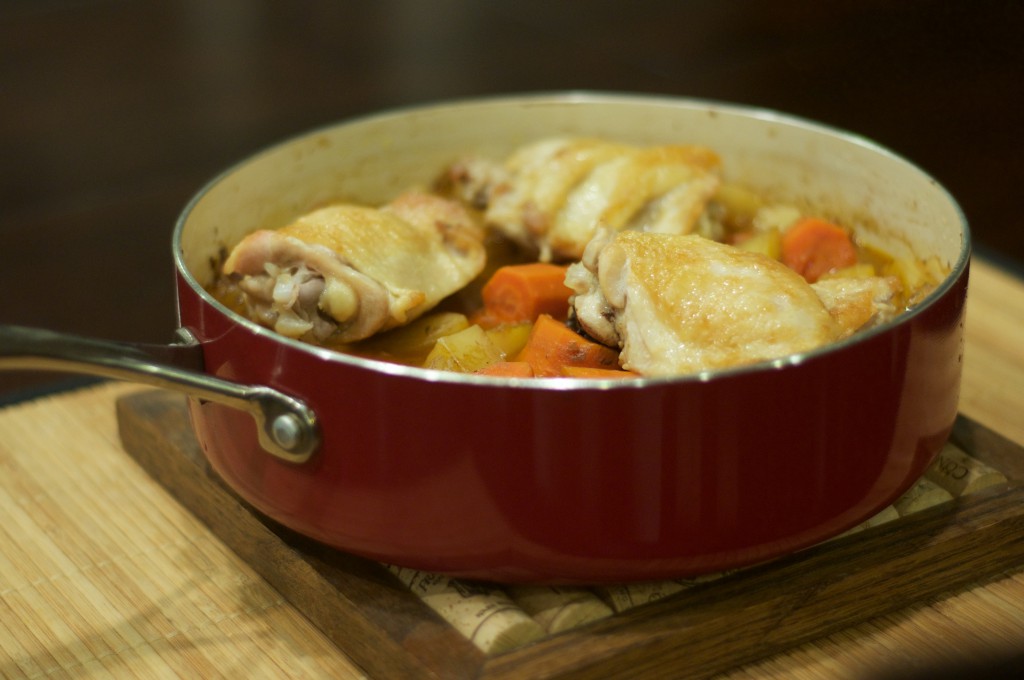 If you don't like soft foods, you should just skip this recipe.  It is not for you.  Sorry.  The potatoes and carrots come out rather soft.  The chicken is not too soft, though, so you might like that.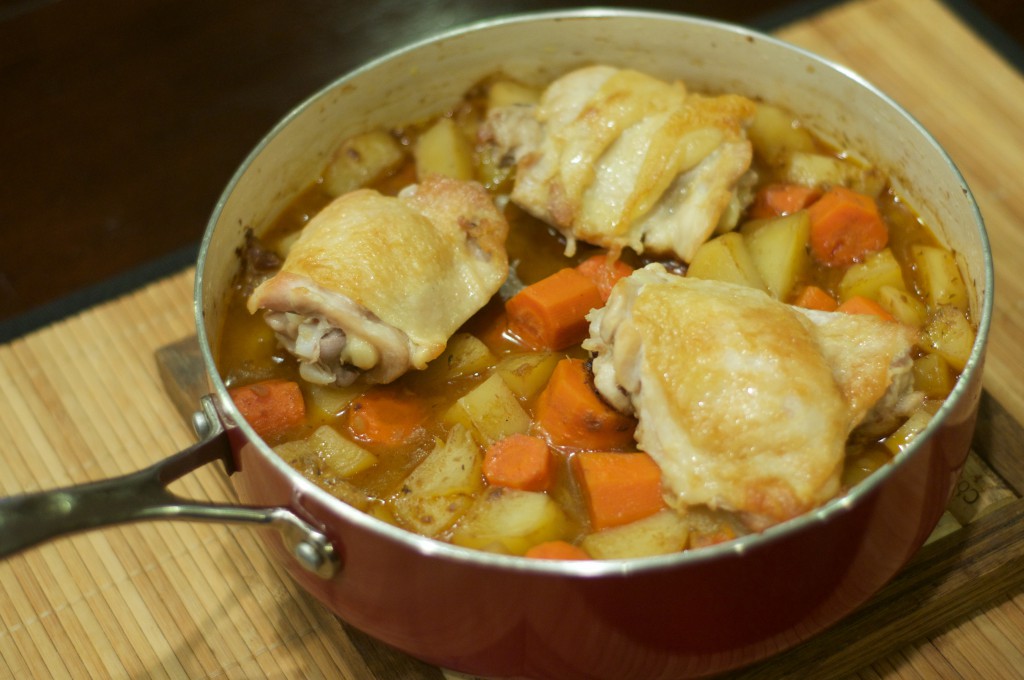 Now that you have been warned, let me tell you that Mike, who doesn't mind soft food, liked this recipe.  It has a lot of good flavors in it, if you can get past the soft potatoes and carrots.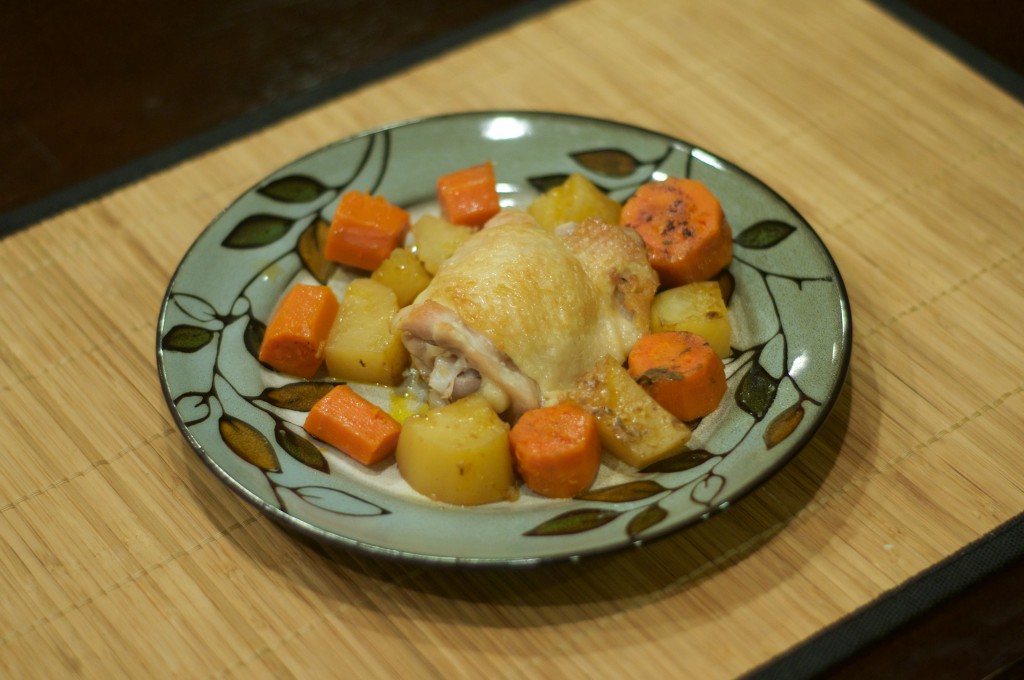 Admittedly, most people out there like stews, or other dishes that have soft food.  I am just one of those weird people who don't.  I'm not trying to discourage anyone from making this recipe.  I just wanted everyone to be aware of the texture of the food.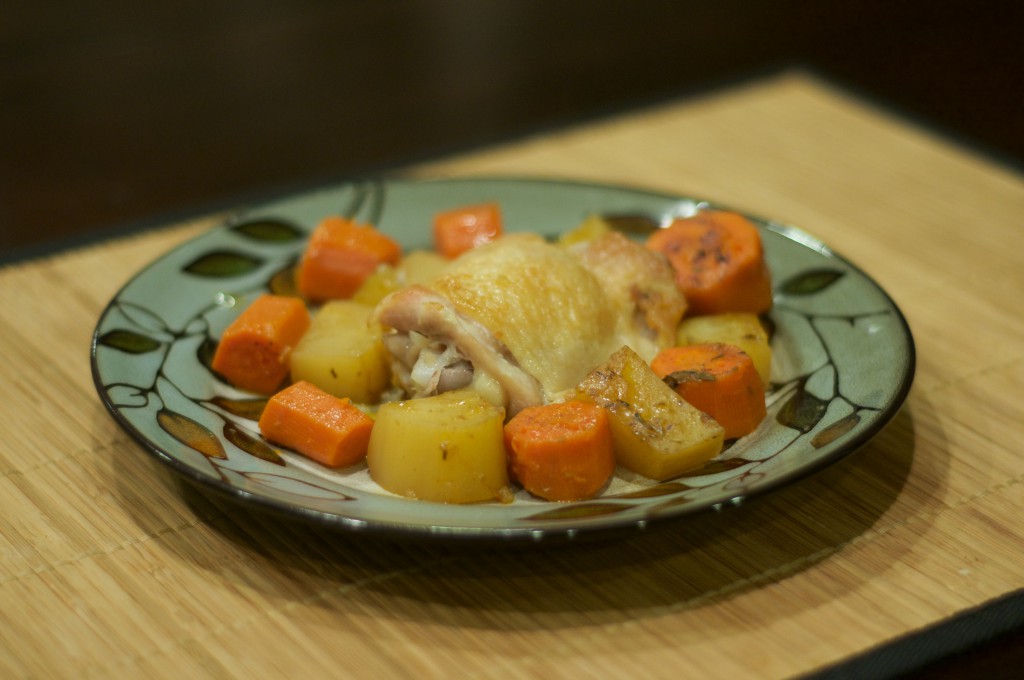 I know this recipe calls for four pieces of chicken, but those who are paying attention will note that I only have three pieces of chicken in the picture.  Unfortunately, I ran out of chicken thighs (gasp!), so I only used three the time that I made the recipe and had Mike take the photographs.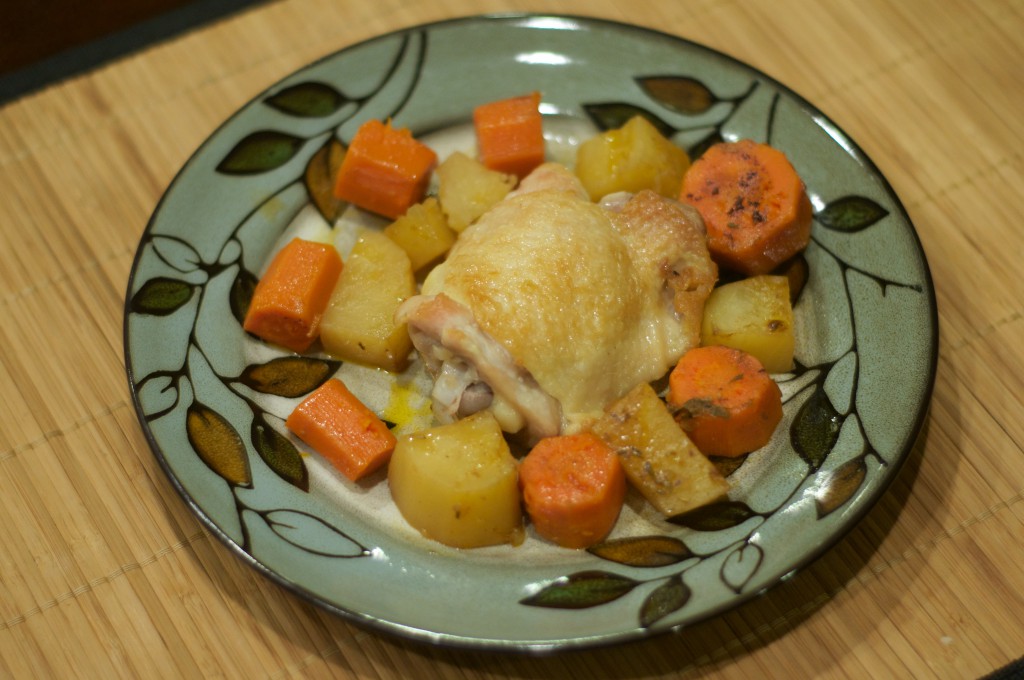 Feel free to use four chicken thighs (or just three if you don't have enough).  There are enough potatoes and carrots to serve with the fourth chicken thigh.

Braised Chicken Thighs with Potatoes and Carrots
Ingredients
4 chicken bone in, skin on, chicken thighs
Salt and pepper, to taste
1 tablespoon olive oil
1 small onion, diced
5 Yukon gold potatoes, cut into 2 inch pieces
6 carrots, peeled and cut into 2 inch pieces
1 tablespoon flour
¼ cup white wine
1½ cups chicken broth
1 teaspoon paprika
⅔ teaspoon dried thyme
Instructions
Preheat oven to 350 F.
Generously season both sides of the chicken thighs with salt and pepper, or to taste.
Heat olive oil in a large pan, over medium high heat. Add the chicken thighs, skin side down and cook for about 5 minutes. Flip the chicken over and cook for another 5 minutes. Remove chicken from the pan and place on a plate.
Add the onions to the pan and sauté for 1 minute. Add the potatoes and carrots to the pan. Sprinkle vegetables with salt and pepper, to taste. Sauté the vegetables for another 5 minutes, or until they start to brown.
Sprinkle flour over the vegetables and stir so that the vegetables are evenly coated in flour. Add the white wine and simmer for a few minutes, or until the sauce has been reduced by half. Add chicken broth, paprika and thyme. Stir to combine. Place chicken on top of the vegetable mixture and bring the liquid in the pan to a boil.
Cover the pan, place it in the oven and bake until chicken has reached an internal temperature of 165 F, about 40 minutes. Remove pan from oven.
Serve hot.
Adapted from Dinner at the Zoo