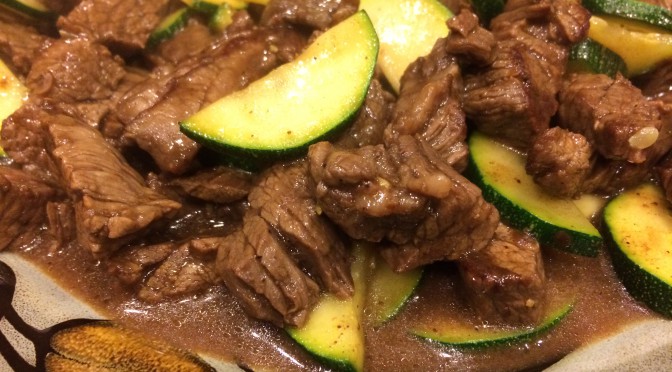 Zucchini Five Spice Beef
I like the flavor of five spice in general.  However, it's very strong, since it's a mixture of five different spices (hence the name), so only a small amount is needed in a dish.
I accidentally made the mistake of putting a lot of it on a pork loin once.  I figured that since I like the flavor and it was a decent pork loin, the more seasoning I put on it, the better it would taste.  I was incredibly wrong.  The pork loin was inedible (it would have been nice if it was incredible, but unfortunately the dish was inedible).  Ever since then, I have been careful to only use a small amount in any dish.
This recipe only uses just enough five spice to add a ton of delicious flavor to the stir fry, but not too much five spice that the delicate flavors of the dish are overwhelmed by the five spice.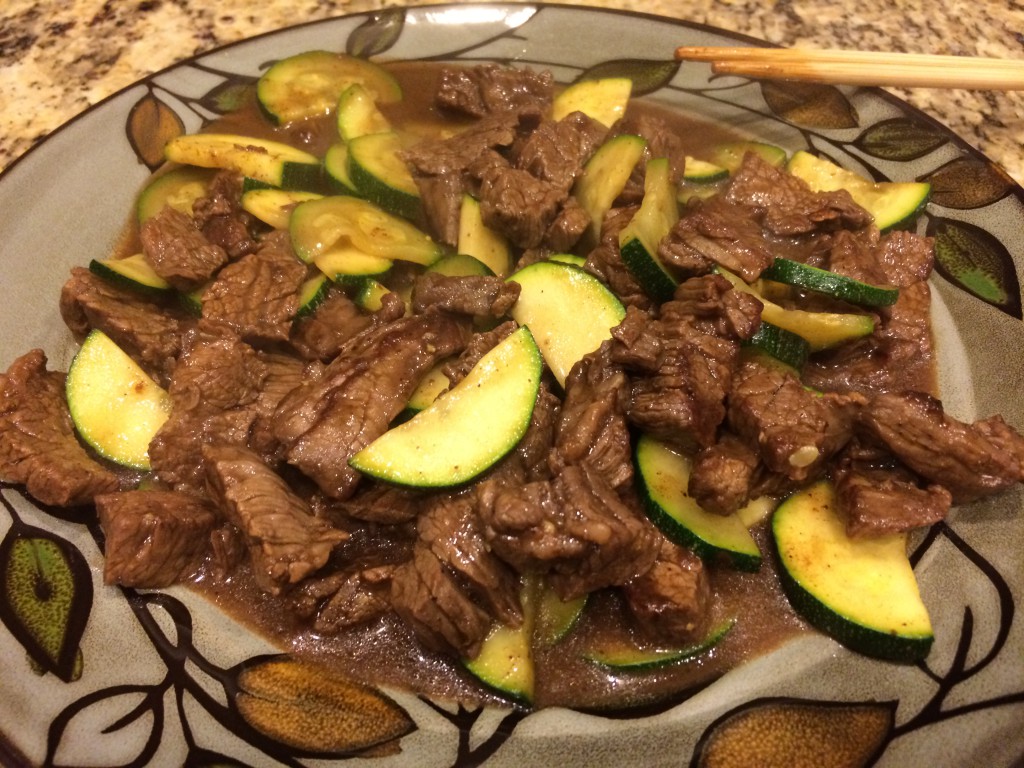 This dish is very easy and quite delicious.  You don't have to marinate the meat overnight, which is an added bonus.  You can make this dish any weeknight, without a lot of planning.

Five Spice Beef with Zucchini
Ingredients
For the marinade:
2 tablespoons soy sauce
2 teaspoons cornstarch
1 teaspoon five spice powder
For the stir fry:
12 ounces flank steak, cut into roughly ½ inch strips
1 medium zucchini
3 tablespoons chicken broth
½ teaspoon salt
2 tablespoons olive oil
Instructions
In a medium sized bowl, mix soy sauce, cornstarch, 1 tablespoon water and five spice powder. Stir until well combined. Add steak and stir until steak is well coated with the marinade.
Meanwhile, cut the zucchini in half, lengthwise and then thinly slice the zucchini so that they are about ¼ inch thick. Set aside.
In another bowl, combine the chicken broth and salt. Mix until the salt is dissolved in the chicken broth.
Heat oil in a large skillet, over high heat. Make sure that the bottom of the skillet is completely coated in oil. Add zucchini and sauté for 2 minutes. The zucchini will not be tender yet.
Add steak and marinade to the skillet, ensuring that the beef is in a single layer. Allow the steak to cook, resisting the urge to sauté it, until the edges change color, about 30 seconds. Sauté the steak until it is no longer pink, about 1 to 2 more minutes.
Add chicken stock mixture and stir to combine. Sauté until beef is cooked, about 2 minutes.
Serve hot.
Adapted from 300 Best Stir Fry Recipes