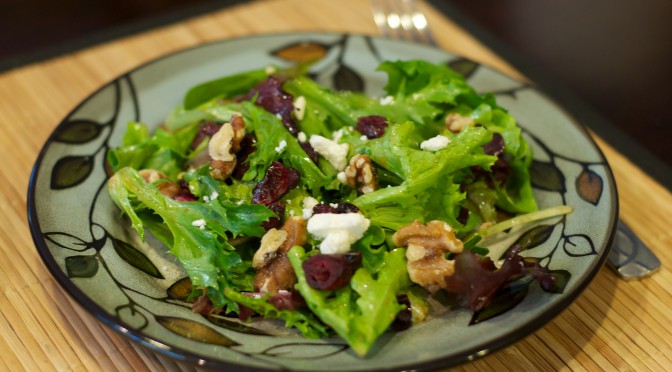 Cranberry, Feta, and Walnut Salad
Mike has claimed that he really likes cranberry, walnut, feta and  spinach salad ever since we had one at Aaron's house. I don't remember eating this salad at Aaron's house, and Mike really hasn't expressed an interest in any salad except Caesear.
In an effort to be healthier, I decided to try to make this salad.  A vinaigrette is  healthier than a creamy, fatty, delicious salad dressing that are usually thrown on top of a Caesar salad.  The best part is that I can make the dressing using ingredients which I already have at home.  I don't have to go to the store to buy Caesar salad dressing.  This salad also doesn't have amazingly delicious seasoned squares of fried bread, or as they are more commonly called, croutons.
Instead, it has walnuts, which are supposed to be chock full of good fat.  I don't really understand the idea of "good fat" vs "bad fat", but I understand the idea that if you are going to eat fat, some fats are better than others.
Although the salad dressing can be made ahead of time, it really does taste better fresh.  That being said, extra salad dressing can be store in the refrigerator for another meal.  If the dressing is stored in the refrigerator, be sure to thaw the dressing for half an hour to an hour prior to serving.  If time is of the essence, the dressing container can be placed in a moat of hot water for 5 minutes.
The amount of cranberries, feta and walnuts that are added to the salad is flexible.  Most of the time I don't bother measuring it out.  I just throw some on top of the salad and add more if it doesn't look like there are enough accoutrements on the salad.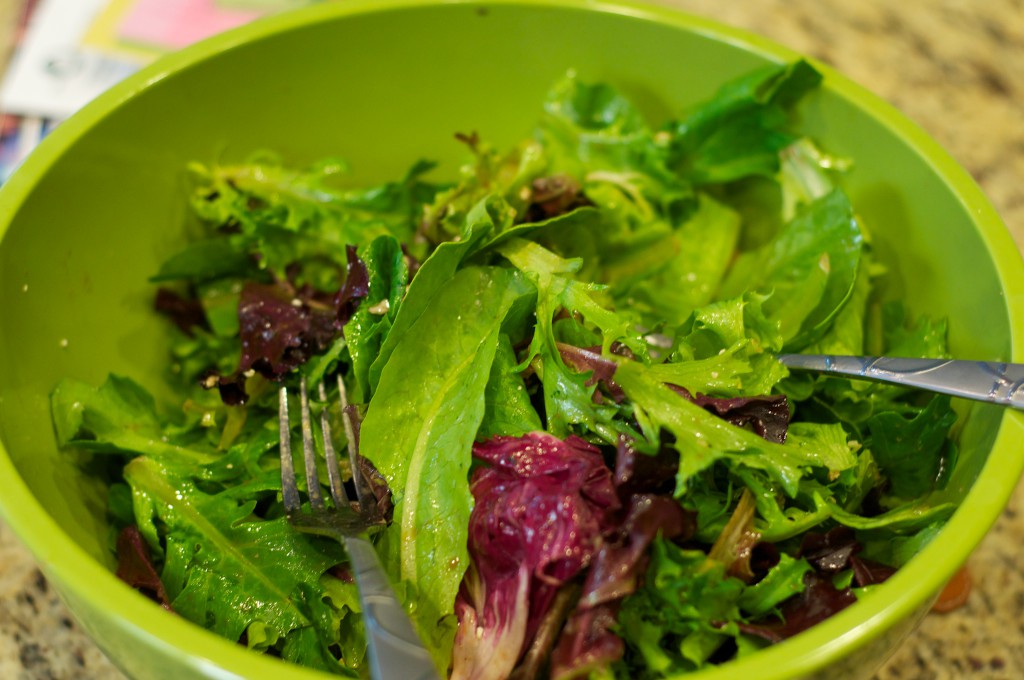 Cranberry, Feta and Walnut Salad
Salads can taste delicious too!
Ingredients
For the salad
8 cups spring mix salad
1 cup dried cranberries
4 ounces feta cheese
½ cup walnuts
For the dressing
2 tablespoons balsamic vinegar
1 tablespoon honey
1 teaspoon Dijon mustard
¼ teaspoon black pepper
¼ cup olive oil
Instructions
For the dressing
Combine the balsamic vinegar, honey, Dijon mustard and black pepper in a small bowl.
Slowly whisk in the olive oil until it is well blended with the vinegar mixture.
For the salad
Toss the spring mix in the dressing. Top with the cranberries, feta and walnuts.
Serve immediately.
Adapted from food.com