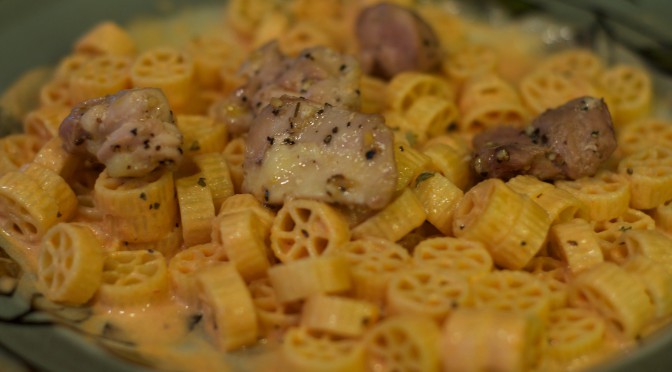 Chicken with Pink Sauce
We had some Montreal Steak Seasoning in the cupboard, so I used it to make the chicken.  I never realized how good that stuff is.  I tasted a small piece of chicken prior to combining it with the pasta and it was delicious!
Mike and I love Rosa Sauce.  Rosa sauce is a pink, tomato cream sauce that we discovered at our favorite Italian restaurant.  It sounds simple enough, yet I have never been able to recreate it at home.  The first time we tried to recreate it, we tried combining alfredo and marinara sauce.  This tasted awful.  Ever since then I've been trying to make pink sauces.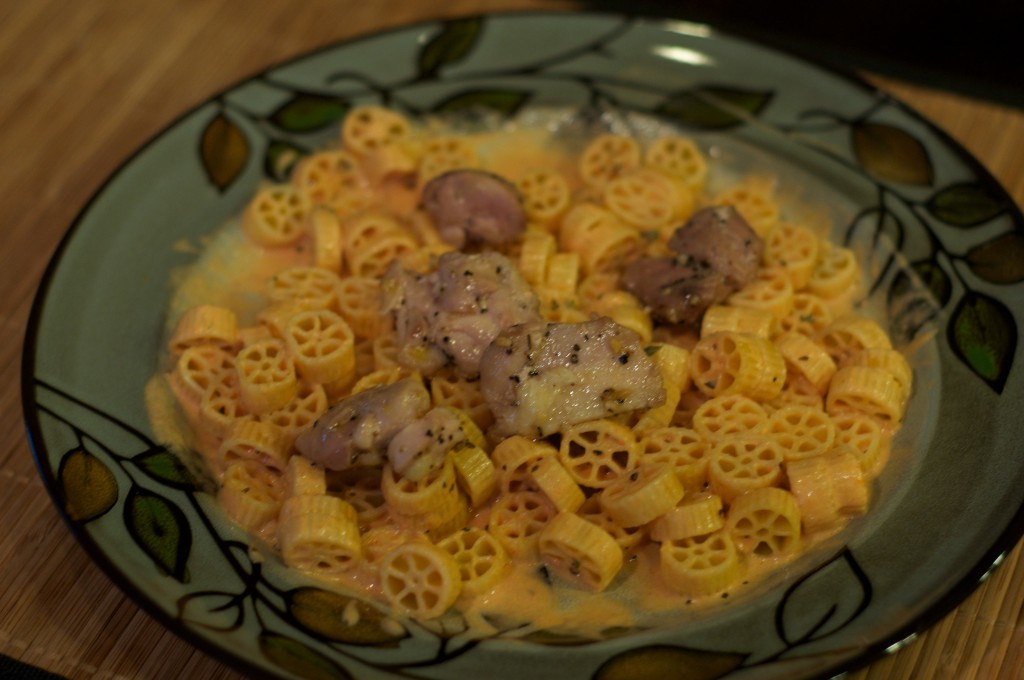 The recipe calls for sautéing garlic in 2 tablespoons of butter and 2 tablespoons of olive oil.  Yes, olive oil is considered a "healthy" fat.  It's still fat.  So far, this sauce starts with 1/4 cup of fat.  Chicken broth is added, but then reduced, so there is very little broth left.  Then a cup of tomato sauce is added.  After that a cup of heavy cream is added.  Essentially, this recipe is 1 part tomato sauce, 1 part heavy cream and a half a part of fat.  No wonder it was so tasty!
I served the sauce over wagon wheels because I've always loved pasta with different shapes.  No, this sauce does not taste like the Rosa sauce from our favorite restaurant, but it is still pretty amazing!

Chicken on Wheels
Ingredients
1 lb boneless, skinless chicken thighs, cut into 1½ inch pieces
2 tablespoons olive oil, divided use
Montreal Steak seasoning, to taste
½ pound wagon wheels, or pasta of choice
2 tablespoons butter
2 cloves garlic, minced
½ cup chicken broth
1 (8-ounce) can tomato sauce
1 cup heavy cream
Salt and pepper to taste
Instructions
Heat two tablespoons of olive oil in a large saucepan over medium heat. Season chicken with Montreal Steak seasoning, to taste. Saute chicken in the pan until chicken is fully cooked, about 7 minutes. Remove chicken and its juices from the pan.
Meanwhile, in a large pot, cook pasta according to the directions on the package. Drain pasta and set aside.
Melt butter over medium heat, in the same saucepan that was used to cook the chicken. Add the garlic and sauté until garlic is fragrant, about 30 seconds. Add chicken broth and simmer until chicken broth is reduced by half. Add tomato sauce and heavy cream. Stir until well combined. Simmer until sauce is heated through.
Toss the pasta in the sauce and divide among four plates. Top the pasta with the chicken. Serve hot.
Adapted from Kevin & Amanda