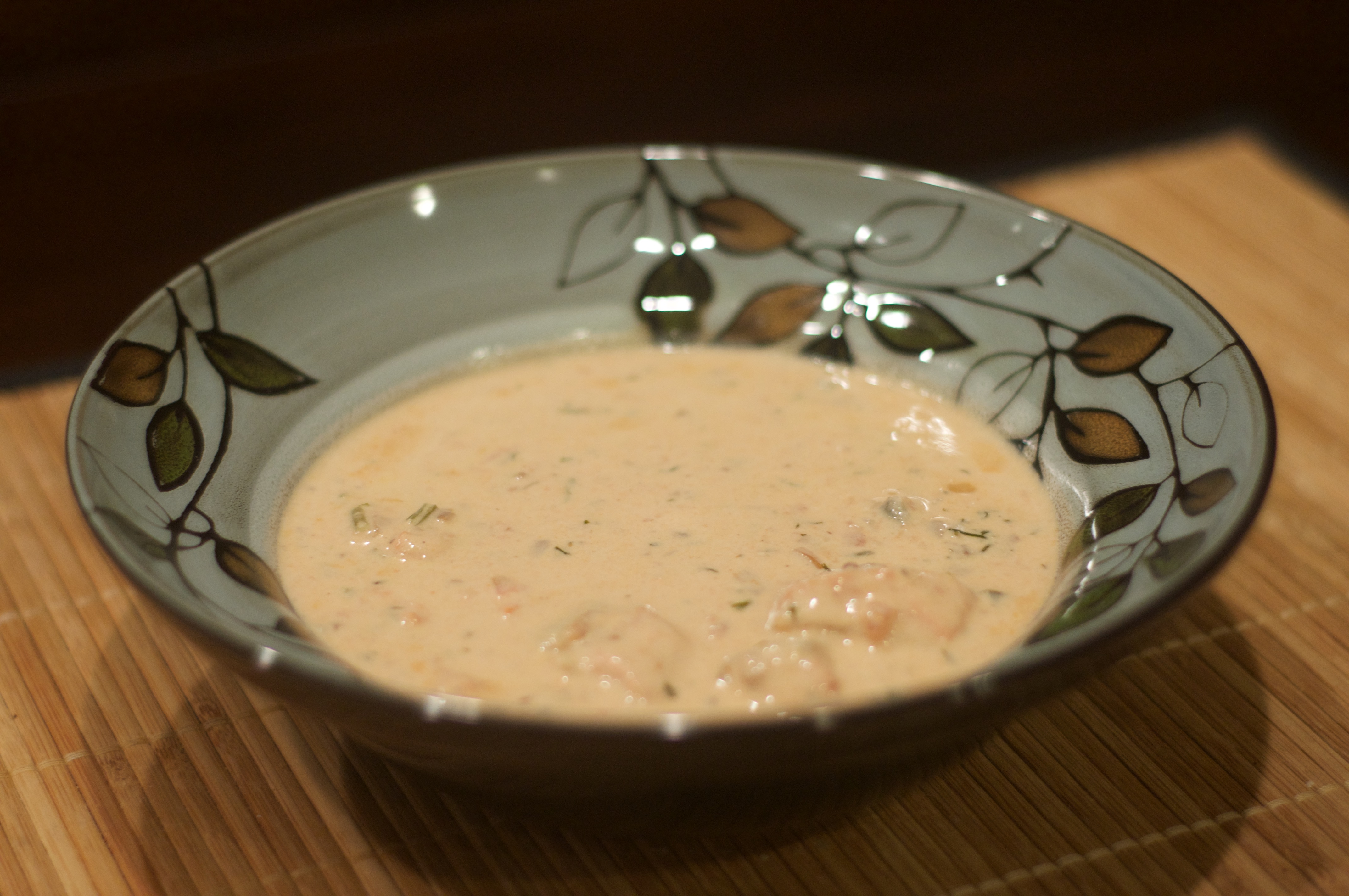 Salmon Bisque
A friend told us about this amazing salmon bisque that she had eaten when she was in Cambria.  Since salmon was on sale at the grocery store, I decided to try to recreate this dish.
I had some fresh dill that I had bought for another recipe, and wasn't sure what to put it in.  Luckily dill and salmon are a great combination.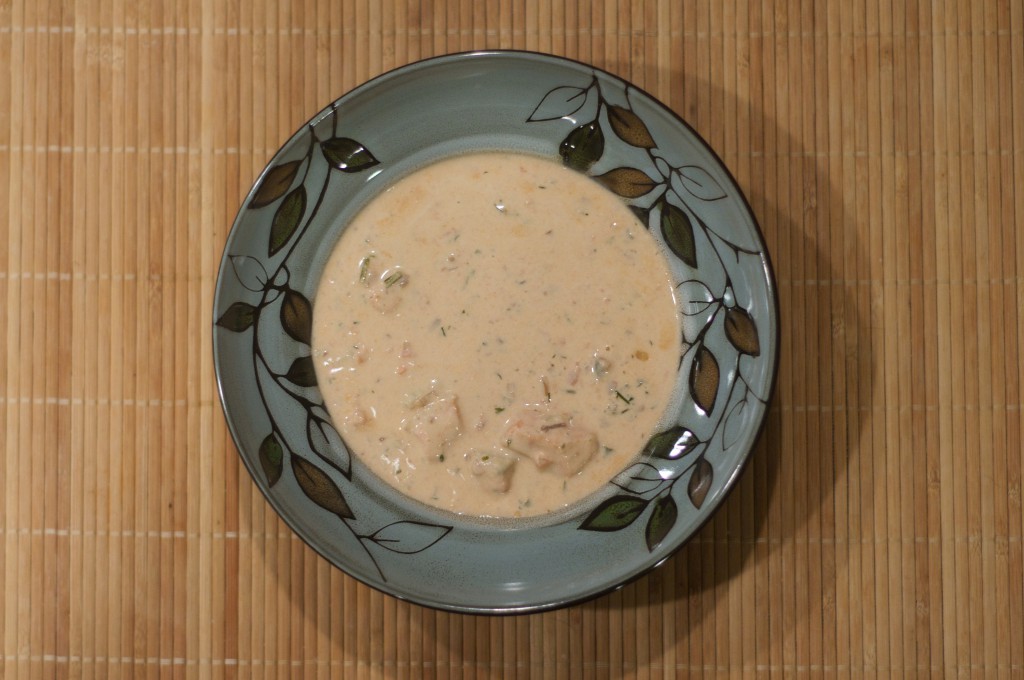 I must admit that this dish is rather rich.  But then again, it's a bisque.  Bisques aren't exactly light, or at least all of the ones that I've tasted have never been.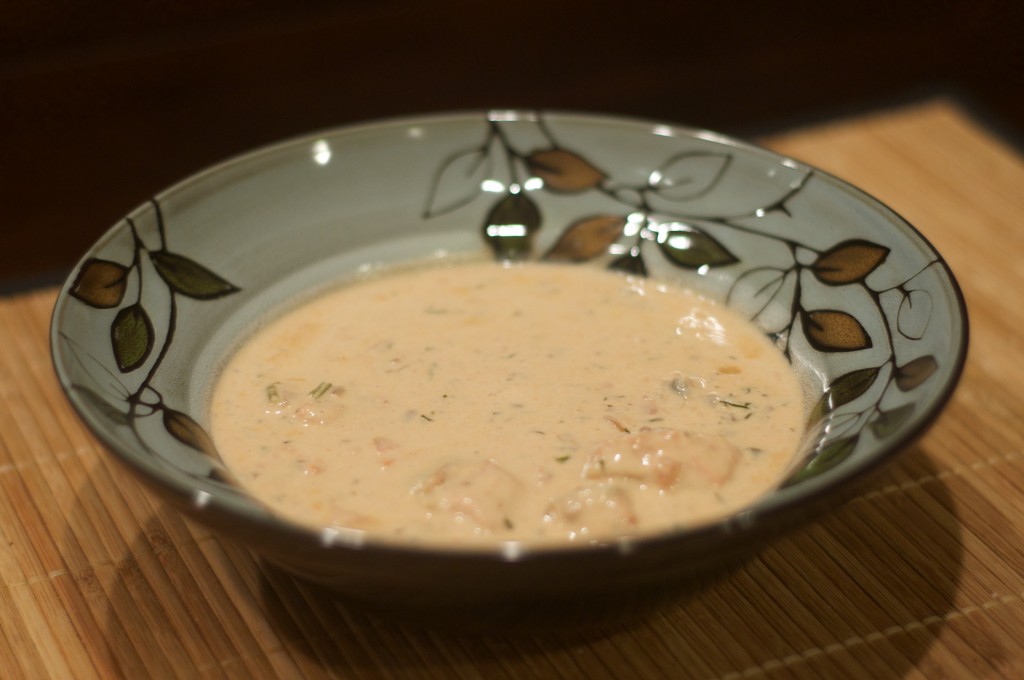 Make yourself a nice hearty bowl of salmon bisque tonight.  You'll be wondering why you never thought of making this before.

Salmon Bisque
Ingredients
2 tablespoons unsalted butter
½ cup diced onions
1½ teaspoons minced garlic
1 cup diced tomatoes
1⅓ cups clam juice
2 tablespoons chopped fresh parsley
1½ teaspoons chopped fresh dill
¼ teaspoon salt
⅛ teaspoon pepper
½ pound of uncooked salmon, cut into ½ inch chunks
1 tablespoon flour
1 cup heavy cream
Instructions
Heat butter in a Dutch oven over medium high heat. Once the butter is melted, add onions and garlic and sauté until onions are translucent, about 3 minutes. Meanwhile, puree tomatoes in a blender.
Add pureed tomatoes, clam juice, parsley and dill to the Dutch oven. Bring to a simmer. Add salt, pepper and salmon. Gently stir to combine. Simmer until the salmon is fully cooked, about 5 minutes.
Meanwhile mix the flour and heavy cream in a small bowl. Whisk until the flour is well combined in the cream.
Slowly add cream to the soup, once the salmon is cooked. Simmer until soup has thickened slightly, about 5 minutes.
Serve hot.
Adapted from Los Angeles Times