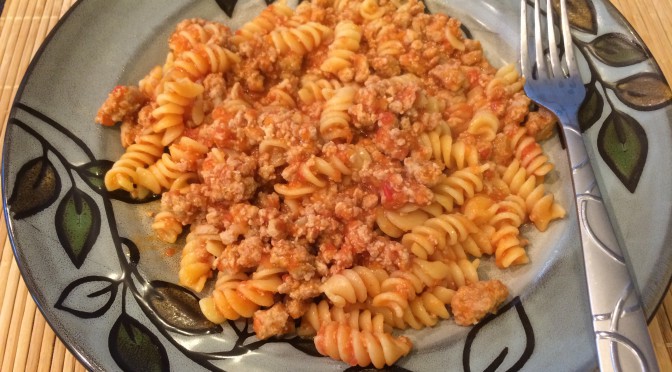 Rotini Bolognese
I've seen Bolognese sauce at restaurants before and usually just associate them with being a ground meat sauce. I've never really had cravings for them. I just thought they were tomato sauce with ground meat.
Once I finally tried Bolognese sauce at a restaurant, I realized just how delicious it is!  It's not just tomato sauce with ground meat.  There are so many more complex flavors.
I decided to try to make my own at home, since bolognese sauce at restaurants are not very cheap.  This dish was delicious, and a great way to cook carrots, since you really can't taste them!

Rotini Bolognese
Ingredients
2 carrots, peeled and chopped into 1 inch pieces
1 small onion, cut into 1 inch pieces
2 ounces thinly ham, cut into 1 inch pieces
2 (14.5 ounce) cans diced tomatoes
1 tablespoon unsalted butter
Salt and pepper, to taste
1 teaspoon sugar
1 garlic clove, minced
1 pound (93% lean) ground turkey
1½ cups milk
2 tablespoons tomato paste
½ cup white wine
4 cups water
1 pound rotini pasta
Instructions
Add carrots, onions and ham to a strong blender or a food processor. Process until carrot mixture is finely chopped. Transfer to a bowl. Place tomato in the food processor and process until smooth. Transfer to a separate bowl.
Melt butter in a Dutch oven, over medium heat. Add carrot mixture and sauté for 2 minutes. Stir in 1 teaspoon salt, or to taste. Cover Dutch oven and simmer until carrots are soft, about 8-10 minutes.
Add sugar and garlic and sauté until fragrant, about 30 seconds. Add turkey, breaking up the meat into smaller pieces. Add milk, scraping up any browned bits. Simmer until most of the milk has evaporated, about 18-20 minutes. Continue to break up meat during this time if the chunks are still too big.
Add tomato paste and cook for another minute. Add wine and continue to simmer until most of the liquid has been absorbed, about 8-10 minutes.
Add tomatoes, water and rotini and bring to a boil over medium high heat. Stir so that the rotini are covered in liquid. Cover and cook until pasta is cooked to desired tenderness and sauce has thickened, about 12-16 minutes. Stir frequently. Season with salt and pepper, to taste.
Serve hot.
Adapted from Comfort Food Makeovers