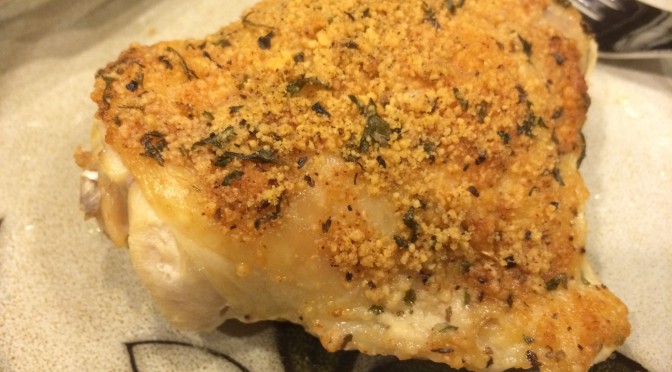 Parmesan Herb Chicken Thighs
I bought about five pounds of chicken thighs from the grocery store since it was sale.  Unfortunately I didn't really have any recipes in mind for them.  Most of the recipes I found were for boneless skinless chicken thighs, or required that the chicken be marinated overnight.  I wanted to make something for dinner tonight.
I had considered trying to make oven "fried" chicken, but I felt that I'd made a lot of oven "fried" chicken recently and wanted to try something else.  This recipe is similar, since the skin is crispy, but the flavors are completely different.  The Parmesan and herbs in this chicken provided a much strong flavor.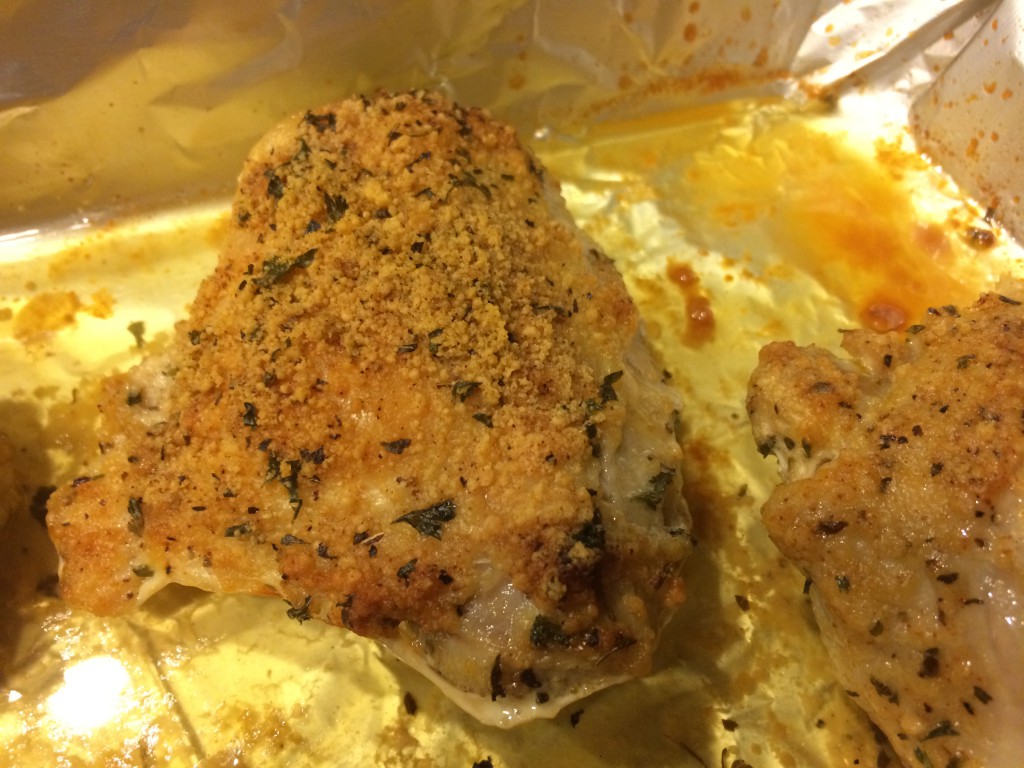 The chicken was quite tasty.  The Parmesan cheese and herbs added flavor, but were not overwhelming.  The chicken skin was crispy and crunchy.  The chicken was also delicious the next day when I had it for lunch as well.  The skin was not as crispy, but the chicken was still juicy and tender.  I could definitely taste the cheese and herbs on the chicken.

Parmesan Herb Chicken Thighs
Ingredients
¼ cup grated Parmesan cheese
2 teaspoons dried parsley
½ teaspoon dried basil
½ teaspoon paprika
¼ teaspoon salt
¼ teaspoon pepper
Pinch garlic powder
4 bone-in, skin-on chicken thighs
Instructions
Preheat oven to 425 F. Line a 9 x 13 pan with aluminum foil. Spray the prepared pan with cooking spray.
In a shallow bowl, combine the cheese, parsley, basil, paprika, salt, pepper and garlic powder. Mix so that all ingredients are well combined.
Wash and pat dry chicken thighs (leave a little moisture on the chicken). Season the bottom of the chicken with salt and pepper, to taste. Place the chicken, skin down in the cheese mixture, and press so that the skin is coated in the cheese mixture.
Place chicken in the prepared pan, skin side up. Spray the top of the chicken with cooking spray.
Roast for until it has reached an internal temperature of 165 F and the juice run clear, about 45 minutes.
Adapted from genaw.com