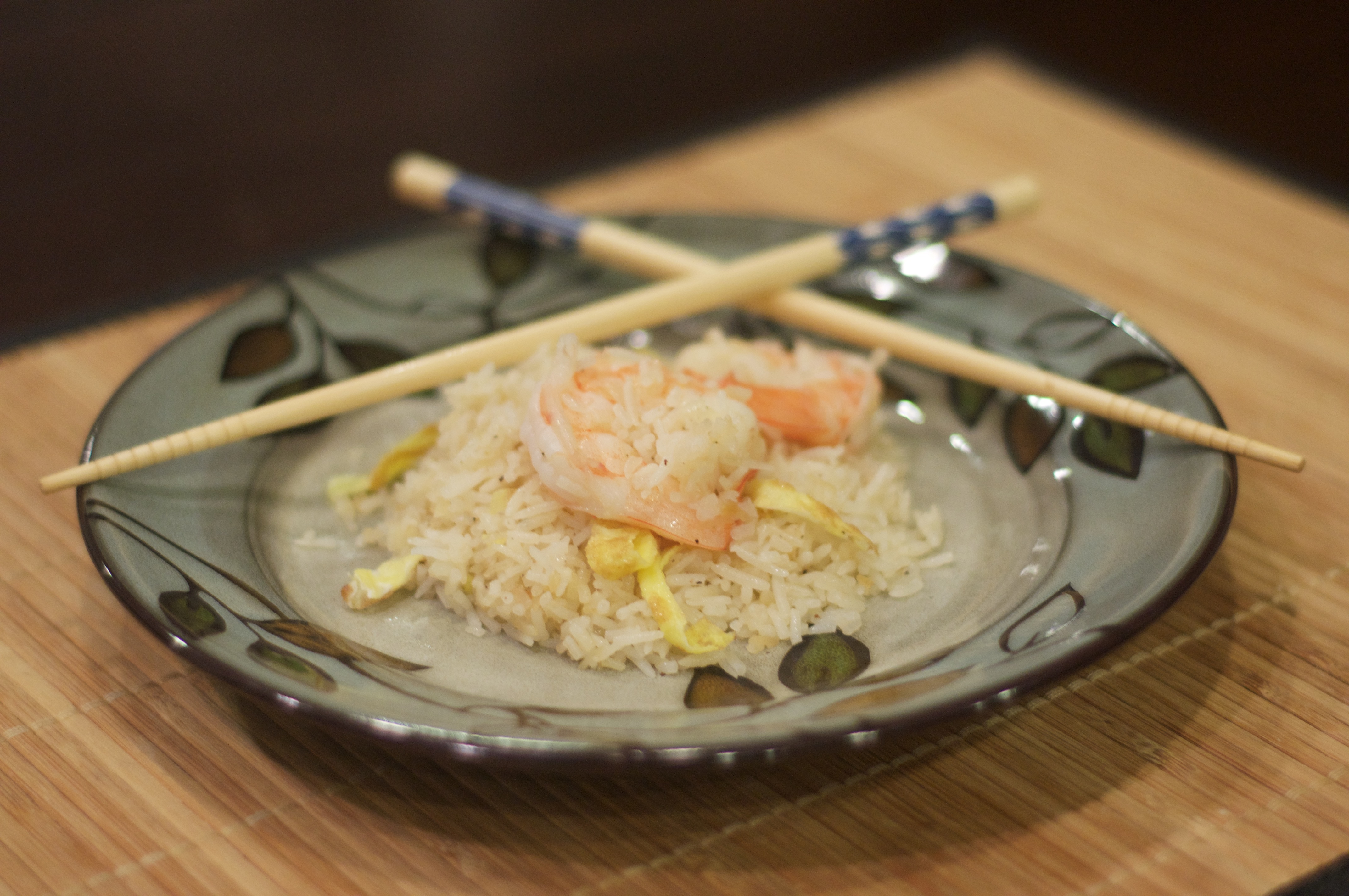 Shrimp Fried Rice
Growing up, I loved eating fried rice.  I loved the rice from the Chinese food take out places as well as the ones that came from nicer restaurants.  My mom tried to make fried rice at home, but it never came out quite as good as the ones from the restaurants.  I think this is probably because she refused to add all the fat, salt and other unhealthy, but delicious goodness to her fried rice.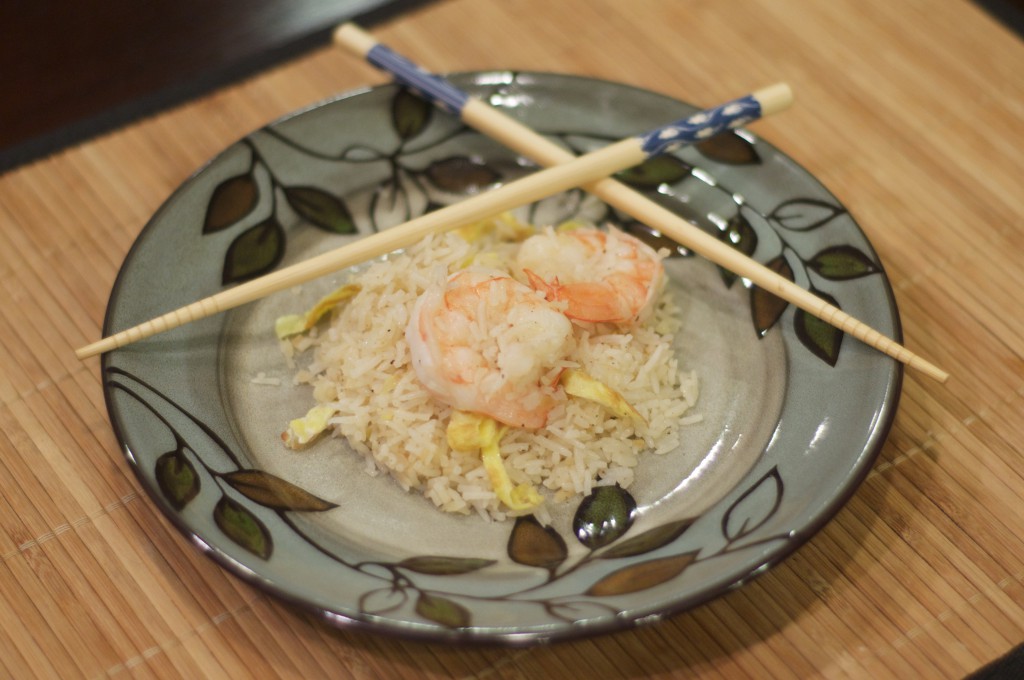 Fried rice typically has peas and carrots in it.  I have never been a fan of either peas or carrots, and used to pick these out of my fried rice.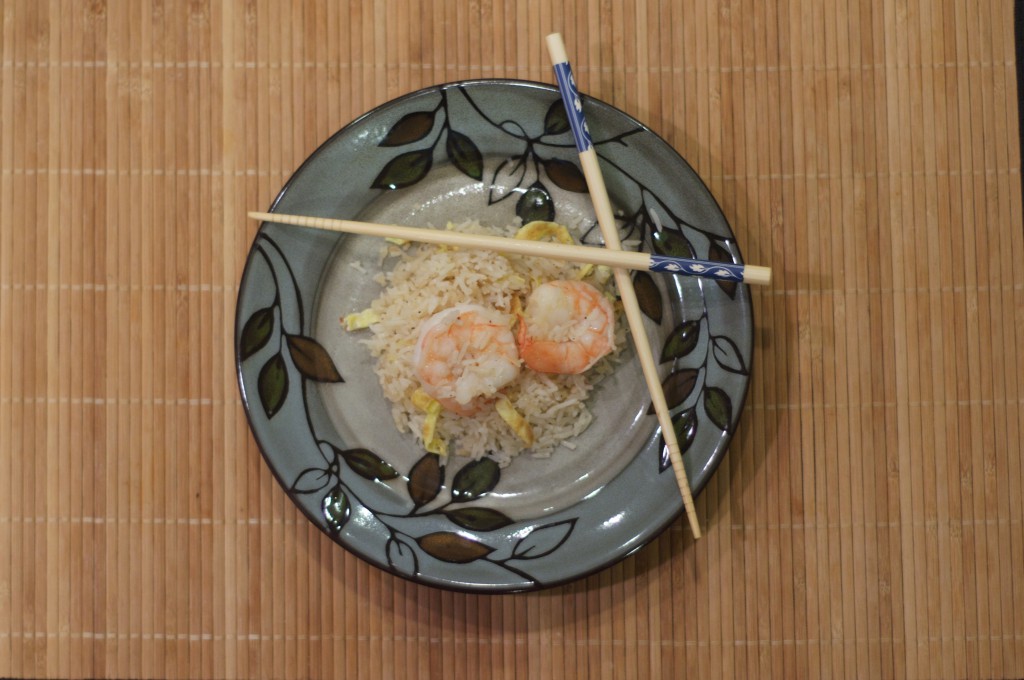 There are many different types of fried rice out there, and this particular one doesn't taste like the ones that you get from cheap Chinese fast food places.  It tastes so much better.  You can of course add in the peas and carrots if you like, but I didn't want to add them in while cooking, only to have to pick them out of my food when I was eating it.

Shrimp Fried Rice
Ingredients
4 cups cold, cooked rice, chilled
2 tablespoons olive oil, divided use
1 egg, beaten
1 tablespoon garlic, minced
½ cup chopped onion
12 medium (31-40 size) shrimp, peeled and deveined
2 tablespoons fish sauce
½ teaspoon salt
¼ teaspoon black pepper
Instructions
Crumble the rice into smaller pieces, using either a wooden spoon or your fingers. Break down any large chunks. The smaller the pieces, the better the fried rice will taste. Set aside.
Heat 2 teaspoons of oil in a large skillet, over medium high heat. Tilt the skillet so that the bottom of the skillet is covered in oil. Add the egg and again tilt the pan so that a thin egg pancake is formed. Cook until egg is cooked, about 1 minute. Transfer to a plate.
Heat 4 teaspoons in the same skillet that was used for the egg, over medium high heat. Add the garlic and onions and sauté until fragrant, about 30 seconds. Add the shrimp and sauté until shrimp are pinked, but not cooked all the way through, about 2 minutes. Add the rice, breaking up any remaining larger chunks of rice. Stir so that rice and shrimp are well combined. Cook until rice is heated through, about 3-5 minutes, stirring occasionally.
Roll up the egg pancake into a cylindrical shape. Cut the eggs into thin ribbons. Add the fish sauce, salt, and pepper to the rice, and stir to combine. Add the egg ribbons and stir until well combined. Cook fried rice for another minute.
Serve hot as a main dish, or as a side dish.
Notes
Cook the rice in a rice cooker, or according to the instructions on the bag, the night before and store it in the refrigerator. Take it out of the refrigerator when ready to make this dish.
Adapted from Quick and Easy Vietnamese