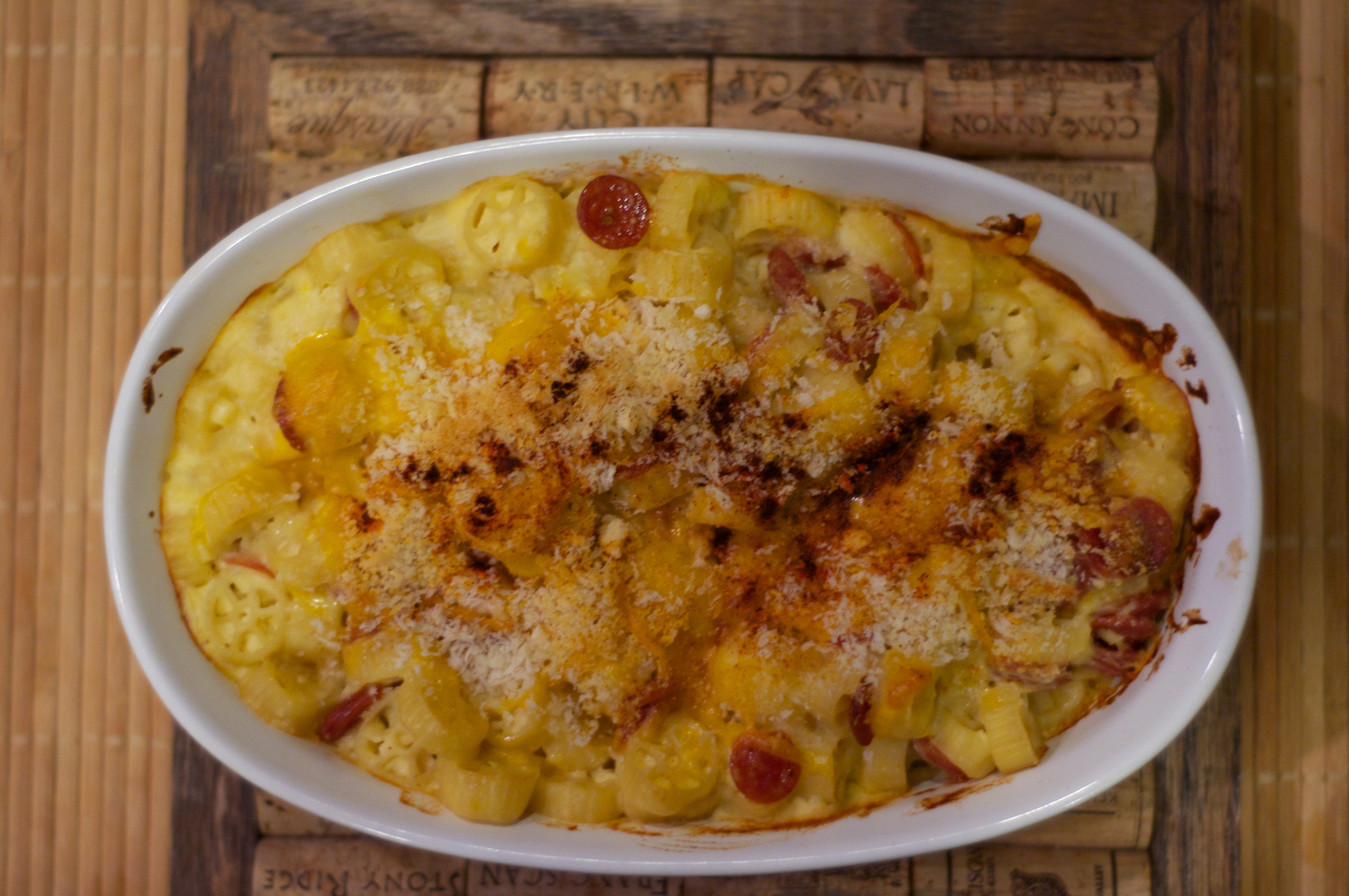 Pepperoni Cauliflower Mac and Cheese
Mike loves mac n' cheese.  His mom used to make it for him before his hockey games when he was a child.  She made the Kraft kind that came in the blue box.  It had this bright orange color that vaguely resembles the color of cheddar.  
My mom also made this mac n' cheese for us growing up.  She didn't make it often, because it wasn't very healthy.  Later on, when I would go to the grocery store by myself, I use to get the Kraft mac n' cheese with "fun shapes".  I always thought these tasted so much better than the "regular" kind.  I later realized that this is because the box with the "fun shapes" was only 5.5 oz, but had the same size cheese flavor packet.  The regular kind was 7 oz.  The reason the "fun shapes" tasted so much better was because it had so much more salt and "cheese".
I decided that I wanted to make mac n' cheese from scratch.  I figured it wouldn't be too hard.  All you need is macaroni and cheese, right?  Just two ingredients.  How hard can it be?  Well, for me, it wasn't that easy.  I tried making mac n' cheese by boiling some macaroni and throwing some cheddar on it.  It did not taste like the kind I was used to, nor did I like it.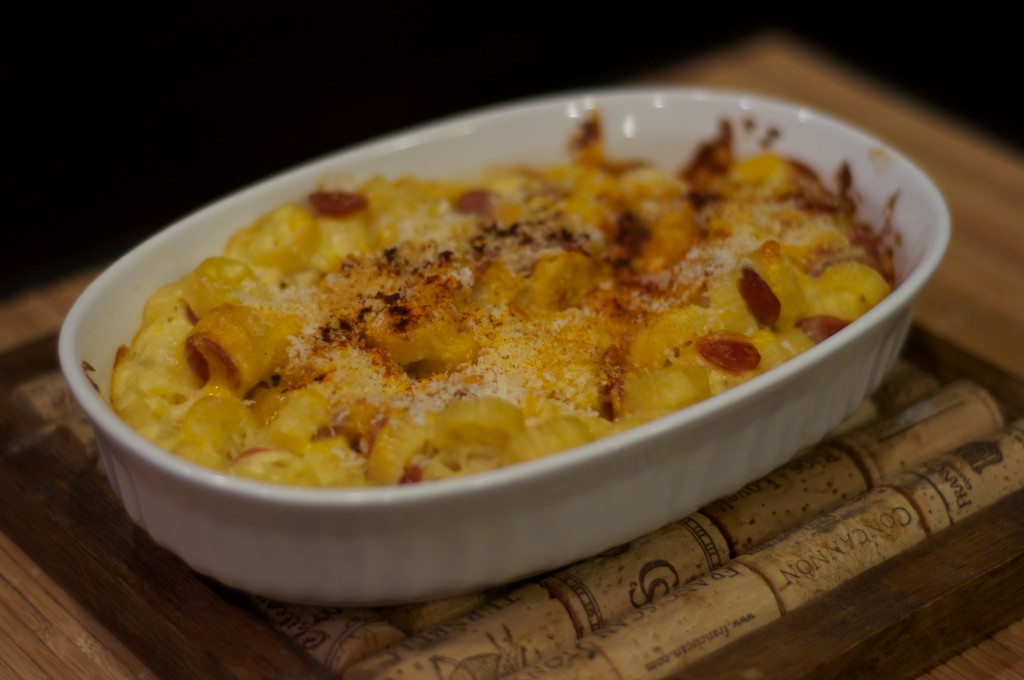 I then started looking for recipes to make mac n' cheese.  One recipe I found used 2 pounds (total) of 4 different cheeses (3 of which I didn't have or regularly use), 1 or 2 cups of heavy whipping cream (I don't remember the exact amount) and a jaw dropping amount of butter for 1 pound of macaroni.
I decided not to make that recipe for obvious reasons (I didn't want to have a heart attack after eating one bite).  I decided to make a different mac n' cheese recipe which uses cauliflower (healthy), ricotta cheese (I was trying to use up the rest of this) and cheddar cheese (OK, fine, I was trying to get rid of this too).  I used wagon wheels instead of macaroni because that's what I had in the pantry.  What can I say, I still love "fun shapes".

Pepperoni Cauliflower Mac and Cheese
Ingredients
½ head cauliflower, florets only
2 cups milk, divided use
2½ cups wagon wheels (or macaroni), uncooked
¼ cup mini pepperonis
1¾ cups shredded cheddar cheese, divided use
¼ cup + 1½ tablespoons grated Parmesan cheese, divided use
¼ cup ricotta cheese
½ teaspoons kosher salt, or to taste
Pepper to taste
3 tablespoons Panko breadcrumbs
¼ teaspoon paprika
Instructions
Preheat oven to 375 degrees.
In a large pot, place 2 cups water, 1 cup milk and cauliflower florets. Bring to a boil. Turn down the heat and simmer for 20 minutes or until the cauliflower is very tender.
Meanwhile, in a separate pot, cook the wagon wheels almost according to the directions on the box, but reduce the amount of cooking time, so that the wheels are still undercooked and firm. They will finish cooking in the oven*.
Drain the cauliflower after it has finished cooking, Place cauliflower in a blender and blend until smooth. In a medium pot, over medium low heat, add the cauliflower, 1 cup milk, mini pepperonis. Slowly stir in 1¼ cup cheddar cheese, ¼ cup Parmesan cheese and ricotta cheese. Season with salt and pepper to taste.
Remove from heat and stir in wagon wheels. Mix until wheels are well coated with the cheese mixture. Pour the pasta and cheese into a baking dish (I used a roughly 8" x 10" ceramic dish).
In a small bowl, combine the panko breadcrumbs, 1½ tablespoons Parmesan cheese and paprika. Sprinkle ½ cup cheddar cheese over the top of the pasta dish and then sprinkle the panko mixture evenly over the top of the dish.
Bake the pasta for 20 minutes, or until the cheese is melted and slightly bubbling. Serve hot.
Notes
* The directions on my box of pasta stated that I should cook them for 7 minutes in order for them to be al dente. I cooked the pasta for 4 minutes so that they were still hard.
Adapted from Domesticate Me