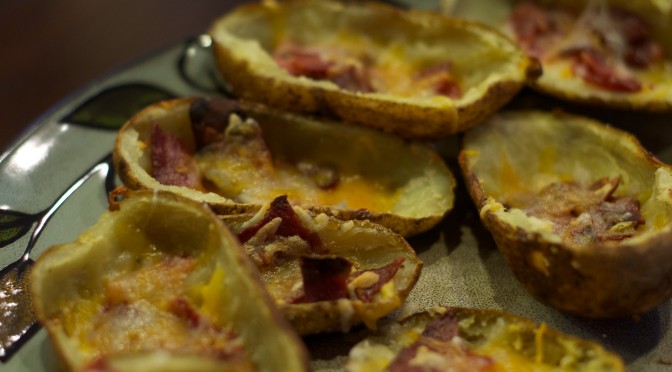 Loaded Potato Skins
Mike loves loaded potato skins. They are delicious, but very unhealthy, with quite a bit of cheese, bacon and sour cream. I wanted to make some for him anyway (at least at home I can control how much bad stuff is put in it). I was able to use the potatoes that I scooped out to make Shepherd's Pie.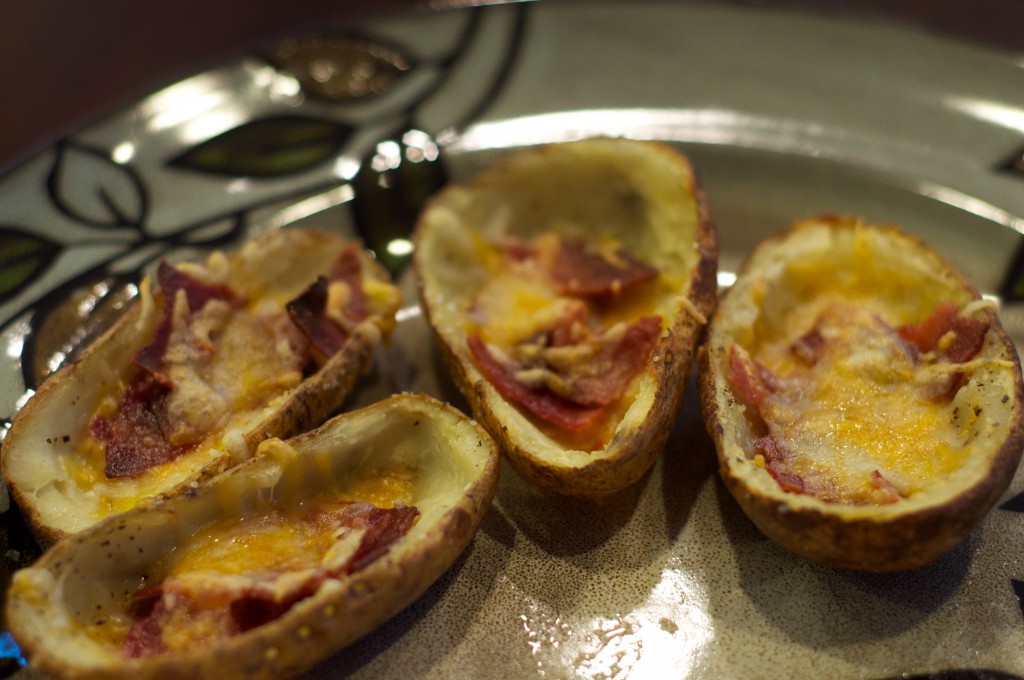 Loaded potato skins are so easy and cheap to make.  Why spend money to buy them at a restaurant?  Another nice feature is that you can use your favorite toppings, not just cheese and bacon, though those two ingredients really do go very well together.

Loaded Potato Skins
Ingredients
8 (3-inch-long) russet potatoes (about 2¼ pounds), scrubbed and thoroughly dried
2 tablespoons unsalted butter, melted
Kosher salt
Freshly ground black pepper
2 cups shredded sharp cheddar cheese (about 4 ounces)
6 slices cooked bacon, crumbled
⅓ cup sour cream
2 tablespoons finely chopped fresh chives
Instructions
Place a rack in the middle of the oven. Preheat oven to 400 F.
Use a fork to pierce the potatoes multiple times. Place the potatoes on the oven rack and roast until they are easily pierced by a fork, about 50 minutes. Carefully remove the potatoes from the oven and place them on a wire rack to cool. Turn on the broiler.
Once the potatoes are cool enough to handle, slice them in half lengthwise. Scoop out the flesh of the potatoes using a spoon. Leave about a quarter of an inch edge next to the skin. Reserve the scooped out potato for another recipe.
Brush both sides of the potato skins with the melted butter. Season skins with salt and pepper, to taste. Place the potato skins, skin side up on a baking sheet, making sure the skins are not touching each other. Broil until the skins have started to crisp, about 2 minutes. Flip the potato skins over and broil until the edges are golden, about 2 more minutes.
Evenly fill the skins with the cheese and bacon. Broil for another few minutes, until the cheese has melted, about 4 minutes. Remove from heat. Top with sour cream and chives.
Serve hot.
Adapted from Chowhound