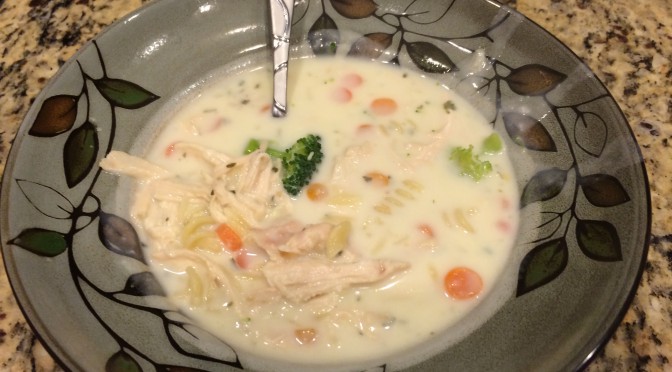 Creamy Chicken Noodle Soup
Mike wasn't feeling well, so I wanted to make him some soup.  I had toyed with the idea of making a "traditional" chicken noodle soup, however we had a bit of milk that I was trying to use up.  I also happened to have some heavy cream in the refrigerator as well.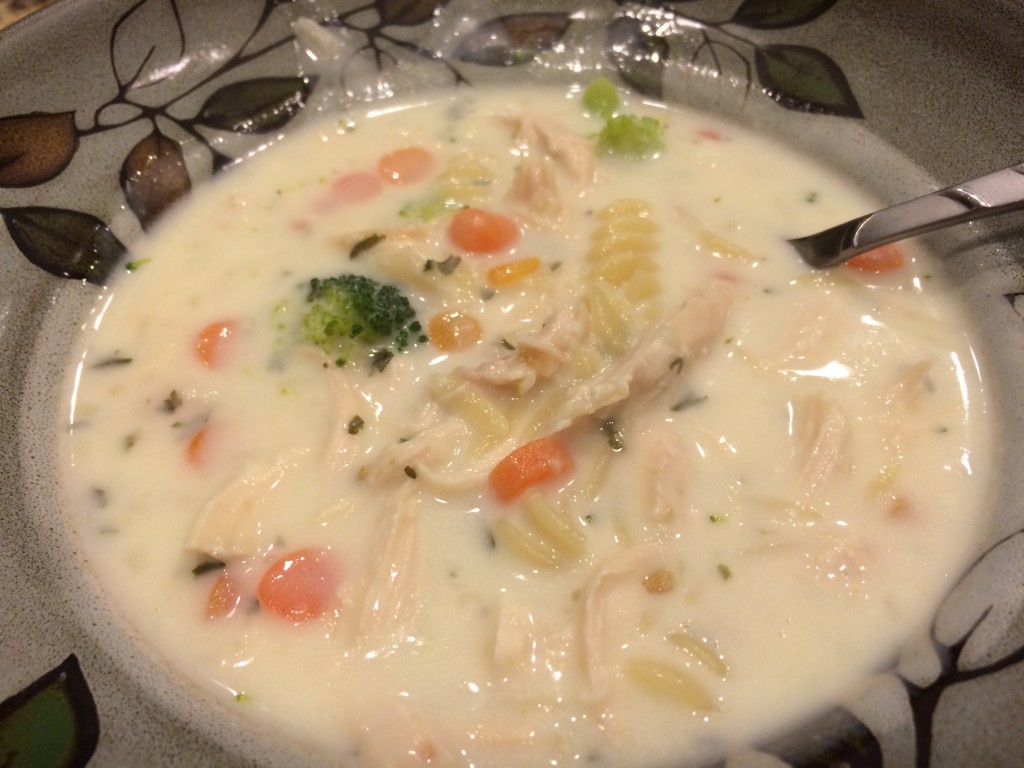 Mike had not been consuming as much milk as usual since he was not feeling well, so I was trying to find creative ways to use up the milk before it spoiled.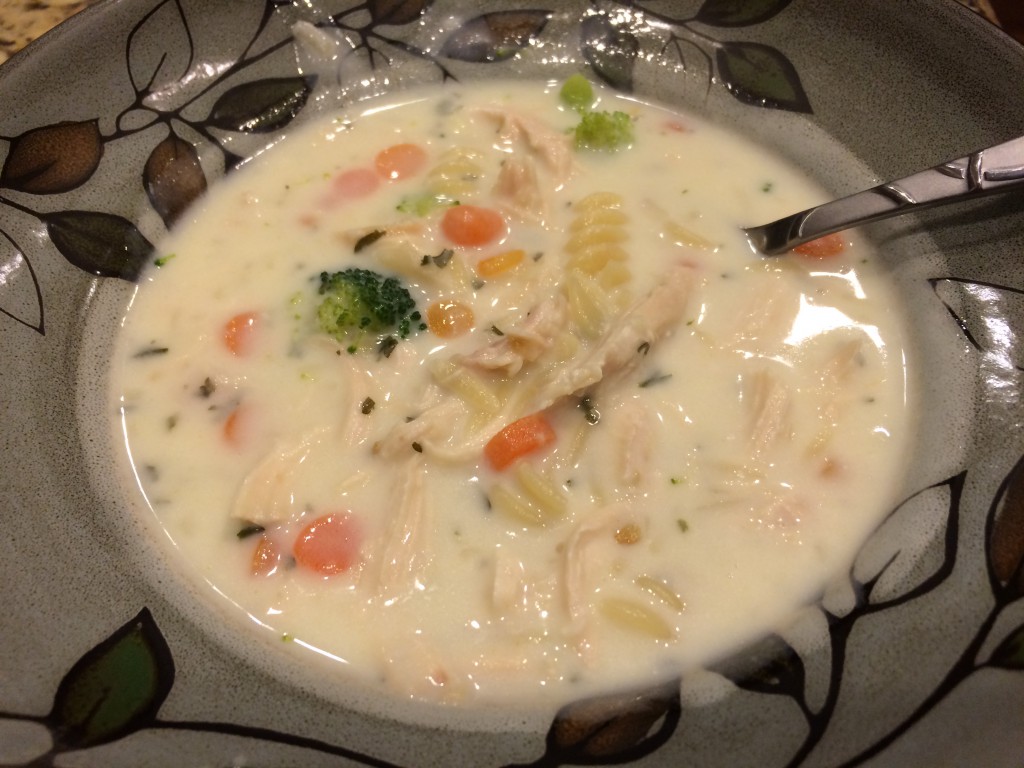 Although chicken noodle soup traditionally contains egg noodles, I was trying to get rid of orzo pasta so I threw them into the soup. I bought orzo because I thought I would like it. As it turns out, I hate it.  I didn't have enough orzo, so I added rotini pasta to the soup as well so that there would be enough pasta.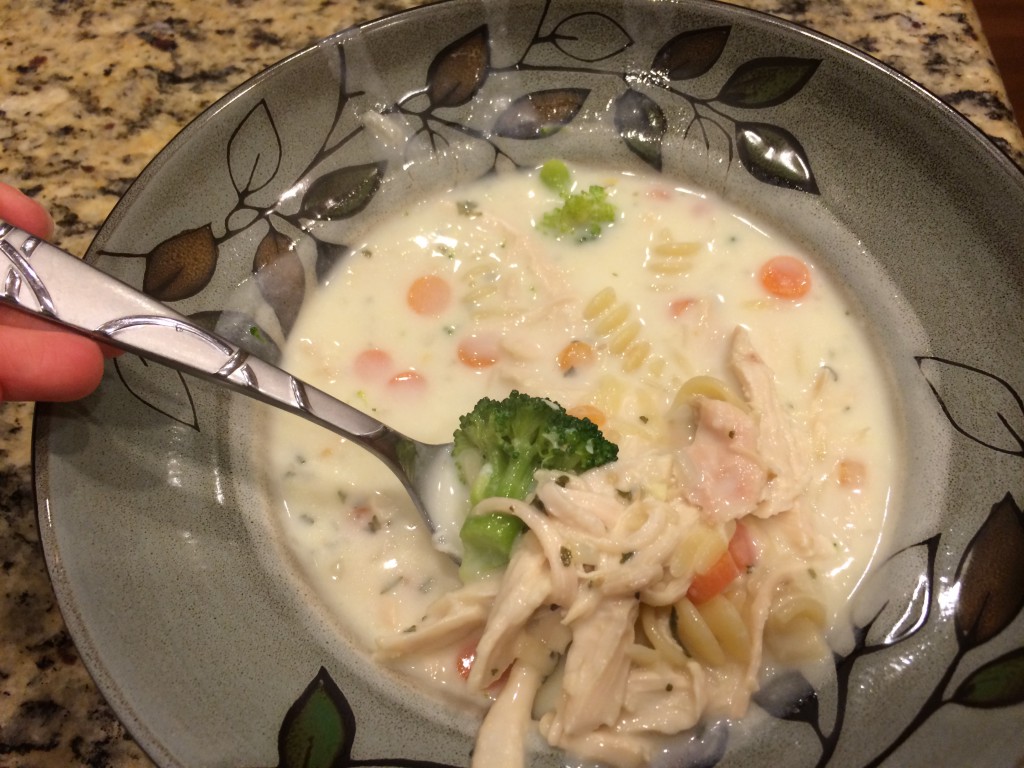 I also added broccoli and chopped baby carrots because I was trying to get rid of those too, I mean because they are healthy.  This soup was both creamy and delicious!  This soup is hearty, with big chunks of food in it that is sure to fill someone up.  

Creamy Chicken Noodle Soup
A creamy twist on a classic soup.
Ingredients
1 cup uncooked rotini (spiral) pasta*
½ cup uncooked orzo pasta*
2 cooked boneless, skinless chicken breasts, shredded
1½ tablespoon olive oil
1½ cups chopped onion
10 baby carrots, chopped
½ broccoli crown, chopped
3 cloves garlic, minced
4 cups low-sodium chicken broth
3 teaspoons chopped dried parsley
2 bay leaves
Salt and freshly ground black pepper, to taste
¼ cup butter
¼ cup + 2 tablespoons all-purpose flour
2½ cups skim milk
⅓ cup heavy cream
Instructions
Prepare noodles according to the package instructions.
In a large pot, heat the olive oil over medium heat. Sauté the onions, carrots and broccoli until tender, about 3 minutes. Add the garlic and sauté until fragrant, about 30 seconds.
Add chicken broth, parsley, bay leaves and season with salt and pepper to taste. Bring to a boil, cover and simmer over medium heat for 10 - 15 minutes.
In a saucepan, melt the butter over medium heat. Whisk in flour and continue to stir vigorously until the flour is combined with the butter.
Slowly whisk in milk and continue to stir vigorously. Add heavy cream and bring the mixture to a boil.
Pour the milk mixture into the soup mixture, add the chicken and noodles and stir to combine.
Serve immediately.
Notes
*2 cups of spiral past may be used instead.
Adapted from Cooking Classy