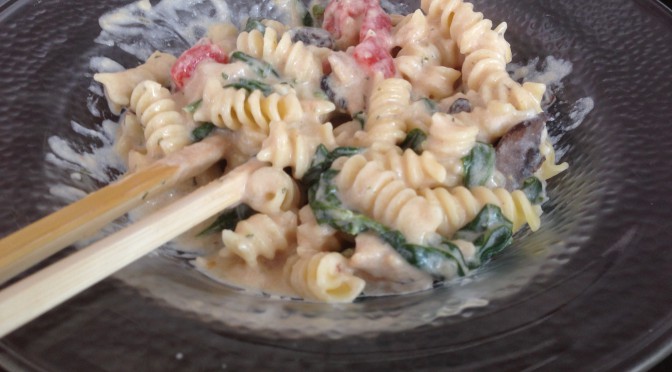 Pasta Milano
Mike and I used to love eating at Macaroni Grill.  We especially loved the lobster ravioli in the lemon butter sauce.  It was perfection.  The free bread is also amazing.  There is a dish on the menu called the Pasta Milano which sounded delicious.  I never actually tried it because I couldn't bring myself to order something besides the lobster ravioli.  It was just that good.
We stopped going there for a while because it was getting expensive, and unhealthy.  When we came back, we realized that they had changed their menu (to be healthier, not because we had stopped patronizing their establishment)!  We decided to give their new menu a try, and it was horrible.  We tried going back there a few more times, ordering different dishes, but alas we just didn't like any of the dishes.  The bread was still amazing, but it really doesn't make sense to go to a restaurant just for the free bread.
Luckily we are able to make our own Rosemary bread.  We still haven't figured out how to make delicious lobster ravioli yet.  Maybe one day…  I was able to make Pasta Milano at home, mainly with ingredients which I normally have at home (no, I don't normally keep heavy cream in my refrigerator, so I sometimes use "heavy cream substitute").

Pasta Milano
Ingredients
3 tablespoons butter
1 small onion
5 cloves garlic, minced
8 ounces Portabella mushrooms, sliced
¼ cup all purpose flour
¼ cup white wine
2 cups cooked chicken, diced
½ cup diced tomatoes
2 cups baby spinach
2 cups chicken broth
3 cups milk
1 tablespoon chicken bouillon (or 3 cubes)
2 teaspoons dried parsley
½ cup Parmesan cheese
½ cup heavy cream
2 cups cooked rotini pasta, or pasta of choice
Salt and pepper to taste
Instructions
In a Dutch oven, melt the butter over medium high heat. Add the onions and garlic and saute until the onions are translucent, about 5 minutes. Add the mushrooms and continue to saute until the mushrooms have softened, about 5 minutes.
Add the flour and stir so that the mushroom mixture is coated in the flour. Add the wine and cook for another minute.
Add the chicken, tomatoes, spinach, chicken broth, milk, and chicken bouillon and stir to combine. Bring the soup to a simmer (not a boil). Cover the Dutch oven and simmer for 20 minutes, stirring occasionally.
Add the parsley, Parmesan cheese and heavy cream. Simmer for another 5 minutes with the lid on the Dutch oven. Add salt and pepper to taste.
Add the pasta to the sauce, and stir to combine.
Serve immediately.
Adapted from  Daring Gourmet