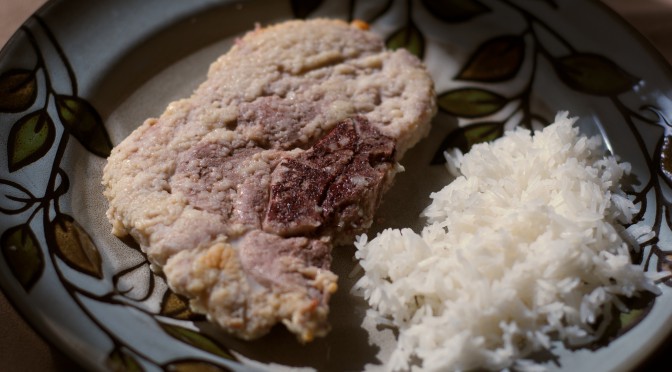 Breaded Pork Chops
Kim was able to get an excellent deal on pork chops at the grocery store. The pork chops were buy one, get one free. On top of that, she bought the packages of pork chops that were on Manager's Special. Each package had a two dollar off coupon on it. As a result, she not only was able to get one package for free, she also received four dollars off the purchase!
She wanted to make some good pork chops, but she didn't want to fry them. She doesn't like to fry food since it's not very healthy, and the oil tends to splatter everywhere.  She served the chops with rice.

Pork Chops
Ingredients
Cooking spray
¼ cup milk
¼ cup panko breadcrumbs
¼ cup grated Parmesan cheese
¼ teaspoon salt
¼ teaspoon garlic powder
⅛ teaspoon pepper
4 (4 ounces each) boneless pork chops
Instructions
Preheat oven to 475 F. Line a baking sheet with aluminum foil. Lightly spray foil with cooking spray.
Place the milk in a shallow bowl. In another shallow bowl, combine the breadcrumbs, cheese, salt, garlic powder and pepper.
Working with one pork chop at a time, dip the chop in the milk, shaking off excess milk. Dip the chop in the breadcrumb mixture, pressing so that the chop is coated in the breadcrumbs. Place chop on the baking sheet, make sure there is space between each pork chop. Lightly spray pork chops with cooking spray.
Roast the chops until they reach an internal temperature of 145 F, about 18 minutes, flipping them half way through.
Allow the chops to rest for 5 minutes. Serve immediately.
Adapted from Taste of Home