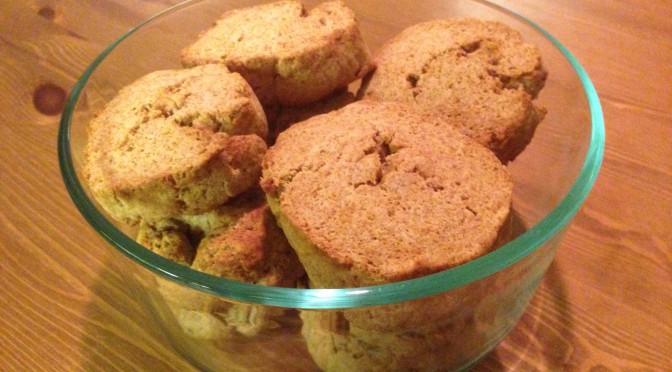 Honey Whole Wheat Biscuits
Mike's Perspective:
When I got home from Church last night, Kim surprised me by dropping a, "are you ready to make the biscuits from scratch?" Bear in mind, that we were supposed to be at our friends house shortly and she wanted me to make biscuits from scratch! Well, it turned out that our awesome Rosemary Chicken still had ten minutes to cook and these biscuits turned out to be pretty easy to mix up. Of course, I totally forgot the honey at first, but fortunately I remembered the honey before I started cutting… So I put it back in the mixer and added in the honey…
I thought that the biscuits turned out pretty good, especially considering that they were 5/6ths Whole-Wheat Flour (which is essentially why Kim wanted me to make these – we have Wheat Flour and apparently that is killing Kim or something). When we got to our friends house, no one seemed to want to even try them, so they didn't "sell-out", but I thought that they were pretty good. Our friend, brought out some Strawberry Jam and thought that they tasted a lot like crumpets and needed its curd…
Kim's perspective:
First of all, I had texted Mike to tell ask him whether or not he was interested in making biscuits.  He said "yes".   When he got home, he thought I was asking him to make some from the Pillsbury roll, not from scratch.  I don't bake, but even I could make the biscuits from the Pillsbury package.
Also, I asked Mike what time he would be home, and he said "7:45".  These biscuits only take 22 minutes to cook.  We were supposed to be at our friend's house at 8:42.  This gave Mike an extra half hour to make the biscuits as well as consuming them.  We were supposed to eat them with the Rosemary Skillet Chicken.
I didn't have a biscuit cutter laying around, so I rolled the dough into a log and then sliced it into 3/4″ slices with a kitchen knife.

Honey Whole Wheat Biscuits
Ingredients
2½ cups wheat flour
½ cup all purpose flour
2½ teaspoons baking powder
½ teaspoon baking soda
¾ teaspoon salt
½ cup (1 stick) unsalted butter
1 egg
¾ cup buttermilk
3 tablespoons honey
Butter, honey or jam for serving
Instructions
Preheat oven to 400 F. Line a baking sheet with parchment paper.
Combine wheat flour, all purpose flour, baking powder, baking soda and salt in a mixing bowl. Mix together until well combined.
Cut the butter into the flour mixture and mix together. Add the egg, buttermilk and honey to the mixing bowl. Mix until dough has formed.
Lightly knead the dough and roll the dough into a log, about 2½ inches in diameter. Cut the biscuits so that they are about ¾ inches thick. A biscuit cutter can also be used. Place in a single layer on the prepared baking sheet.
Bake for 20-22 minutes, or until the tops are golden brown.
Allow to cool slightly before serving with butter, honey or jam as desired.
Adapted from Spark Recipes