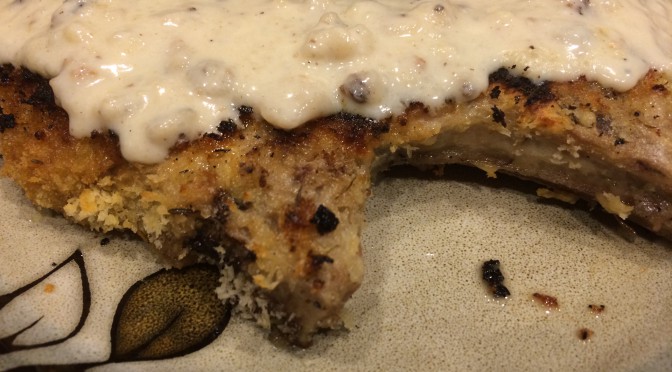 Breaded Pork Chops with Cream Gravy
The grocery store had a sale on pork, and I might have gone a little overboard with my purchases.  Mike doesn't like pork, so I don't normally buy it.  However, he was gone this week, so I figured I would make a bunch of pork recipes while he was gone.  Of course I didn't have any pork recipes in mind when I made the purchase.    This is not a good idea when you buy multiple pork loins, a rack or two of ribs and a big package of pork chops.
I wanted to make pork chops with gravy for some reason.  I figured that fried pork with gravy HAD to taste good.  I wasn't wrong.  These pork chops were delicious!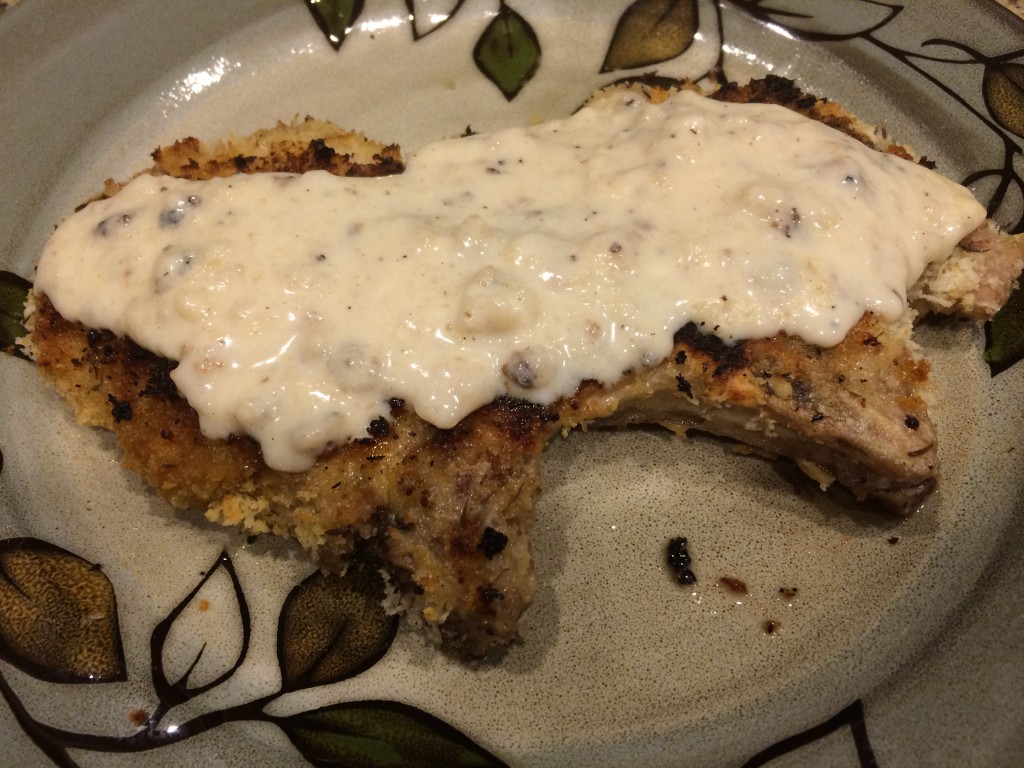 We never really had gravy growing up.  This is probably because gravy isn't very healthy.  It's also possible that my mom never knew how to make gravy.  I always associated gravy with the brown stuff in the can that you put on top of your turkey at Thanksgiving.  As a result, I find that my gravy making skills leave a little bit to be desired.  I don't know why/how, but my gravy usually turns out rather lumpy.  That just means that I need to practice making more recipes which include gravy!  After all, they do say that "practice makes perfect".

Breaded Pork Chops with Cream Gravy
Ingredients
For the Pork Chops:
8 bone in pork chops, ½ inch thick each
Salt and pepper
1 egg
3 tablespoons milk
½ cup all purpose flour
3 cups panko bread crumbs
1 teaspoon dried thyme
2 tablespoons vegetable oil
For the Cream Gravy
6 tablespoons flour (reuse flour leftover from pork chops, but more fresh flour may be needed)
½ teaspoon salt
1 teaspoon ground black pepper
2½ cups milk
Instructions
To Make the Pork Chops:
Pat pork chops dry with a paper towel. Season with salt and pepper, to taste.
In a shallow bowl, whisk together the egg and milk. Place flour in another shallow bowl. In yet another shallow bowl, combine the breadcrumbs and thyme. Stir to combine.
Dip a pork chop in the flour, shaking off excess flour. Next dip the pork chop in the egg mixture, again shaking off excess. Finally, dip pork chops in the breadcrumb mixture, pressing so that the pork chop is coated in breadcrumbs. Repeat for each pork chop.
Heat oil in a large skillet, over medium heat. Working in batches, fry the pork chops until they are cooked through, about 4 to 6 minutes on each side. Do not overcrowd the skillet. Make sure there is space between each pork chop. Repeat for each pork chop.
Serve hot, smothered in cream gravy.
To Make the Cream Gravy
Drain the oil from the pan used to cook the pork chops, but do not wipe it clean. There should be a small amount of oil in the pan. Heat the pan over medium heat, and add the flour. Stir to mix the flour with the oil/pork chop remnants.
Add salt and pepper and stir to combine. Slowly whisk in milk. Continue to cook gravy until it has thickened slightly, about 5 minutes. Remove from heat. Gravy will thicken as it cools. Serve over pork chops
Adapted from Moms Who Think