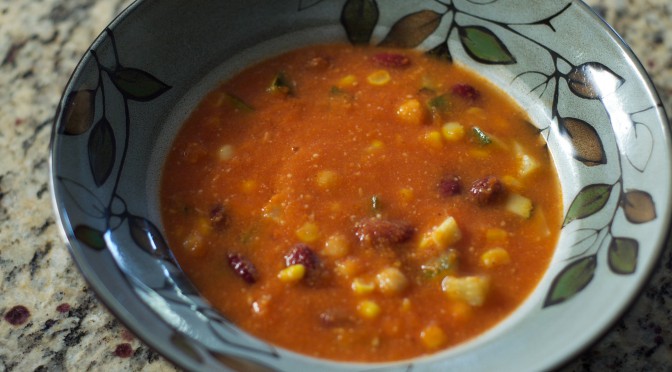 Minestrone
Mike loves Minestrone soup. I don't really understand it, but the fact that I don't like beans may have something to do with that. Minestrone is actually pretty easy to make and is a pretty healthy soup, since it's mainly a tomato soup with vegetables in it.
I made this particular broth using the Vitamix, and just added the veggies in at the end, simmering the soup to let it heat up. The only issue is that I had to buy Garbanzo beans for this soup, and now I have about 3/4 of a can of Garbanzo beans which I'm not sure how I will finish it.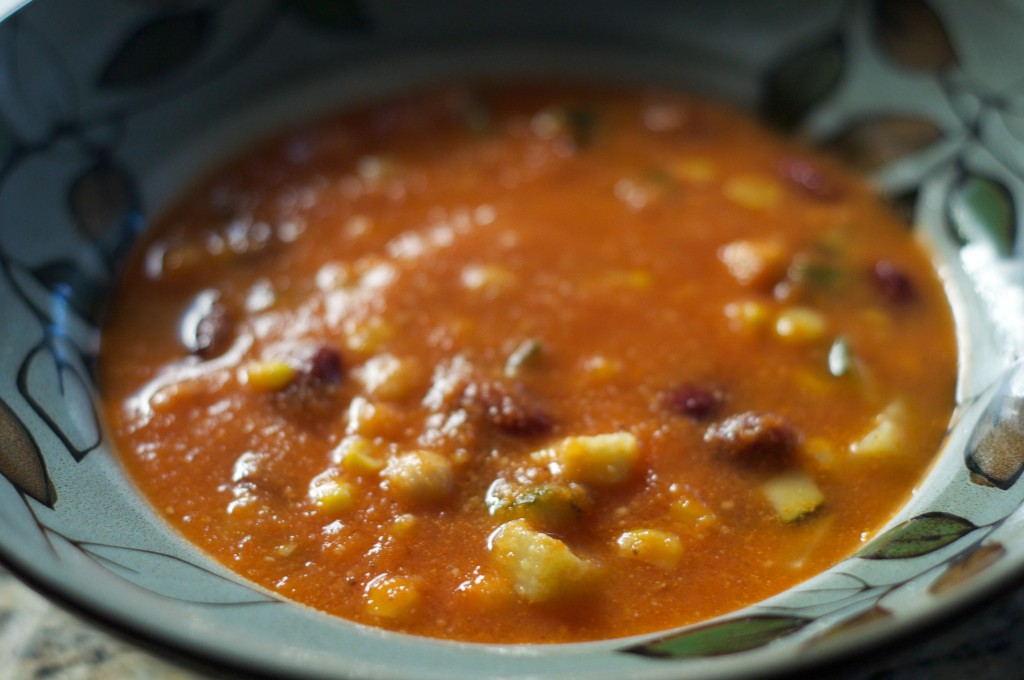 Here is a close up of all the good stuff. Look at all the vegetables! The best part about this soup is it is quick to make, healthy and Mike likes to eat it!

Minestrone
Ingredients
Soup Based
2 cups vegetarian broth
4 large Roma tomatoes, quartered
1 garlic clove, peeled
½ cup chopped carrots
½ cup chopped onion
¼ cup chopped celery
⅛ teaspoon ground black pepper
¼ teaspoon dried oregano
¼ teaspoon dried basil
2 tablespoons tomato paste
Chunky Ingredients
½ cup canned garbanzo beans, drained
1 cup diced zucchini
1 cup canned kidney beans, drained
½ cup canned corn, drained
¼ cup grated Parmesan cheese
½ teaspoon salt
Instructions
Place all ingredients for the soup base in the Vitamix, in the order listed. Blend the ingredients, starting with the lowest setting, and ramping up to the highest setting. Blend for 20 seconds or until smooth.
Pour the soup into a Dutch Oven and simmer over medium heat for 20 minutes. Add the chickpeas, kidney beans, corn, cheese and salt. Stir to combine. Simmer the soup until all ingredients are heated through.
Adapted from Vitamix cookbook