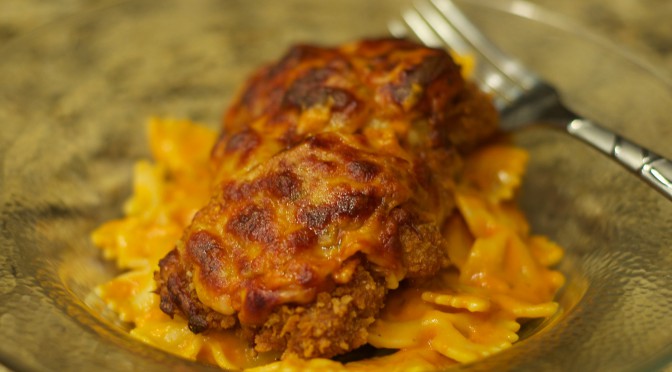 Oven Fried Chicken Parmesan
Besides pizza, Chicken Parmesan is most certainly one of Mike's favorite dishes. Chicken Parmesan is a dish where chicken is usually breaded, then deep fried (to make it crispy), then finished in the oven (to finish cooking the chicken and melt the cheese).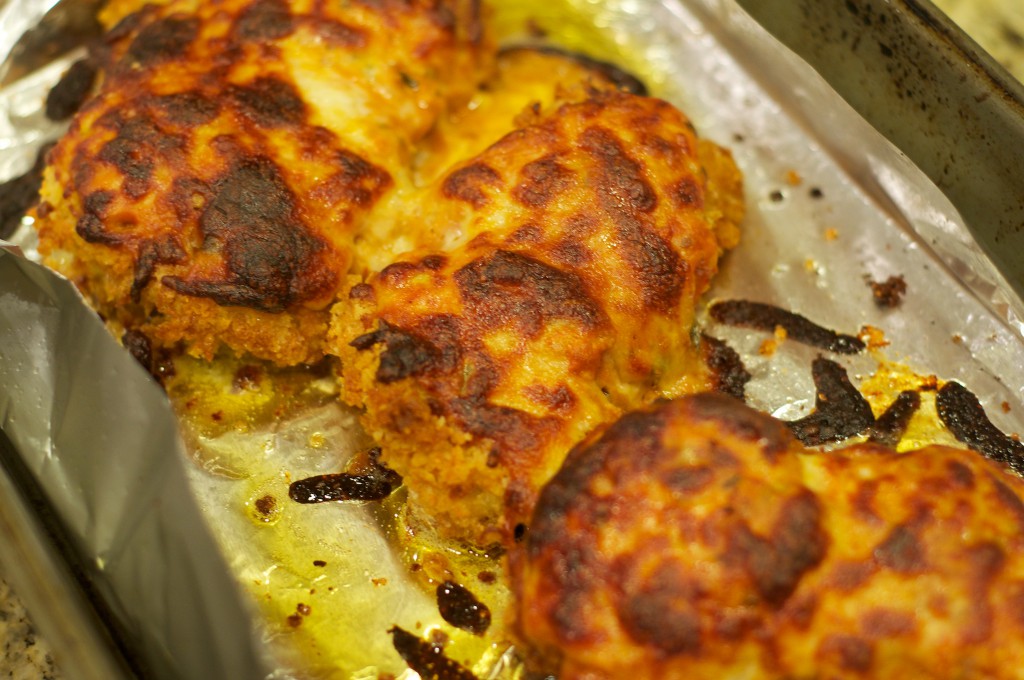 As much as I abhor deep frying food, I will make the occasional exception.  One could argue that this dish isn't really deep fried.  Sure, it's not exactly deep fried, since there is only a limited amount of oil.  However, the chicken IS definitely "seared" in oil prior to being finished in the oven.
Now you may wonder why I call this "oven fried" Chicken Parmesan, when I'm making such a big deal about the fact that this dish is actually fried.  It is actually cooked in the oven, after being fried for only a short period of time.

Oven Fried Chicken Parmesan
Ingredients
¼ cup all purpose flour
½ teaspoon dried oregano
¼/ teaspoon salt
1 egg, lightly beaten
¾ cup Panko breadcrumbs
4 (6 ounce) boneless, skinless chicken thighs
2 tablespoons olive oil, divided use
Cooking spray
½ cup tomato sauce*
½ cup grated Parmesan cheese
¾ cup shredded Mozzarella cheese
Instructions
Preheat oven to 400 F. Line a 9 x 13 pan with aluminum foil.
In a shallow bowl, combine the flour, oregano and salt. Place the egg in another shallow bowl. Place the Panko breadcrumbs in a third bowl. Dredge the chicken in the flour, then the eggs and finally the panko breadcrumbs. Repeat with the remaining pieces of chicken.
Heat 1 tablespoon olive oil in a large skillet, over medium high heat. Once oil is hot, place chicken in the skillet and cook for 2 minutes. Add the remaining olive oil, flip the chicken over and cook for another two minutes.
Transfer the chicken to the prepared baking pan. Bake for 5 minutes. Flip the chicken over. place 2 tablespoons of sauce, 2 tablespoons Parmesan cheese and 3 tablespoons Mozzarella cheese over each piece of chicken. Bake for another 6 minutes, or until chicken has reached an internal temperature of 165 F.
Serve hot
* I use Awesome Sauce
Adapted from myrecipes.com