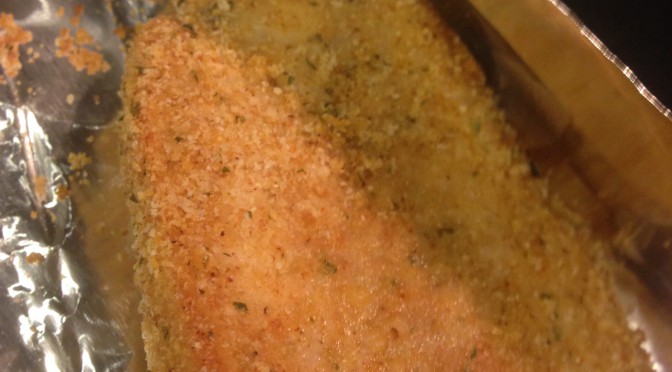 Catfish Parmesan
I had two pieces of catfish fillets left in the freezer which I defrosted. I wanted to try to make something different with them, instead of simply cooking them in a little oil, garlic salt, and Grizzly Joes seasoning on the stove (which is pretty good too).
I decided to try to bread the catfish and then bake it instead of trying to cook it on the stove.  Most recipes which I was able to find use cornmeal for the breading.  I didn't have any cornmeal at home and also didn't want to buy cornmeal just for one recipe.  This recipe uses breadcrumbs instead.

Catfish Parmesan
Ingredients
¾ cup panko breadcrumbs
3 tablespoons grated Parmesan cheese
2 teaspoons dried parsley
½ teaspoon salt
¼ teaspoon paprika
⅛ teaspoon black pepper
⅛ teaspoon dried oregano
⅛ teaspoon dried basil
2 catfish fillets (about 8 ounces each)
2 tablespoons olive oil
Instructions
Preheat oven to 375 F. Line a 9 inch x 13 inch pan with aluminum foil.
In a deep plate, combine the breadcrumbs, Parmesan cheese, parsley, salt, paprika, pepper, oregano and basil.
Pour a tablespoon of oil over each piece of catfish. Rub the oil over both sides of the fillet so that the whole fillet has a thin layer of oil on it. Place the fillet in the plate and press so that the fillet is coated in the breadcrumb mixture. Place on the baking pan. Repeat with the other fillet. Make sure there is space between each fillet.
Bake for 20-25 minutes or until fish flakes easily with a fork. Serve immediately.
Adapted from Taste of Home