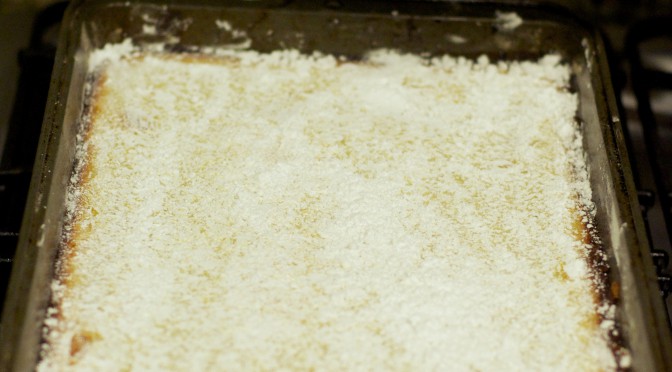 Lemon Bars
A coworker was feeling sad, so I asked her what she would like Mike to make her, since I don't bake.  She mentioned lemon bars, chocolate chip cookies, and snicker doodle cookies.  I asked Mike to make her snicker doodle cookies since he loves snicker doodles and isn't a fan of lemon bars.
Mike really wanted to make lemon bars since he'd just made a bunch of chocolate chips cookies for various entities the day before.  He'd really only made two batches, but he wanted to make something different.
My coworker was so excited that Mike had made her lemon bars.  She even brought some home to her husband.  He loved them so much that he wanted her to bring home more the next day, even though he's not really a big fan of sweets.
She especially loved how lemony these bars were.  She says that she has to add extra lemon when she makes lemon bars since she likes them really lemony.  She thought Mike's lemon bars had the perfect amount of lemony tartness to them.

Lemon Bars
Ingredients
For the crust:
8 tablespoons unsalted butter, softened
½ cup sugar
2 cups all purpose flour
⅛ teaspoon salt
For the filling:
6 eggs
3 cups sugar
2 tablespoons lemon zest (zest from about 4-6 lemons)
1 cup lemon juice
1 cup all purpose flour
Powdered sugar for dusting
Instructions
For the crust:
Preheat the oven to 350 F.
Add the butter and sugar to the bowl of an electric mixer. Mix the sugar and butter until they are well combined. Add the flour and salt to the butter mixture, and continue to mix until all ingredients are mixed together.
Roll the dough into a large ball and then flatten the dough. Press the crust into a 9 x 13 in baking pan. Make sure there is a ½ edge on all sides. Place in the refrigerator and allow the crust to chill for 30 minutes.
Bake the crust for about 15-20 minutes, until it is golden. Allow the crust to cool while preparing the filling.
For the filling:
While the crust is cooling, combine the eggs, sugar, lemon zest, lemon juice and flour in the bowl of an electric mixer. Mix the the filling until well combined.
Pour the filling into the crust and bake for another 30 to 35 minutes. Let the lemon bars cool completely.
Cut the bars into squares or triangles, as desired. Sprinkle with powdered sugar.
Adapted from  Food Network