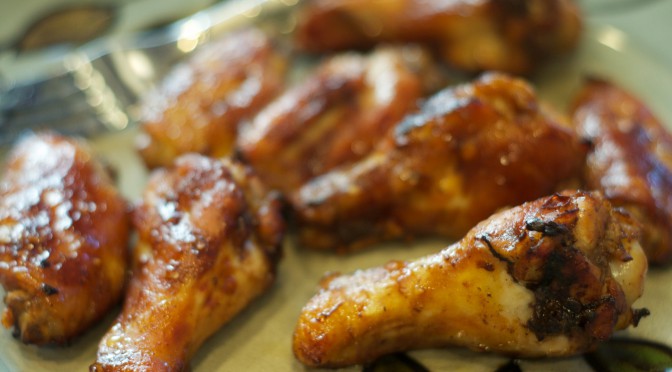 Hoisin Chicken Wings
I really love chicken wings.  I know they are not very healthy, but they really are delicious.  Therefore I sometimes buy them when they are on sale.  I try to avoid the section of the grocery store where they might be selling chicken wings because I know that if I see them on sale, I will be tempted to buy them.
But when I do buy them, I then have to make a decision about the best way to cook them.  I obviously do not want to try to deep fry them  They are already so unhealthy.
These wings are full of flavor from the hoisin sauce and five spice powder.  The chicken is also juicy and flavorful.  True, I can't call this recipe healthy, but it is worth trying at least once.  It is just that delicious!

Hoisin Chicken Wings
Ingredients
2 garlic cloves, minced
½ cup hoisin sauce
2 tablespoons rice wine vinegar
1 teaspoon olive oil
1 teaspoon Chinese five spice
¼ teaspoon salt
2 pounds chicken wings, drumsticks and wing mid sections separated
Instructions
Preheat oven to 400 F. Line a baking sheet with aluminum foil.
In a large zip top bag, combine the garlic, hoisin, vinegar, oil, five spice and salt. Massage the bag until the marinade is well mixed. Add the chicken to the bag. Massage the chicken and marinade so that the chicken is well coated in the marinade. Allow the chicken to marinate at room temperature for about 15 minutes, turning the bag halfway so that both sides of the chicken are thoroughly marinated.
Remove wings from the marinade, shaking off excess marinade, and place in a single layer on the prepared baking sheet. Set aside the remaining marinade for later use.
Roast the wings for 20 minutes. remove the wings from the oven and baste with the reserved marinade. Discard any remaining marinade. Roast the wings for another 10-15 minutes, or until they are golden and crispy.
Serve hot.
Adapted from Chinese Takeout Cookbook