Breakfast Pizza
Mike loves pizza.  He also loves breakfast foods, such as eggs, bacon, waffles, ham, French toast etc.  I decided to try combining some of Mike's favorite ingredients and make a breakfast pizza.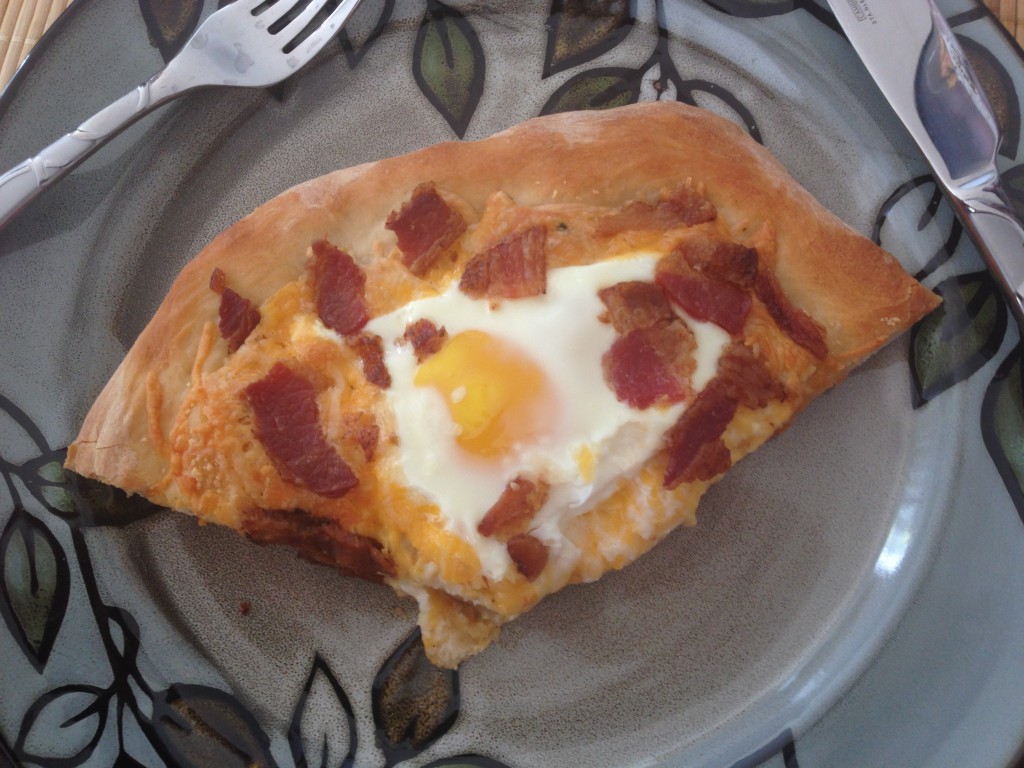 The bacon is cooked separately and then ripped into smaller pieces and cooked on the pizza.  This way the fat from the bacon is left in a baking pan instead of the pizza.  It is best to make extra slices of bacon.  Somehow, pieces of bacon mysteriously disappeared during the preparation of this pizza.  Mike of course had to make sure the bacon was crispy enough to be placed on the pizza.
When rolling out the pizza dough, it is best to leave a slight indentation so that there is a nest for the eggs.  Otherwise the eggs can and will easily slip off the pizza.

Breakfast Pizza
Ingredients
3 strips of bacon
Pizza dough
¼ cup grated Parmesan cheese
1 cup grated mozzarella
3 eggs
Kosher salt and pepper to taste
Instructions
Preheat oven to 425 F.
Cook bacon until crisp. Use paper towels to blot as much fat as possible from the cooked bacon.
Roll pizza dough out. Make 3 slight indentations in the rolled out dough for the eggs. Sprinkle parmesan cheese and mozzarella evenly over the dough. Rip up the bacon into small pieces and place evenly over the dough. Season with salt and pepper to taste.
Cook the pizza for 4 minutes. Carefully crack eggs over indentations in the pizza dough. Place pizza back in the oven and cook for 4-8 minutes, or until eggs are cooked to desired doneness.
Slice pizza into 8 slices and serve immediately.
Adapted from Big Sur Bakery Cookbook