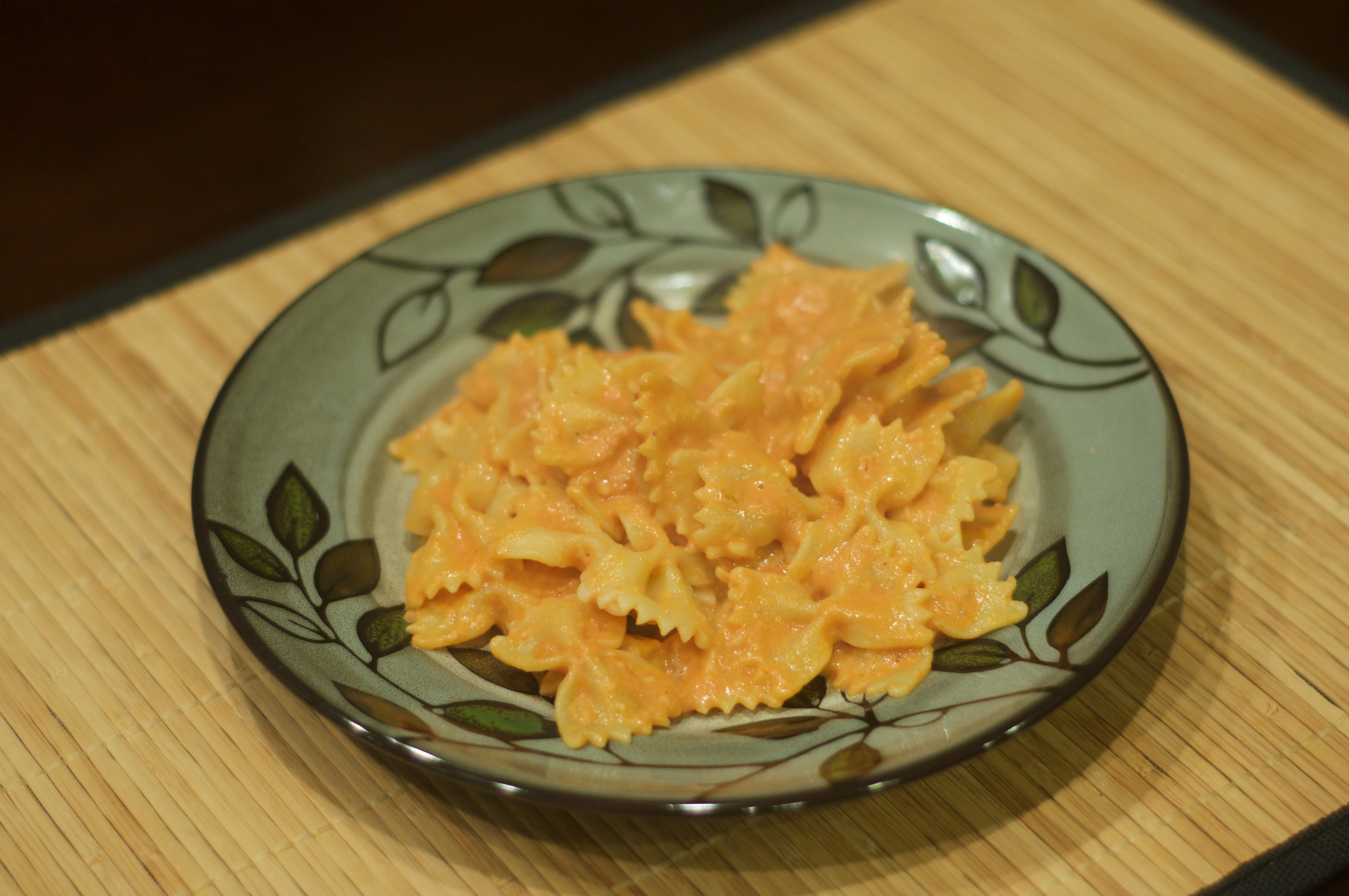 Pasta alla Vodka
Ever since we tried Rosa sauce at our favorite Italian restaurant, Domenics, we have been trying to recreate this dish at home.  It's a "simple" tomato cream sauce.  How hard could it be (we thought)?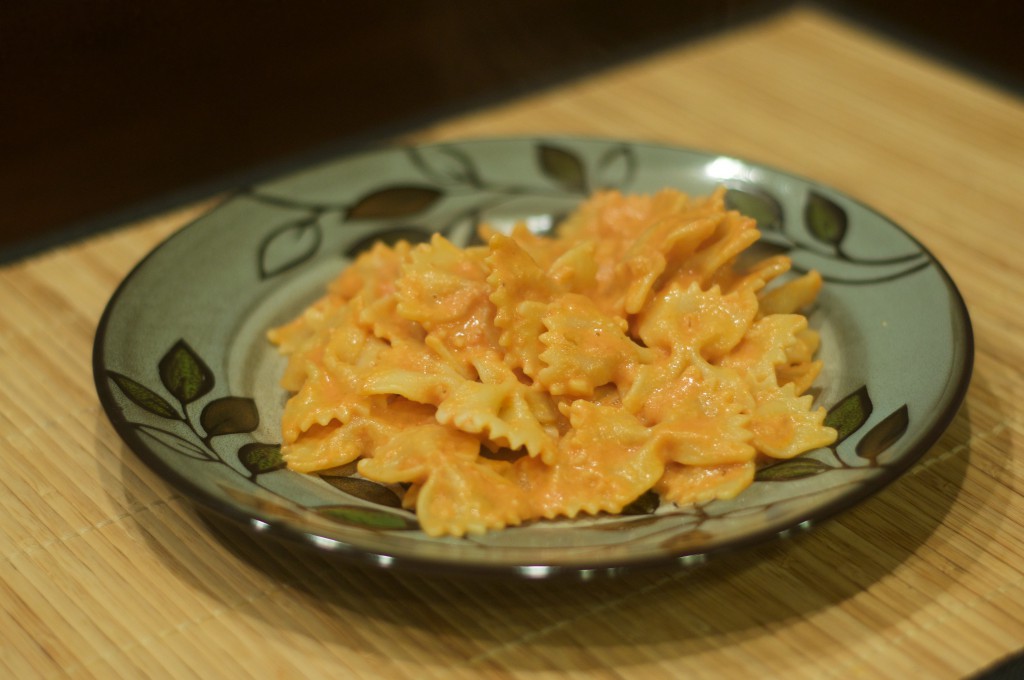 As it turns out, making Rosa sauce is much harder than it seems.  We have tried a number of different recipes, trying to recreate our favorite dish.  At first we tried mixing Alfredo and Marinara sauce.  We tried buying the Bertolli Rosa pasta sauce.  Although this sauce was delicious, it wasn't the same as our favorite Rosa sauce from Domenics.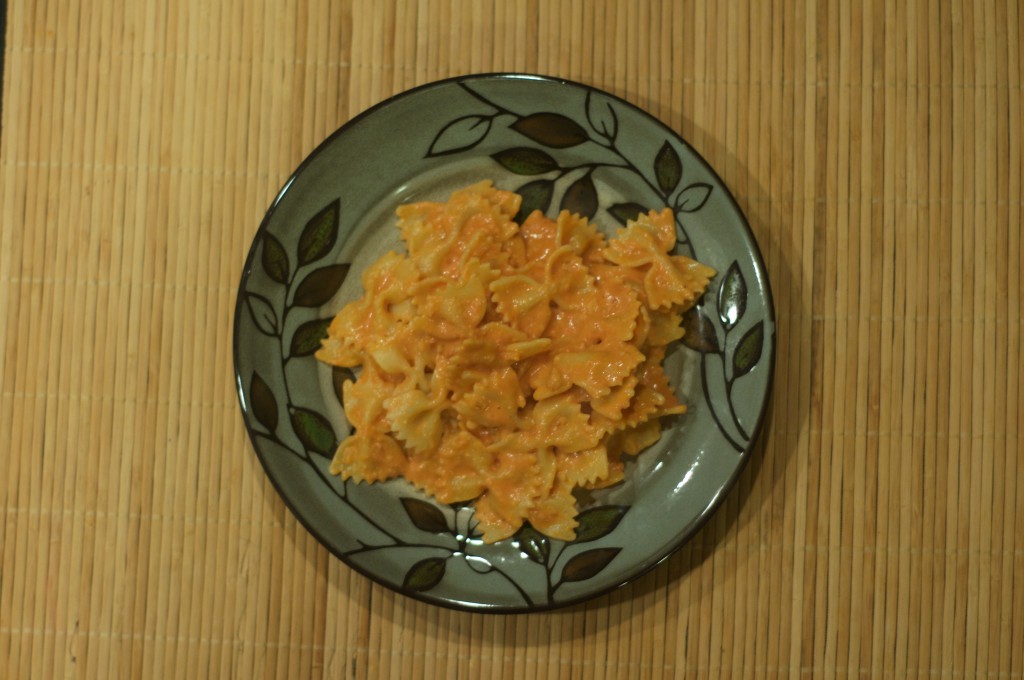 I have to admit that I am still on a quest to make Rosa sauce.  This sauce, doesn't taste like our favorite pasta sauce.  However, the Rosa sauce from the restaurant was pretty rich.  This sauce is also pretty rich, however, it is amazingly delicious.  It's also a great way to use up heavy cream and tomato puree.

Pasta alla Vodka
Ingredients
8 ounces farfalle pasta, uncooked
1 tablespoon olive oil
1 tablespoon butter
½ small onion, chopped
2 cloves garlic, minced
½ cup Vodka
7 ounces tomato puree
½ cup heavy cream
⅛ teaspoon salt
Pepper, to taste
½ cup grated Parmesan Cheese
Instructions
Cook pasta to al dente, according to the instructions on the package. Reserve 1 cup of the water which was used to cook the pasta.
Meanwhile, heat olive oil and butter in a large skillet, over medium heat. Add onions and garlic. Sauté until fragrant, about 2 minutes. Add Vodka and cook for another 3 minutes. Add tomato puree and stir to combine.
Reduce heat to low and slowly whisk in cream. Simmer until sauce has thickened slightly, about 5 minutes.
Add pasta and toss to combine. If the sauce is too thick, add reserved pasta water, 1 tablespoon at a time, until sauce has reached desired consistency. Add Parmesan cheese and stir to combine.
Serve hot
Adapted from The Pioneer Woman