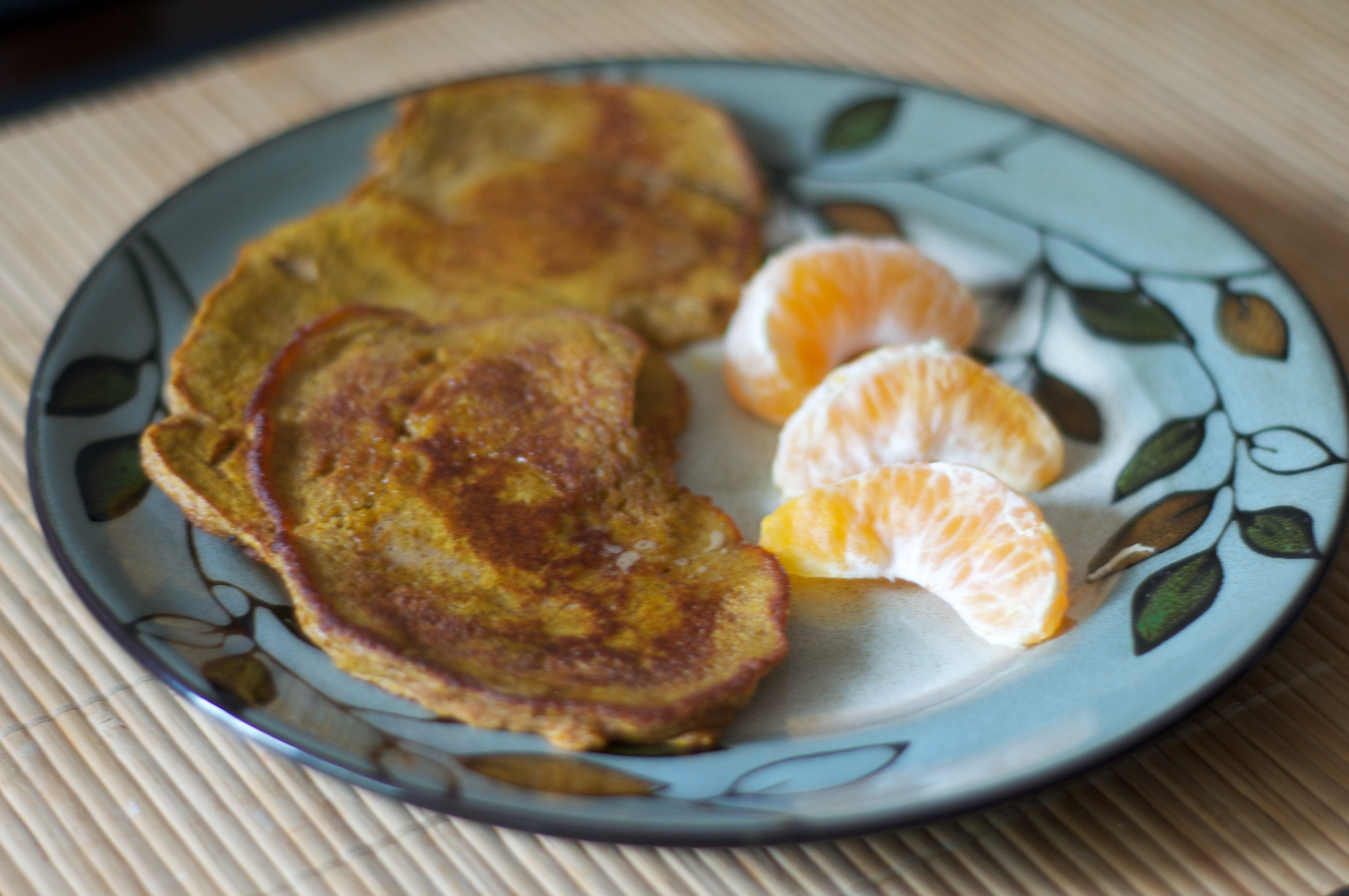 Pumpkin Pancakes
We used to make pancakes from a huge package of Krusteaz or Bisquick.  Mike really liked one brand but not the other.  He was going through a pancake/waffle phase, so we bought a rather large bag from Costco.  Then one day I realized that pancake mix is really (probably) just flour, sugar and baking powder.  I started reading the label on the back of the bag and realized just how much sugar was in that mix!  I realized that I could make my own pancake mix at home, with better ingredients.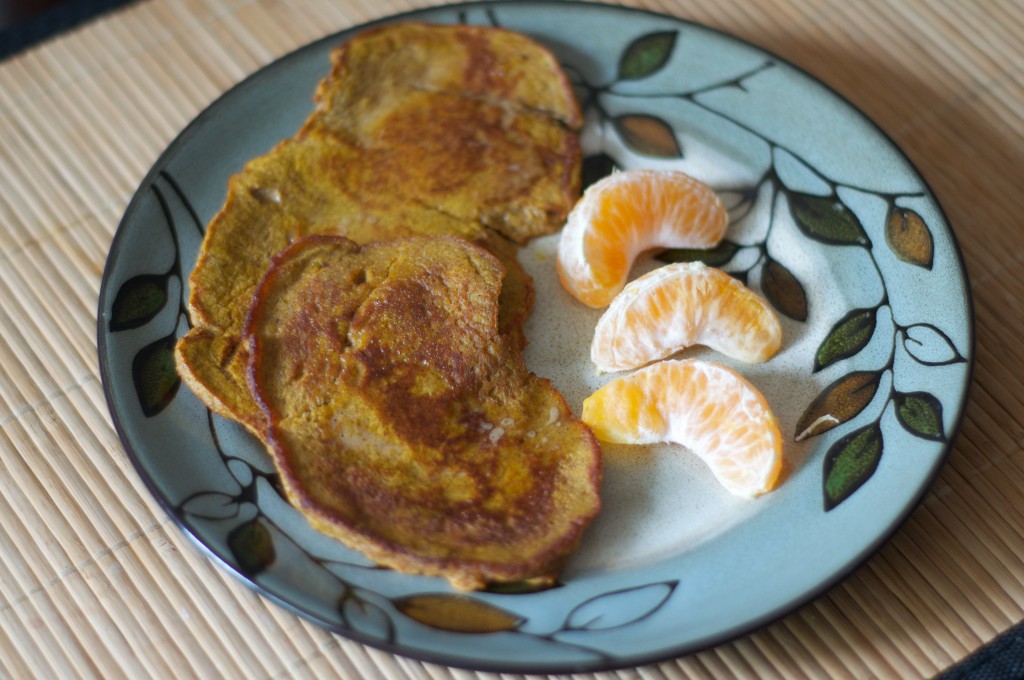 These pancakes taste quite healthy, but that's because they are!  They contain no sugar and we ate them without maple syrup!  If you eat "regular" pancakes without maple syrup, they're not that great either.  Mike, who really likes pumpkin pie, liked these pancakes.  I would not recommend these pancakes if you are not a fan of pumpkin.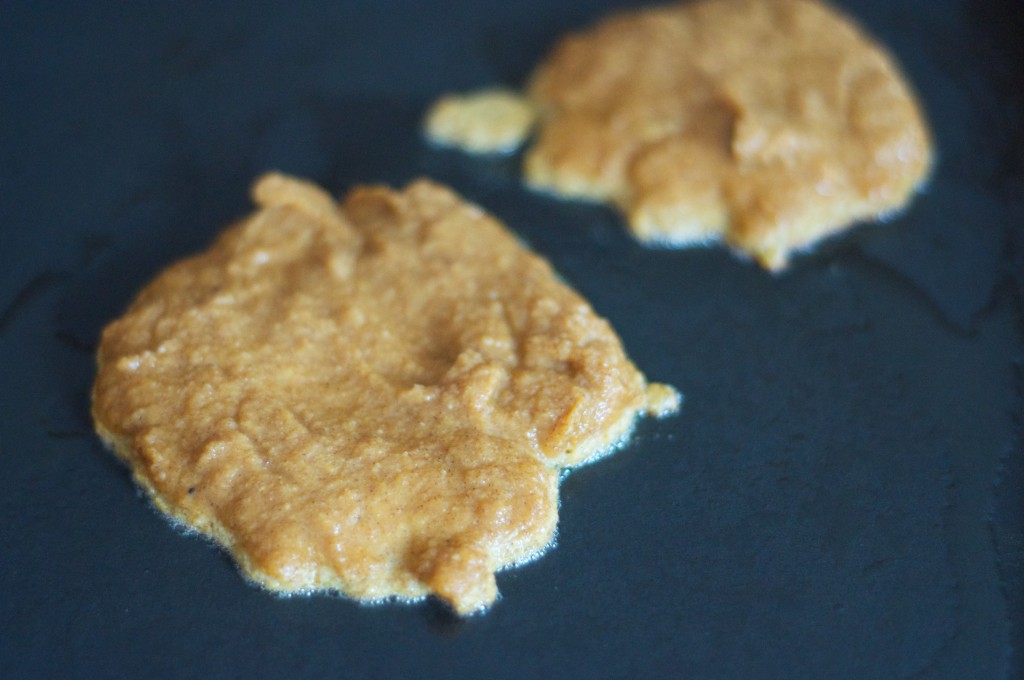 These should definitely be served with fruit.  We ate these pancakes topped with tangerine slices, which was a great substitute for the maple syrup.  The pancakes can be rather overwhelming without the fruit.  I do not suggest eating them plain.  Fresh fruit is best, but defrosted, frozen fruit could be used as a substitute, in a pinch.

Pumpkin Pancakes
Ingredients
6 eggs
¾ cup canned pumpkin
1½ teaspoons vanilla extract
1½ teaspoons pumpkin pie spice
1½ teaspoon cinnamon
3 tablespoons coconut flour
¼ teaspoon baking soda
Pinch sea salt
3 tablespoons coconut oil, divided use
4 tangerines, peeled, and broken into smaller pieces*
Instructions
In a large mixing bowl, combine the eggs, pumpkin and vanilla extract. Mix in the pumpkin pie spice, cinnamon, coconut flour, baking soda and salt, and stir to combine.
Over medium high heat, melt a teaspoon of coconut oil on a griddle. Ladle the desired amount of batter (I used about half a ladle full) onto the skillet. Cook the pancakes until some bubbles appear on the top, and the bottom is solid, about three minutes. Flip the pancakes and cook for another 3 minutes. Repeat with the remaining batter. Be sure to grease the griddle before placing more pancake batter on the griddle.
Serve immediately, topped with the tangerines.
Notes
* Other desired fresh fruit can be used instead
Adapted from  21 Day Sugar Detox