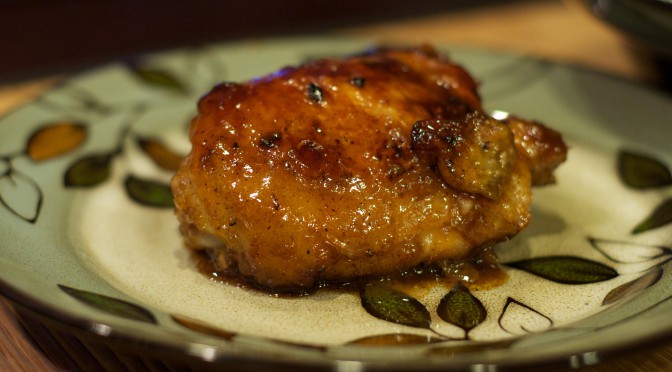 Orange Honey Glazed Chicken Thighs
Mom had given me a number of organic oranges which she had grown in her backyard.  I thought I would be making lot of smoothies for Mike since he loves Strawberry, Orange, Banana smoothies.  Somehow, even though he had a few smoothies, I still had a large number of oranges.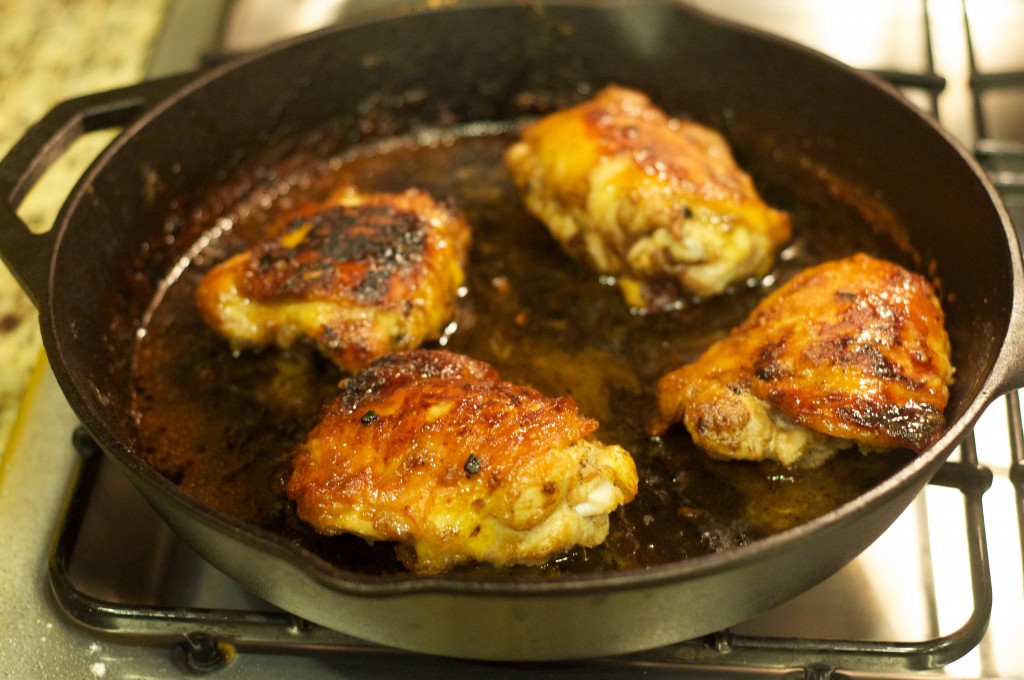 The chicken is first seared so that the skin is crispy and crunchy.  It is finished in the oven so that the juices are retained.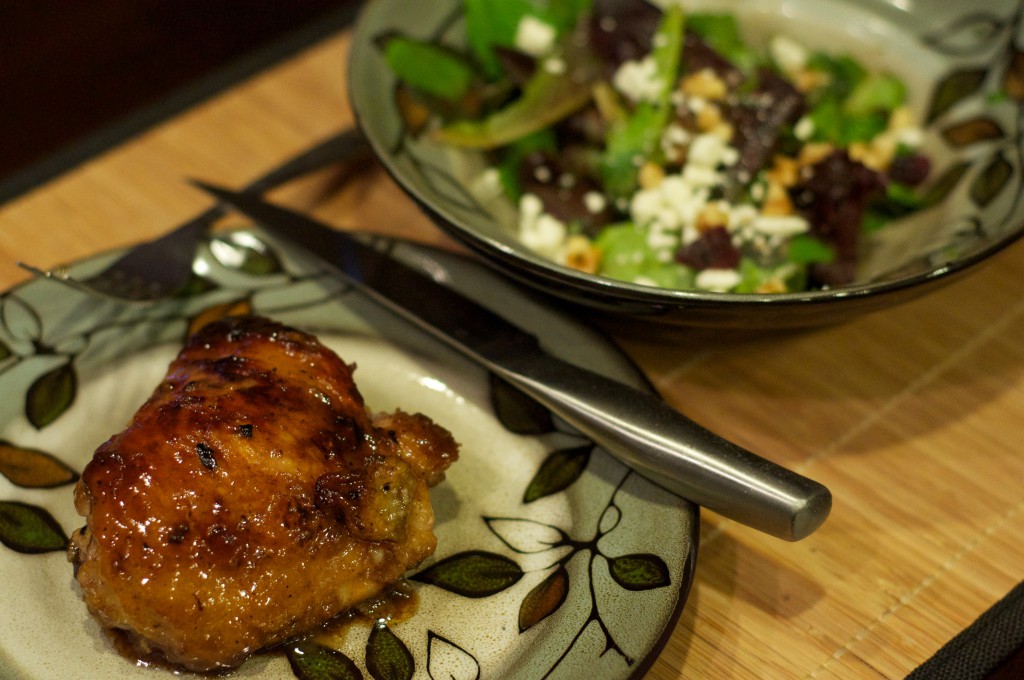 I decided to make this recipe because it calls for 1 1/2 cups orange juice.  I figured that I would need to use quite a few oranges to get that much juice.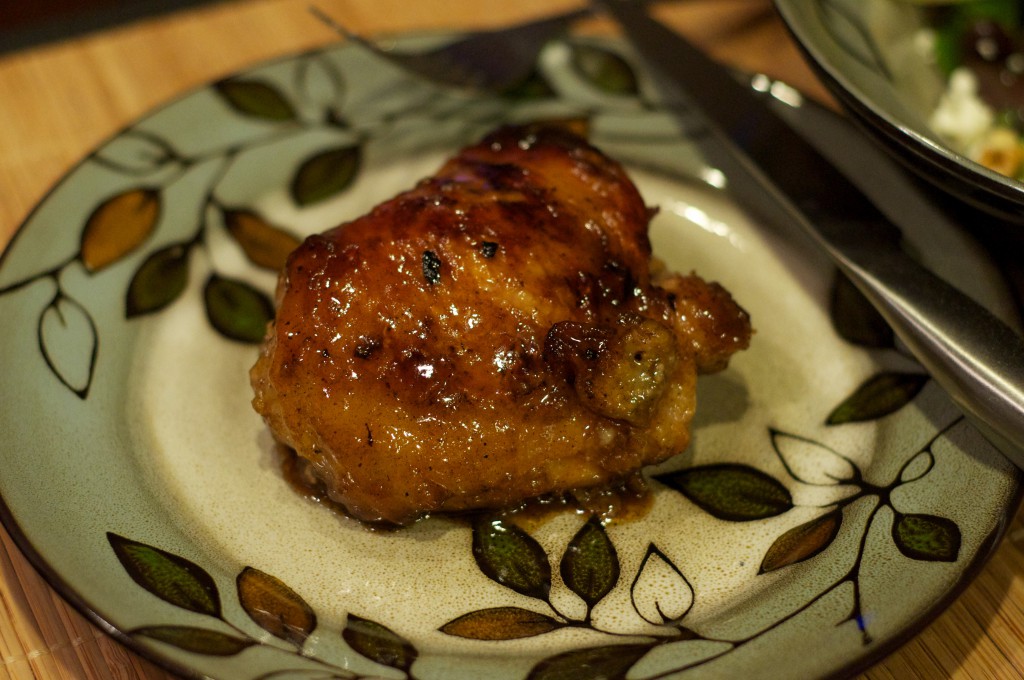 Although the dish has a strong orange flavor, I could also taste the Dijon mustard.  If you find Dijon mustard strongly abhorrent, I would suggest omitting it from the recipe.  It doesn't have a strong mustard taste, but the flavor is definitely there.

Orange Honey Glazed Chicken Thighs
Ingredients
1½ cups orange juice
½ cup honey
1 tablespoon Dijon mustard
1 tablespoon white vinegar
Salt and pepper, to taste
½ cup all purpose flour
4 bone-in, skin-on, chicken thighs
2 tablespoons vegetable oil
2 tablespoon diced onion
Pinch of garlic powder
Instructions
Modify the oven rack so that it is in the middle position. Preheat oven to 350 F.
In a medium sized bowl, combine 1½ cups orange juice, honey, mustard, vinegar, ⅛ teaspoon salt and ⅛ teaspoon pepper. Set aside.
Place the flour in a shallow bowl. Dredge the chicken in the flour, shaking off excess flour.
Heat the oil in a large cast iron skillet, over medium high heat, until just smoking. Season the chicken with salt and pepper, to taste. Place chicken, skin side down in the skillet. Cook until chicken is golden brown, about 6-8 minutes. Flip the chicken over and cook the other side until golden brown, about 3 minutes.
Pour off most of the fat from the skillet, reserving 1 teaspoon of the fat. Cook the onion and garlic powder in the skillet, over medium high heat, until the onions have softened and are translucent, about 2 minutes. Increase the heat to high, and add the orange juice mixture. Bring to a boil and simmer the orange juice mixture for 6-10 minutes, or until it is reduced to about 1 cup.
Remove the skillet from the heat. Roll the chicken in the orange sauce so that all sides are completely coated in the orange sauce. Place skin side down in the skillet.
Place the skillet in the oven and bake until the chicken has reached an internal temperature of 160 F, about 25-30 minutes, total. Flip the chicken half way through cooking.
Remove the skillet from the oven. Place one piece of chicken on each plate. Spoon some orange glaze over each piece of chicken.
Serve hot.
Adapted from Best Skillet Recipes