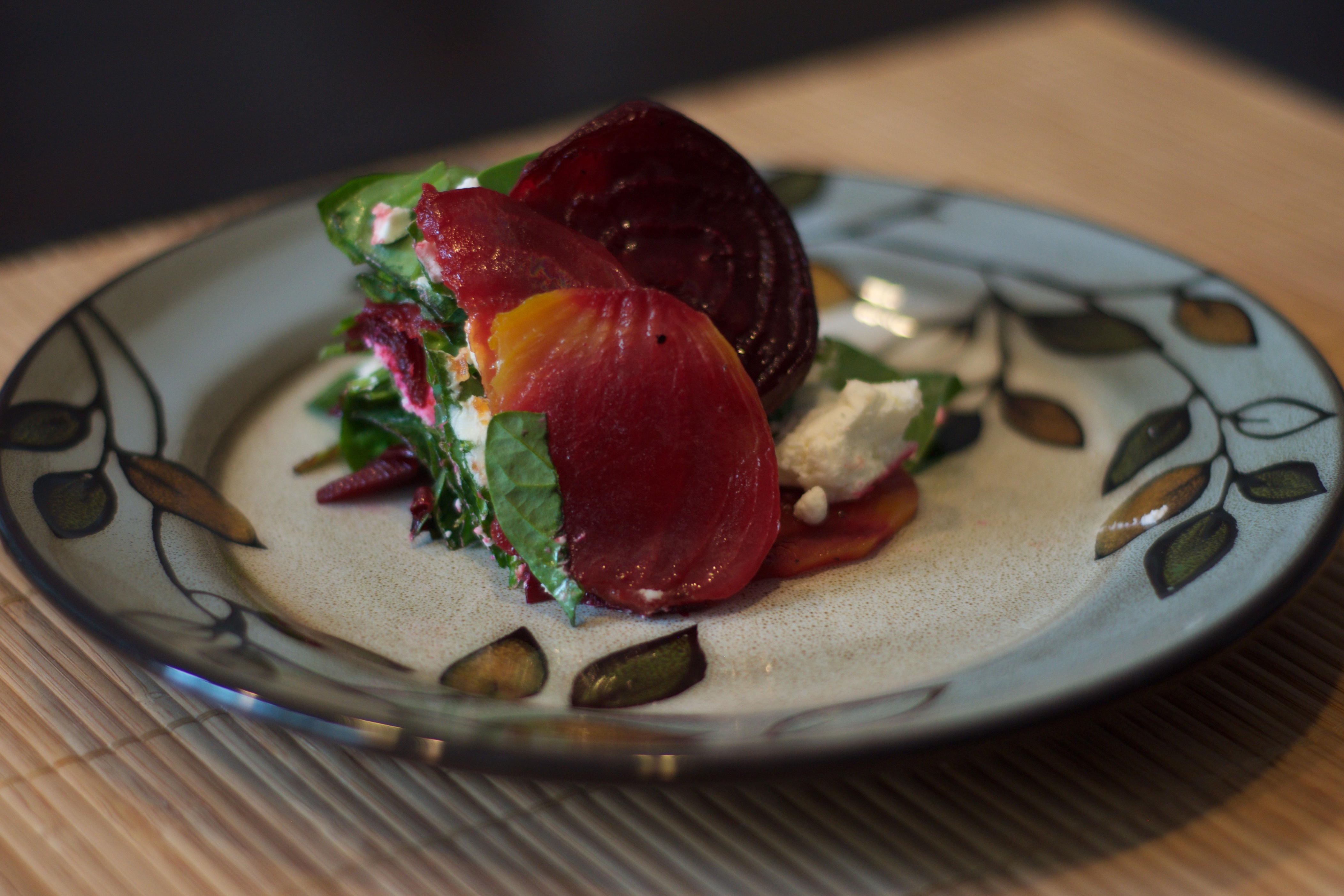 Beet Terrine
A month or so back, Kim and I went to the Carnitas Snack Shack in Del Mar. Kim and I had wanted to go there for several months, but we unfortunately never made it down to the Hillcrest area, in which the original location is. We ended up getting a California Burrito with Carnitas in it. It was very good, however, while we were there, the Beet Terrine on the menu definitely caught our attention. So we set out to find a recipe. Kim found a book titled "San Diego Chef's Table" and that contained a recipe for this Terrine.
This past weekend, we went over to a BBQ at our friend's house, and decided to make the Beet Terrine. The recipe calls for the beets to be roasted whole, however, from my recent Beet experience, I decided it would be more fun and likely flavorful to slice the beets before cooking and to caramelize them. This, in my opinion, was a great decision. The crunch that it provided was an awesome twist to the texture and flavor of the dish.
Beets about to go into the oven.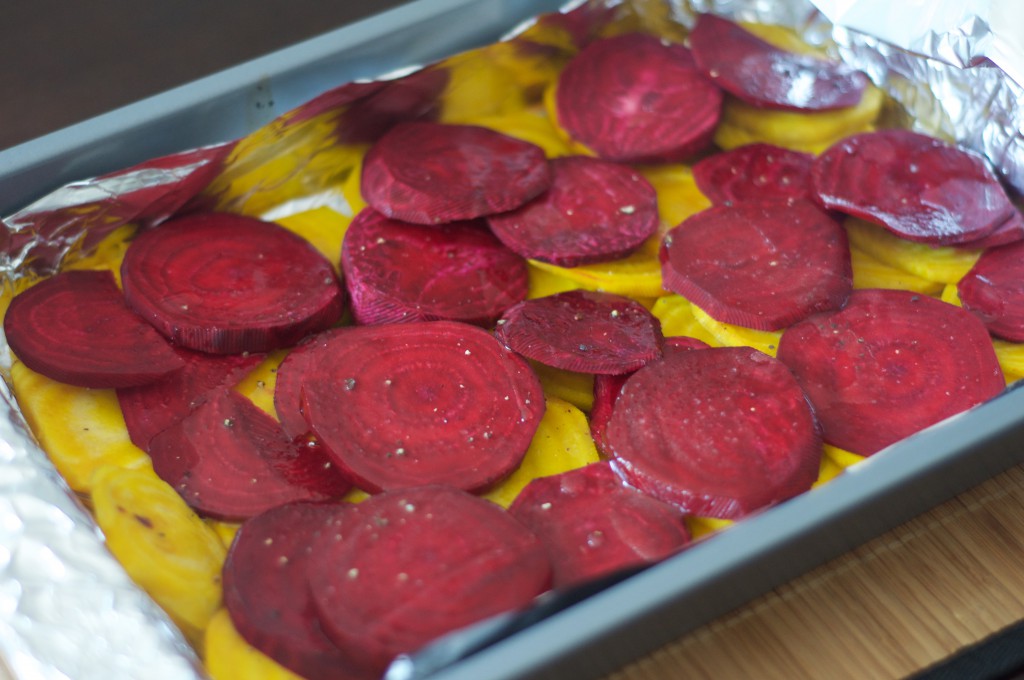 Beets after being roasted for 30 minutes.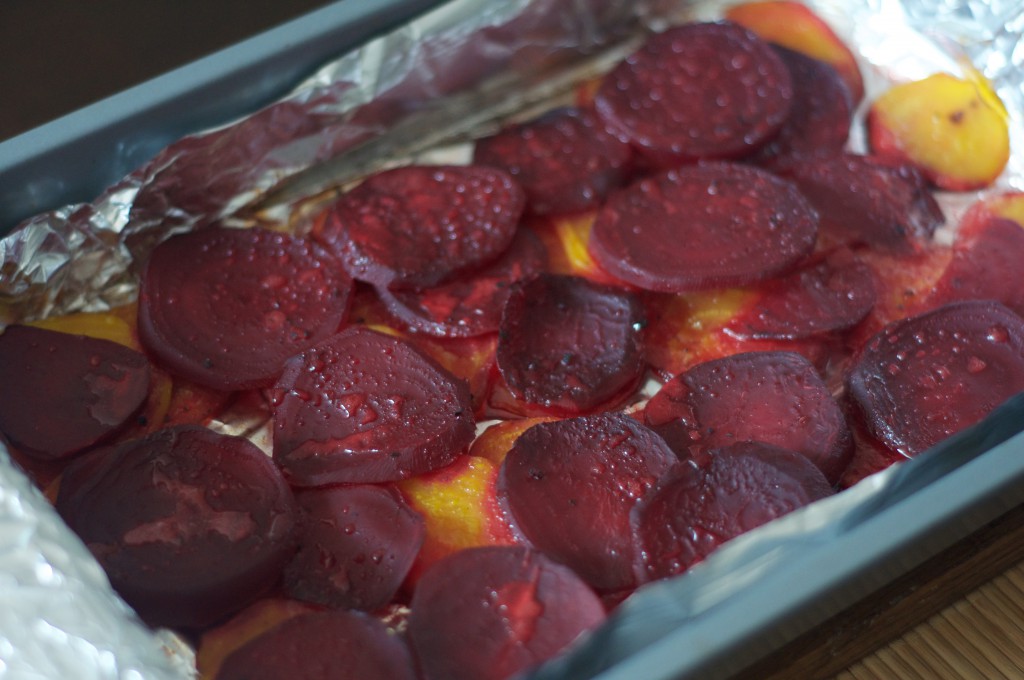 Second layer of beets in the bread pan.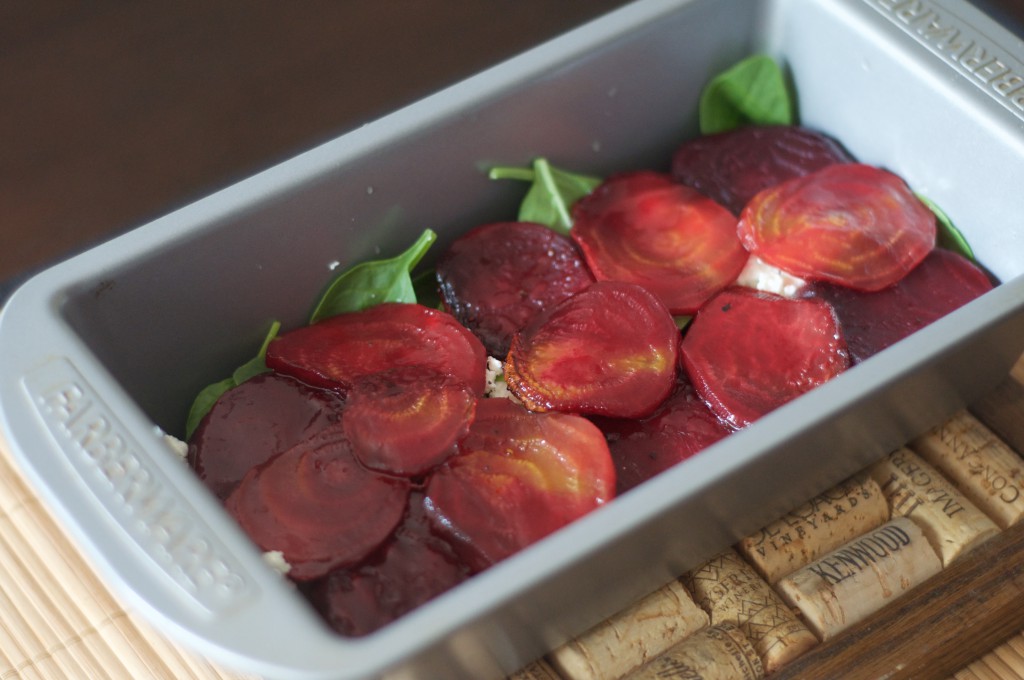 Spinach layered ontop of the beets.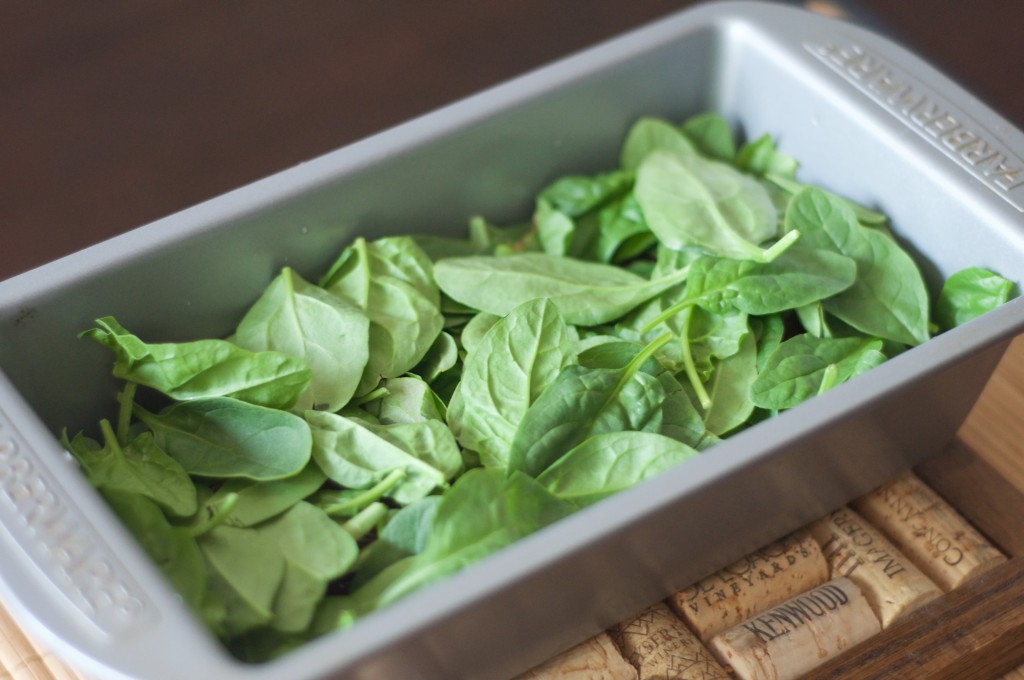 Goat cheese, salt and pepper.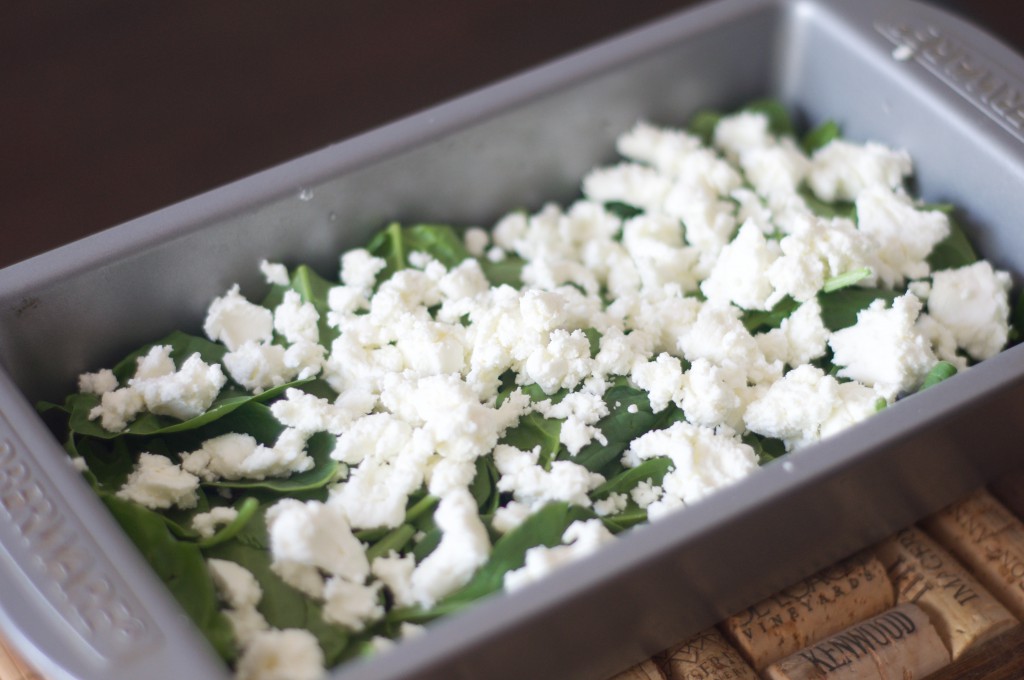 Completed Beet Terrine.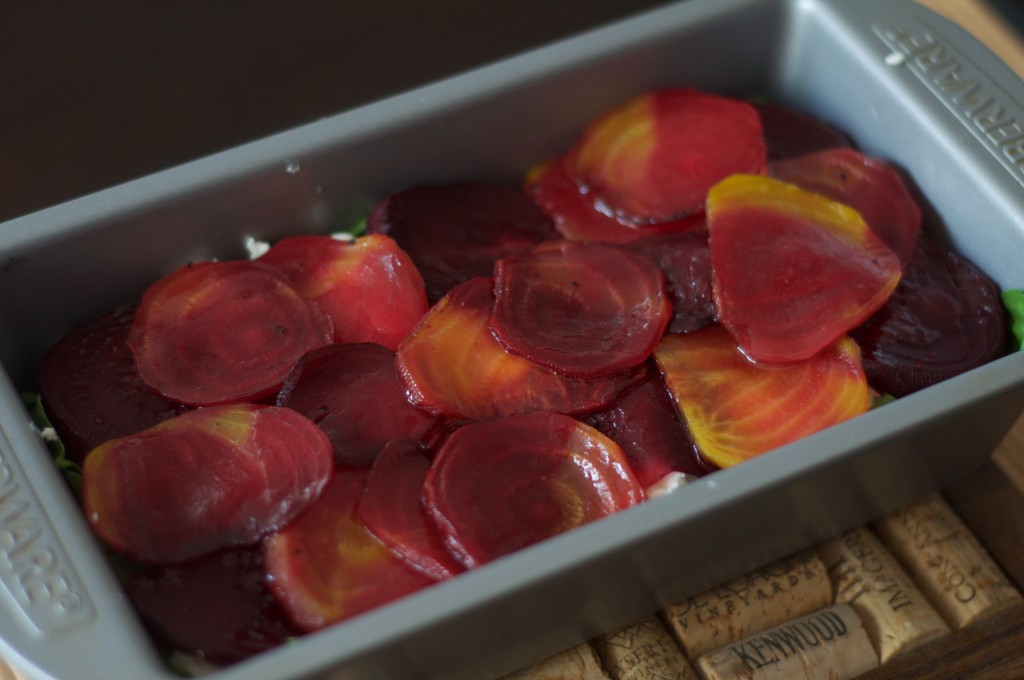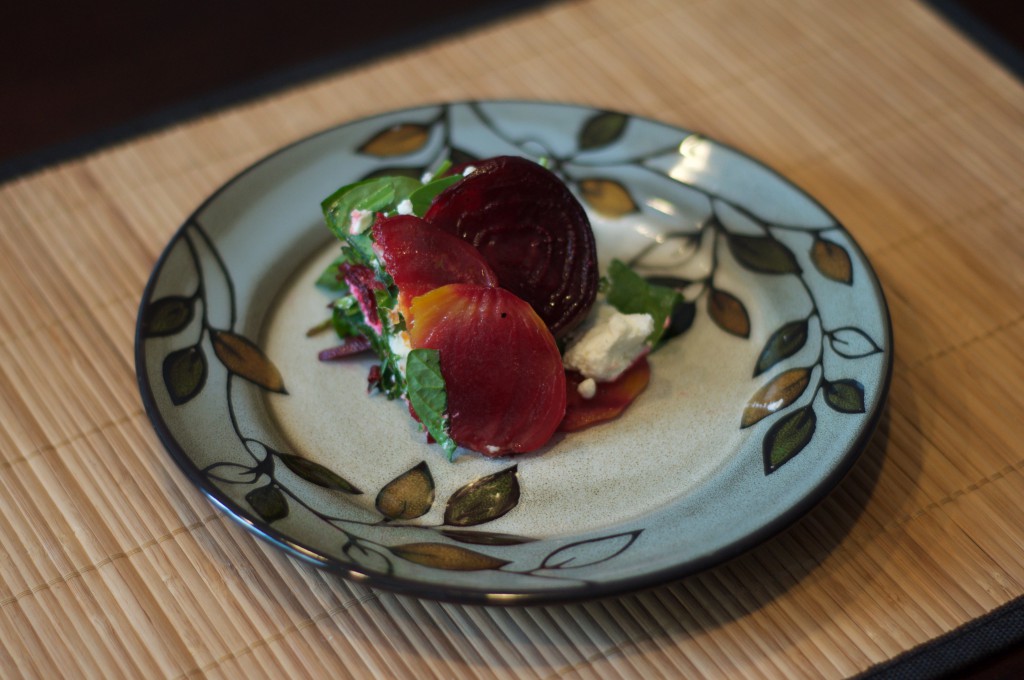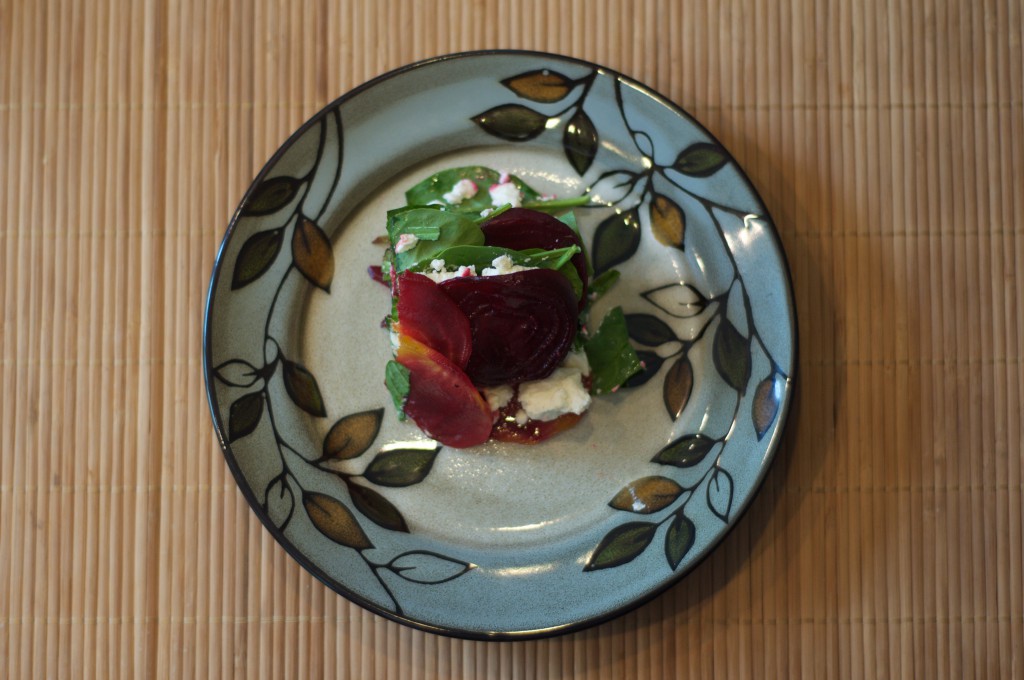 Beet Terrine
Ingredients
3 large red beets
3 large golden beets
3 cloves garlic
1 tablespoon olive oil
2 cups fresh spinach
4 ounces goat cheese
Salt
Pepper
Instructions
Preheat oven to 450 degree F. Wash, peel, and evenly slice the beets to be about ⅛ inch thick. Line a roasting pan with aluminum foil and layer the beets in the pan. Once the beets have been placed, distribute the garlic cloves throughout the dish. Evenly distribute the olive oil over the beets and salt and pepper to taste. Roast the beets for 25-30 minutes or until soft when poked with a fork. Let the beets rest and cool.
Once the beets have cooled down to a workable temperature, in a bread pan, place a layer of beets into the pan and then layer with the spinach, goat cheese, and a pinch of salt and pepper. Repeat this process. Top off with a final (third) layer of beets. Place the beet terrine into the refrigerator and cool for at least an hour.
Once chilled, remove the beet terrine and cut into 2-3 inch squares. Carefully remove the squares with a spatula and serve.