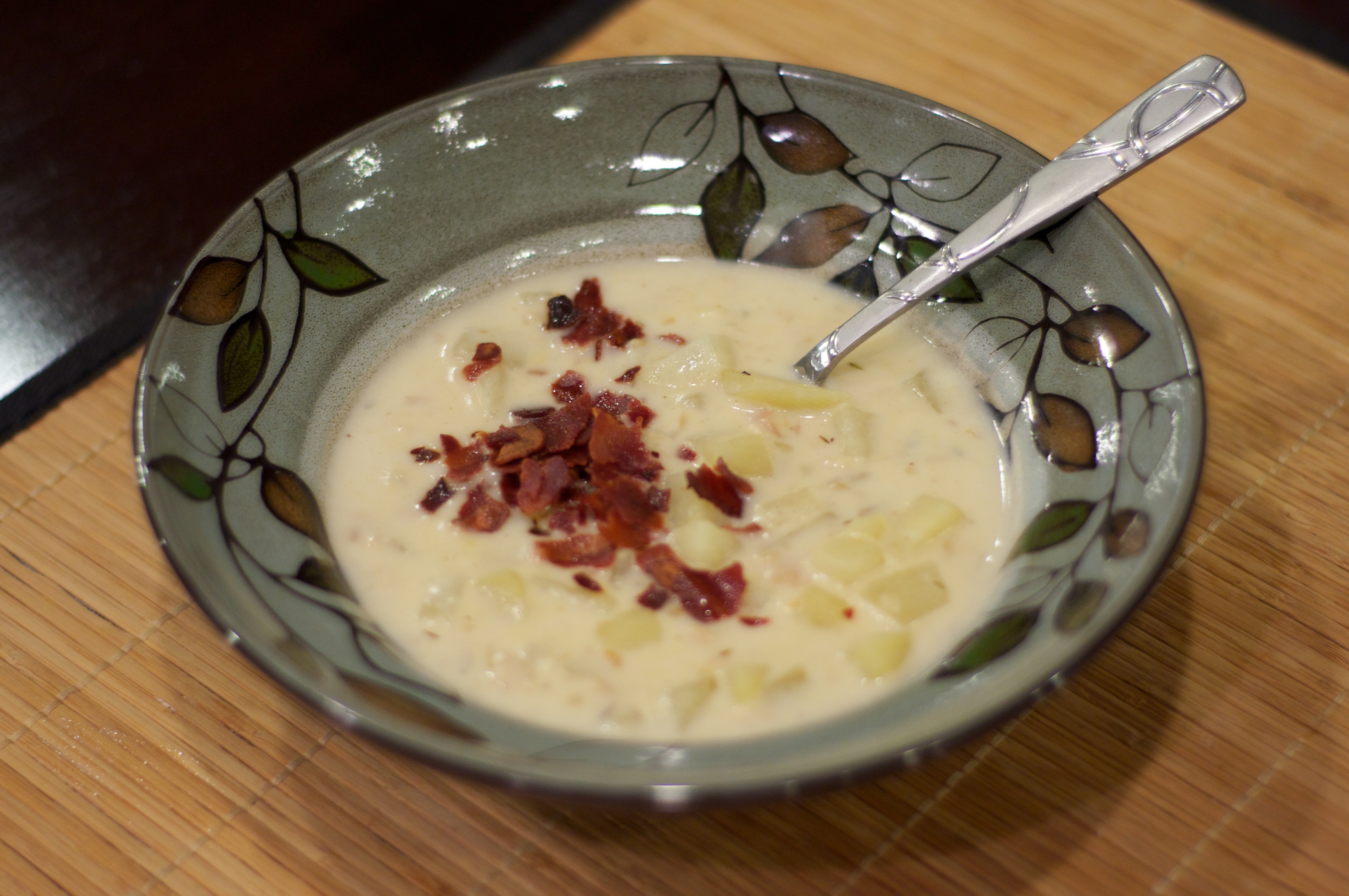 Clam Chowder
I love clam chowder.  Well, I love New England style clam chowder.  I never knew that there were two types of clam chowder, until I ordered some at a restaurant, and it was apparently the Manhattan style clam chowder.  I gave this tomato based clam chowder a try, but I hated it.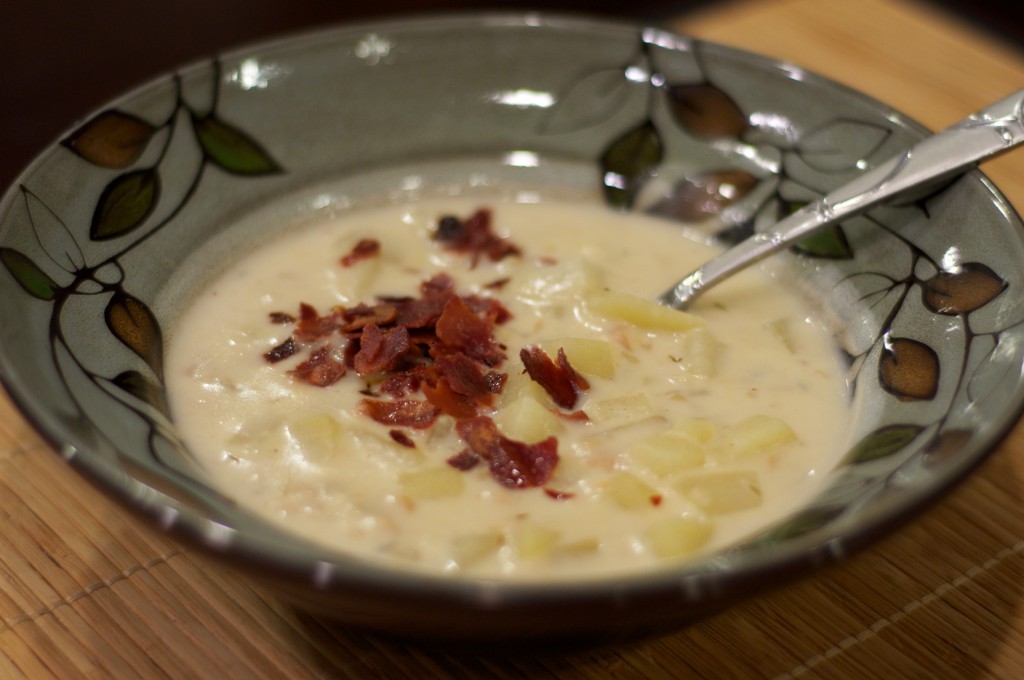 A bowl of clam chowder at a restaurant, depending on the restaurant, isn't cheap.  Well, a good bowl of clam chowder isn't cheap.  I have made clam chowder from a can before, but I haven't found one that I like yet.  Many are also full of sodium.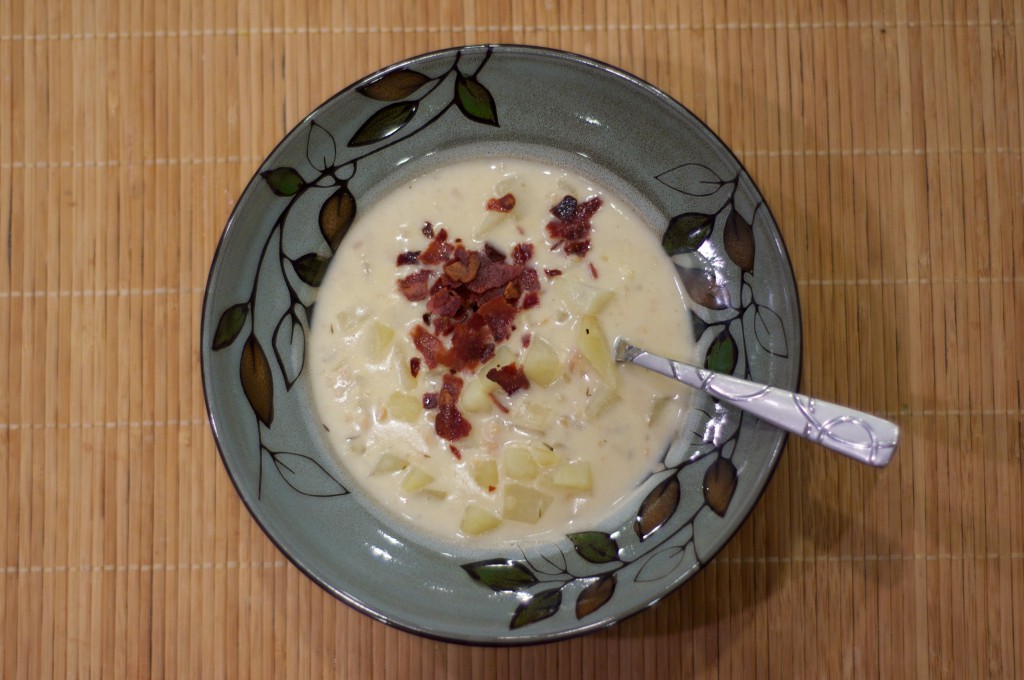 I decided to try to make my own clam chowder at home.  This clam chowder may not taste the same as any that I've had at a restaurant, but it is amazingly delicious.

Clam Chowder
Ingredients
4 slices uncooked bacon, diced
2 tablespoons butter
2 garlic cloves, minced
1 onion, diced
½ teaspoon dried thyme
2 tablespoons all purpose flour
1 cup milk
1 cup vegetable stock
2 (6.5 ounce) cans chopped clams
1 bay leaf
2 small russet potatoes, peeled and diced
1 cup half and half
Salt and pepper, to taste
Instructions
Heat a Dutch oven over medium high heat. Add the bacon and cook until crispy, about 6-8 minutes. Place bacon on a paper towel lined plate. Dab with another paper towel to remove as much grease as possible. Discard all but one tablespoon of bacon grease from Dutch oven.
Melt butter in the Dutch over, over medium high heat. Add garlic and onion and sauté until onions have softened and become translucent. Add thyme and sauté until fragrant, about 30 seconds. Add flour and cook until golden brown, about 1 minute.
Add milk, vegetable stock, clam juice (from canned clams), and bay leaf. Do not add clams at this time. Cook until slightly thickened, about 1 minute.
Add the potatoes. Stir to combine, ensuring that potatoes are submerged in the liquid. Bring soup to a boil and simmer until potatoes are tender, about 15 minutes.
Add half and half and clams. Continue to simmer until heated through, about 2 minutes. Season with salt and pepper, to taste.
Divide soup among 6 bowls. Top each bowl with bacon. Serve immediately.
Notes
Do not substitute turkey bacon in this recipe. The dish will not taste the same without real bacon.
Adapted from Damn Delicious