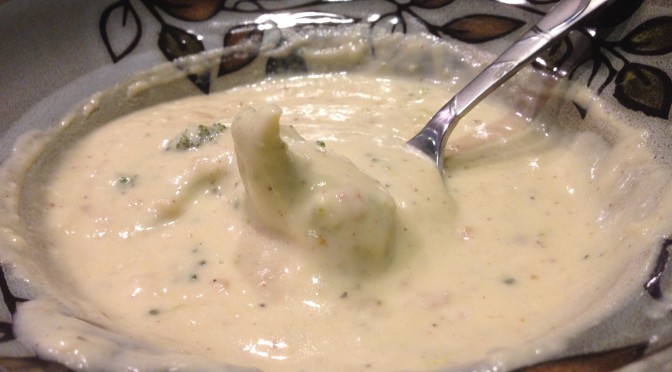 "Panera" Broccoli Cheddar Soup
I wasn't feeling well, and Mike wasn't 100% healthy either, so we wanted to have soup. He loves Panera. I don't understand why. The food is ok, but the portions are so small for the price that have to pay for the food. He wanted to get Broccoli Cheddar soup from Panera; I said that I would try to make it at home. The fact that I had a Broccoli crown that needed to be eaten in my refrigerator did not impact this decision at all.

"Panera" Broccoli Cheddar Soup
Ingredients
¼ cup + 1 tablespoon butter, divided use
2 tablespoons diced onion
¼ cup flour
2 cups half and half
2 cups vegetable broth
1 large broccoli crown, cut into florets
½ cup julienned carrots
¼ teaspoon nutmeg
8 ounces grated cheddar cheese
Salt and pepper to taste
Instructions
In a large pot, melt 1 tablespoon of butter over medium heat. Add onions and sauté until the onions are translucent, about 5 minutes. Set aside.
In the same large pot, melt ¼ cup butter over medium heat. Add flour and stir to combine. Continue to stir until butter mixture has thickened, about 3 minutes. Whisk in half and half and broth and simmer for 20 minutes.
Add broccoli, carrots and onions. Simmer for another 25 minutes, or until broccoli and carrots are tender. Add nutmeg, cheese and salt and pepper, to taste. Stir until cheese has completely melted into the soup.
Serve hot.
Adapted from the recipe critic