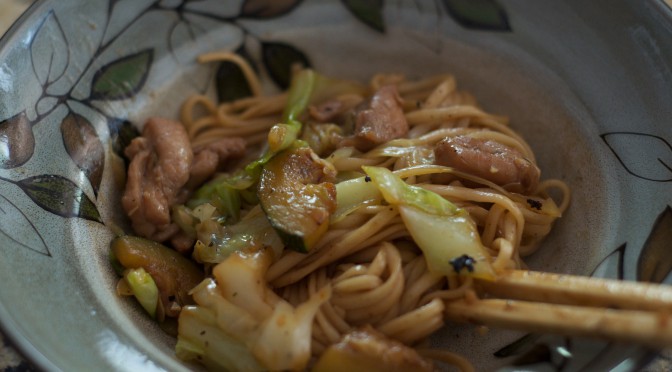 Chicken Chow Mein
There is just something amazingly delicious about chow mein.  When I would go to Panda Express, I always prefer to get the side of chow mein vs getting half or all fried rice.  I really don't know why I love these noodles so much.  That being said, I don't really like eating the noodles by themselves.  I usually eat it with the "side" of meat.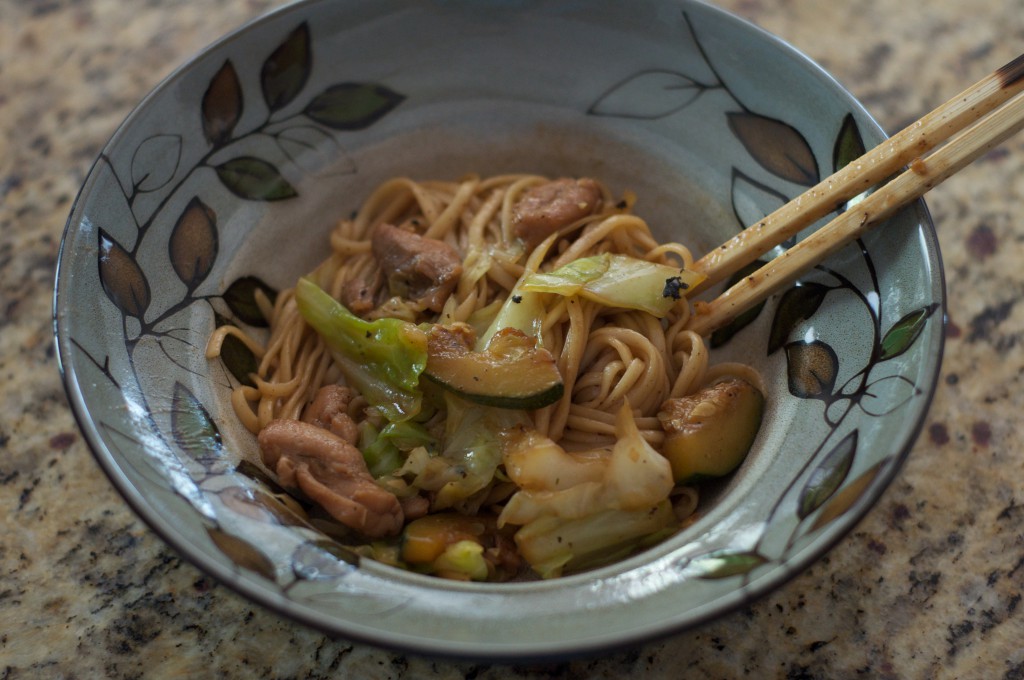 Although this dish doesn't taste like the chow mein from Panda Express, it's so delicious that I need to go to Panda Express to eat delicious noodles anymore.  This is also healthier than take out.

Chicken Chow Mein
Ingredients
For the marinade:
4½ tablespoons low sodium soy sauce
3 tablespoons oyster sauce
3 tablespoons hoisin sauce
1½ tablespoons olive oil
¼ teaspoon Chinese five-spice powder
1 pound boneless skinless chicken thighs, diced
¾ cup low sodium chicken broth
1½ teaspoons cornstarch
For the Stir Fry:
12 ounces chow mein noodles
Kosher salt
4½ teaspoons olive oil, divided use
6 tablespoons Chinese rice wine or dry sherry
1 small zucchini, cubed
½ head napa cabbage, cored and sliced crosswise into ½-inch-thick pieces (6 cups)
½ teaspoon ground ginger
3 garlic cloves, minced
Instructions
In a medium bowl, combine soy sauce, oyster sauce, hoisin sauce, olive oil, and five-spice powder together in a bowl. Pour ¼ cup of the sauce mixture into a separate bowl and add the chicken. Mix so that the chicken is well coated in the marinade. Allow the chicken to marinate in the refrigerator for 30 to 60 minutes. Whisk chicken broth and cornstarch into remaining sauce mixture.
Cook chow mein noodles according to directions on the package. Drain noodles and set aside.
Heat 1½ teaspoons olive oil in Dutch oven over high heat until just smoking. Add half the chicken, and sauté until lightly browned but not fully cooked, about 3 minutes, stirring frequently. Stir in 3 tablespoons wine and cook until liquid is nearly evaporated, about 1 minute. Transfer to a clean bowl. Repeat with 1½ teaspoons canola oil, remaining chicken, and remaining 3 tablespoons wine.
Wipe the now-empty pot clean, add remaining 1½ teaspoons olive oil, and heat over high heat until shimmering. Stir in cabbage and zucchini and cook until cabbage is wilted, about 2 minutes. Stir in ginger and garlic and cook until fragrant, about 30 seconds.
Whisk sauce to recombine and add to pot. Stir in cooked chicken and any accumulated juices and simmer until sauce has thickened slightly and chicken is heated through, about 1 minute. Add cooked noodles and stir to combine with other ingredients.
Adapted from  Comfort Food Makeovers