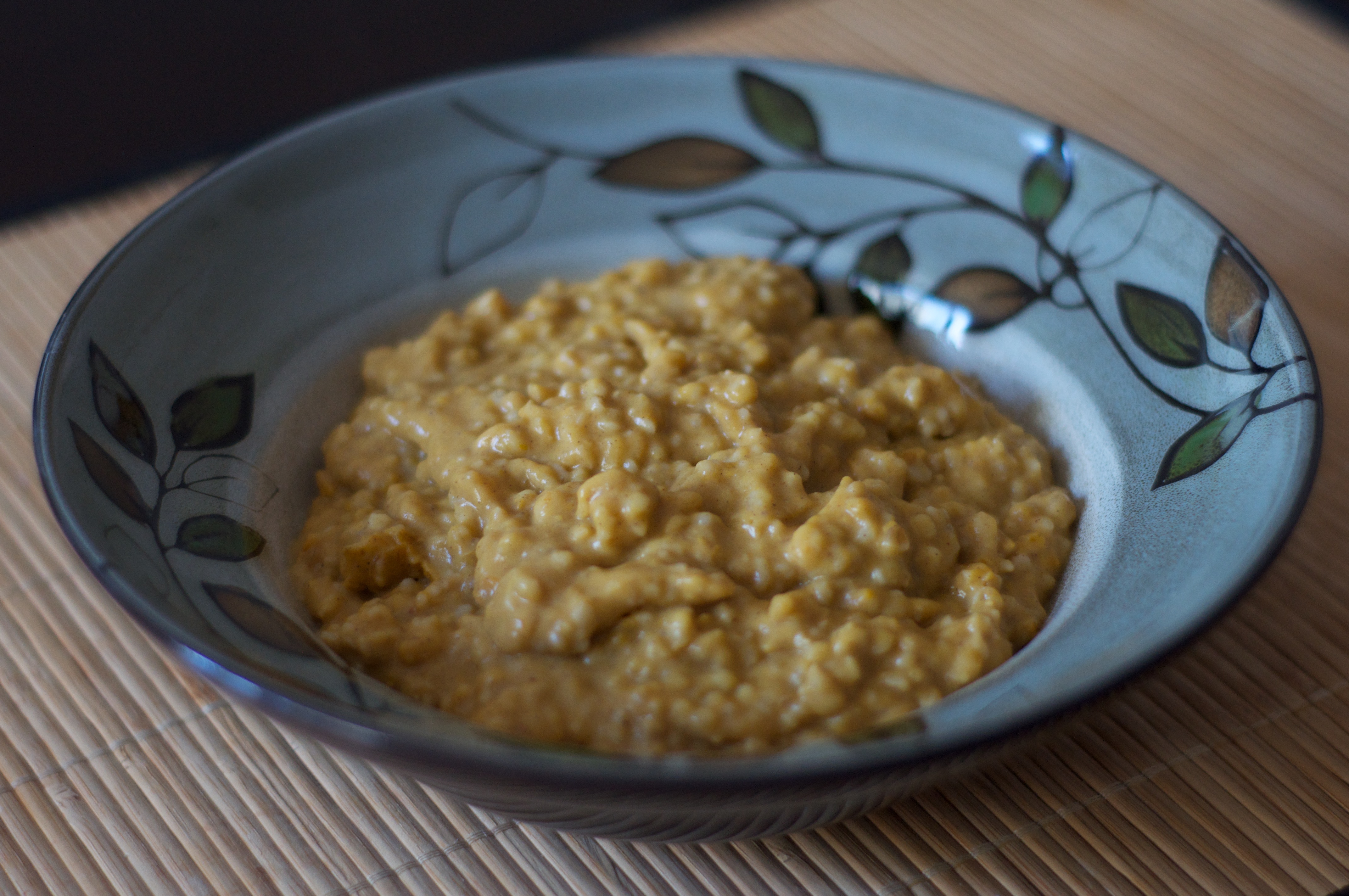 Pumpkin Pie Steel Cut Oatmeal
We had some pumpkin puree leftover in the refrigerator from various recipes.  Note that this is not "pumpkin pie mix".  It is simply pumpkin puree.  It only contains pumpkin, and no other additives.  I tried to think of different ways to use up the rest of the pumpkin.  I didn't really have very much left, but didn't want to throw it out either.  I considered making one really small pumpkin pie, but thought it would be too much trouble/work.  I decided to make pumpkin pie oatmeal instead.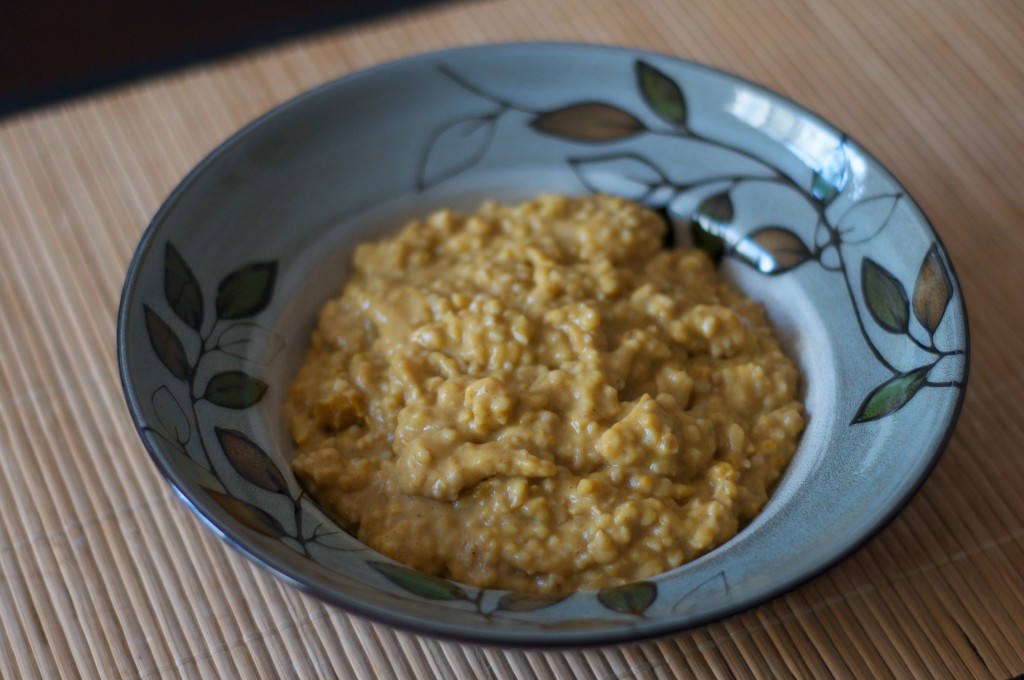 I love the bulk bins that are available at certain stores.  You can buy only the amount of an item that you need, and it's usually at a discounted rate too!  This is especially nice when you only need a half a cup of steel cut oats.  Before I realized how awesome the bulk bin is, I would buy whole packages (1 pound plus in size) of oats etc and then try to find recipes that would use up the rest!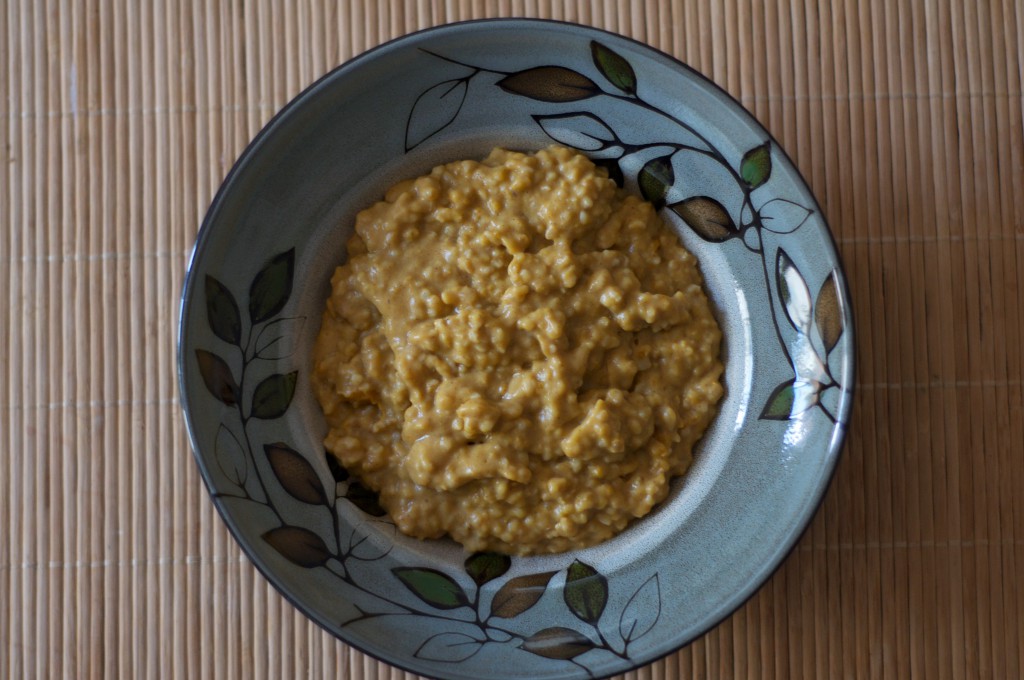 Although time consuming, this recipe is worth the time.  The oatmeal is fluffy and hearty.  Mike actually ate this oatmeal without adding any sweetener to it.  However, he LOVES pumpkin pie.  I, on the other hand, like pumpkin pie but am not as enamored with it as Mike is.  I thought this tasted like oatmeal with pumpkins in it.  If I had to eat a whole meal of this (instead of just tasting it), I would definitely add sweetener to it.

Pumpkin Pie Steel Cut Oatmeal
Ingredients
½ tablespoon coconut oil
½ cut steel cut oats
1½ cups water
½ cup milk
½ cup canned pumpkin
½ teaspoon vanilla extract
½ teaspoon pumpkin pie spice
Pinch of salt
1 teaspoon maple syrup, or to taste
Instructions
In a medium size pan, heat the coconut oil over medium heat. Add the oats and toast until they are fragrant, about 3 minutes.
Add the water and bring to a boil. Reduce heat and simmer for 25 minutes.
In a large bowl, combine the milk and pumpkin until they are thoroughly combined. Add pumpkin mixture to the oats and stir to combine. Add vanilla extract, pumpkin pie spice and salt to the oat mixture.
Simmer for another 20-25 minutes, or until oats are soft. Remove from heat and let it cool for 5 minutes. If desired, stir in maple syrup.
Serve warm.
Adapted from  Organize Yourself Skinny