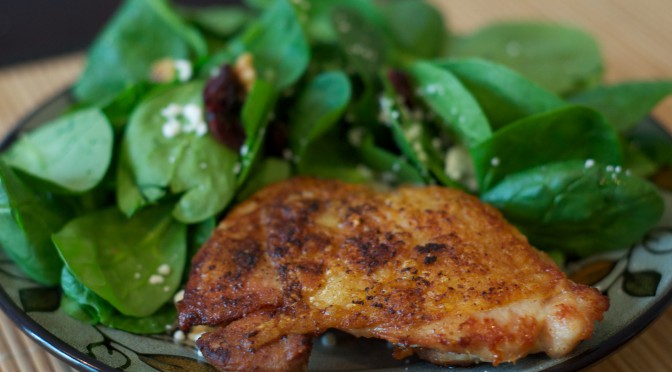 Cracklin' Chicken
Here's a story of, a chicken named cracklin', and it was pretty amazingly good. Mike made it, and it was easy, and that's how we became the Cracklin' Bunch. The Cracklin' Bunch. That's how we became the Crackin' Bunch!
Okay, for dinner last week, I decided to help out making the food, since I had a few days off, and Kim had some long and hard days at work. Bruce wasn't around to partake in their food.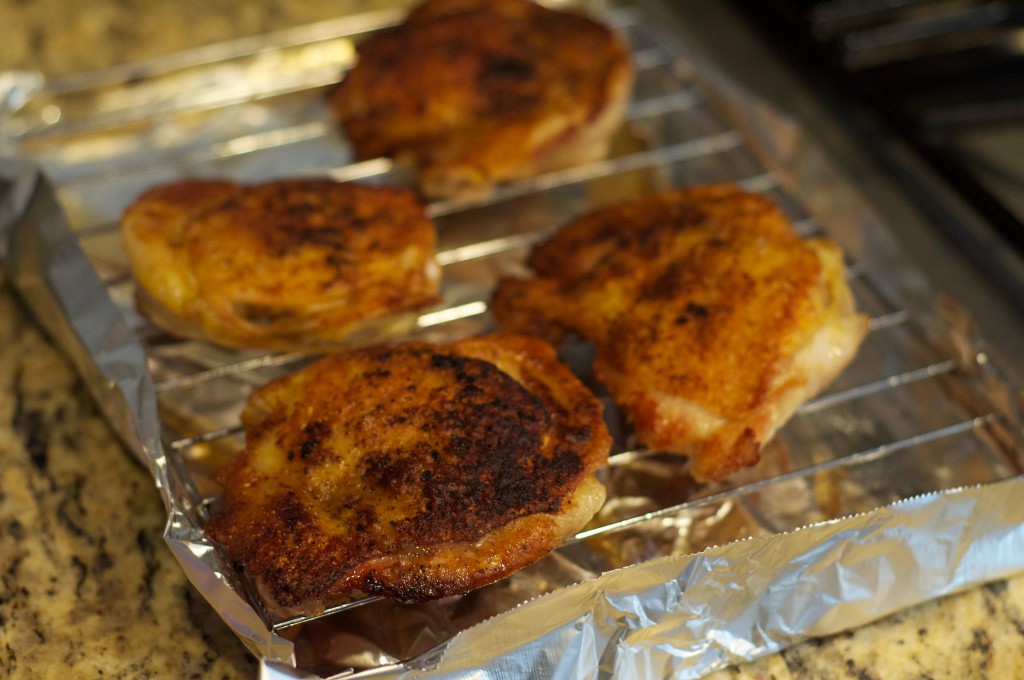 Making the Cracklin' Chicken is surprisingly easy! I just used a pair of kitchen scissors to cut the bone out of the chicken (which was really the hardest step of the whole recipe), then used a hammer wrapped in aluminum foil to beat the chicken flat (we plan to get a meat tenderizer now from Amazon), and fried it in butter! That simple!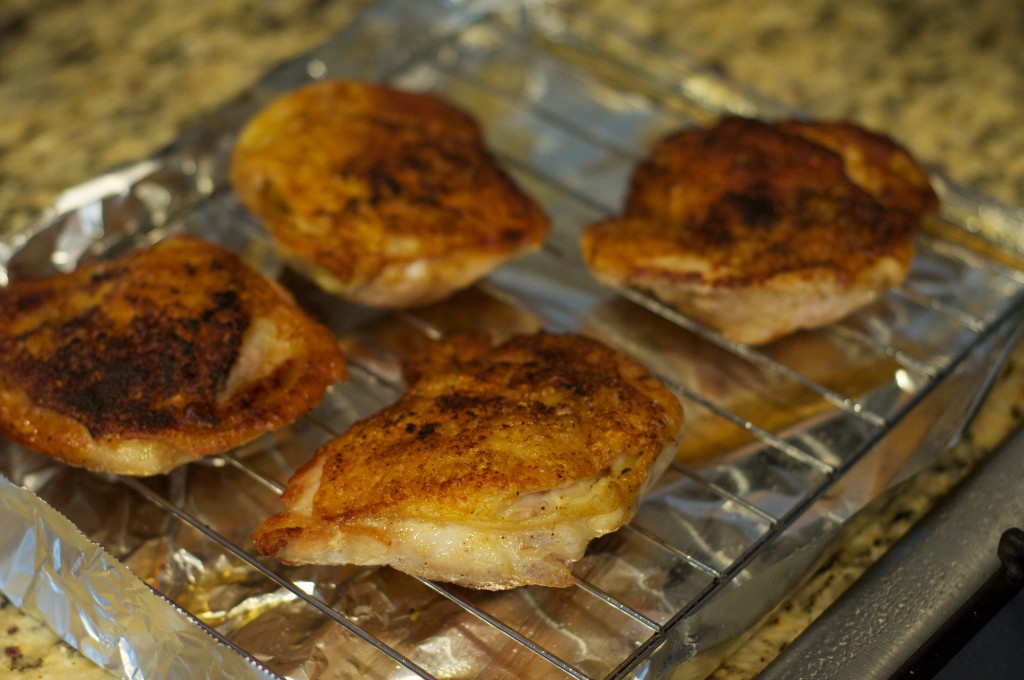 The results were just absolutely amazing!  We ate it with a salad because we wanted to add something green to our meal and make it slightly healthy.
Although Kim doesn't understand why Mike is so enamored by this chicken, she does agree that it is delicious.  Kim's mom used to make "fried" chicken when she was growing up, and this chicken essentially tastes the same.  One exception is that Kim's mom would fry the chicken thighs with the bone in it, which means the chicken must be cooked for a longer period of time.  As a result, sometimes the chicken Kim's mom made was a little dry.  This chicken, on the other hand, was moist and juicy!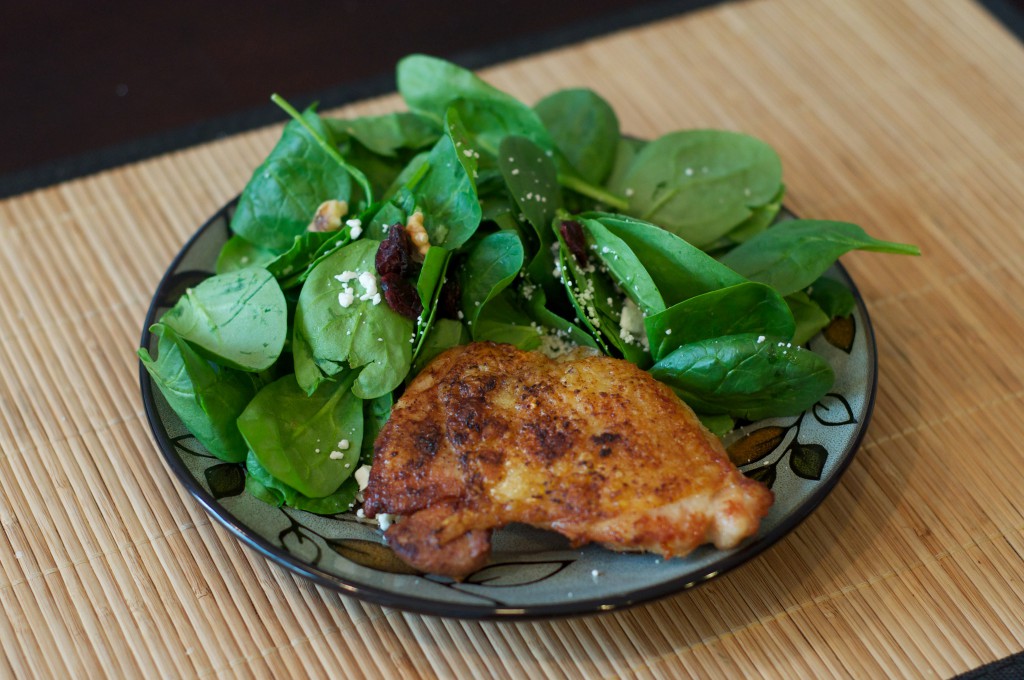 Cracklin' Chicken
Amazingly crispy chicken that's also juicy and tender!
Ingredients
4 bone-in, skin-on chicken thighs
¼ tablespoon salt
1 teaspoon butter
1 teaspoon Grizzly Joe seasoning*
Instructions
Dry the chicken thighs off with a paper towel.
Using sharp kitchen scissors, cut the bone off of the thighs. Stay as close to the bone as possible. If you're one of those people who like to make your own chicken broth, these bones can be saved to make good soup. I, of course, threw mine out (sorry mom!).
Flatten the chicken thighs with a meat tenderizer/pounder so that they are the same thickness.
Heat a cast iron skillet over medium heat and add the butter. Once the butter has melted, add the chicken thighs, skin side down.
Sprinkle the Grizzly Joe and salt on the chicken. Fry the chicken for about 10 minutes, or until the skin has become crispy and golden. Try not to move the chicken/check it too often. I know this is hard, but it helps the chicken skin to crisp better. A splatter guard can be used to cover the pan, if you have one. Otherwise fat will splatter onto the stove.
Flip the chicken and cook it for another 5 minutes or until it is cooked all the way through.
Let the chicken rest on a wire rack for 5 minutes. This lets it cool a little so that you can touch it, and also lets some of the fat drain off of the chicken. A paper towel can also be used to blot some additional grease off of the chicken after it has rested.
Serve with a side, such as salad, mashed potatoes, carrots, or just enjoy it by itself. It's that good!
Notes
* Grizzly Joe seasoning is an all purpose seasoning that we love. A different seasoning mix can be substituted.
Adapted from Nom Nom Paleo