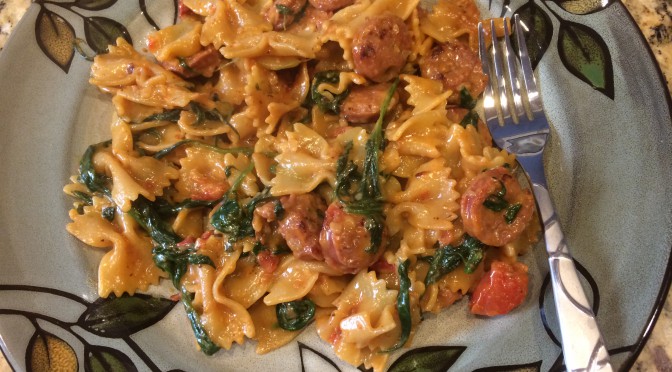 Sausage Spinach Pasta
I am always amazed by how quickly spinach goes bad.  It really only lasts for a few days.  I often find it hard to use up all the spinach.  I don't really know why.  It cooks down to such a small amount, you would think I would be able to eat it quickly. 
Unfortunately I often prepare a spinach salad for lunch for Mike.  Since I'm using raw spinach, I can only fit so much in the lunch container.  It seems like I barely make a dent in the spinach container even after filling up his entire lunch container with spinach.
Here is a delicious pasta recipe that uses up 8 ounces of spinach!  The pasta has plenty of flavor because the noodles are cooked in the sauce.  It's quick, easy and can be made in one pot.

Sausage Spinach Pasta
Ingredients
2 tablespoon olive oil
2 Aidell's sausages, chicken and apple flavored, sliced
1 small onion, chopped
1 (14.5 ounce can) diced tomatoes
3 cups chicken broth
1 (12 ounce) package farfalle pasta, uncooked
8 ounces fresh spinach leaves
8 ounces cheddar cheese, shredded
Instructions
Heat olive oil in a large skillet over medium heat. Add the sausage and sauté until brown, about 2 minutes. Add onion and continue to sauté until onion are translucent, about 5 minutes.
Add tomatoes, chicken broth and pasta to the sausage mixture. Stir to combine.
Raise the temperature to high and cover the skillet. Cook pasta until tender, about 10 minutes.
Remove lid and add spinach. Stir to combine. Cook until spinach is wilted. Add cheese and stir until cheese is well combined.
Serve hot.
Adapted from A Teaspoon of Happiness